The Straits Times, Singapore, 3 November 2011, p.B7
Man rammed police car, punched officer
Repeat offender also tried to run over cop in escape bid; he gets 7 years' corrective training
By Elena Chong
Court Correspondent
A RECALCITRANT offender, who spent a large part of the last 14 years in and out of prison, is back behind bars -- this time after a dramatic attempted escape from police and for attacking police officers.
Mohamad Fazel Hamzah, 31, who had been sentenced to 50 months' jail and 12 strokes of the cane in 2007 for burglary and harassing debtors, was yesterday slapped with seven years of corrective training and 15 strokes of the cane. He was also banned from driving for a year.
Corrective training, which lasts from five to 14 years, is designed for repeat offenders with no remission for good behaviour.
Fazel's latest brush with the law occurred in June, less than a year after he was released for his 2007 offences.
The then part-time delivery attendant tried to run over a policeman, punched him and repeatedly rammed his vehicle against a police car in a bid to escape.
Fazel pleaded guilty last month to eight charges -- causing hurt to a public servant to deter him from discharging his duty, rash act, vandalism, traffic and drug-related offences, and robbery with hurt.
District Judge Soh Tze Bian noted that Fazel had a high risk of re-offending. The judge warned him that he could receive up to 20 years' preventive detention the next time if he did not reform.
Deputy Public Prosecutor Davyd Chong recounted how three policemen were patrolling Jalan Berseh, off Jalan Besar, on the evening of June 9 when they decided to check on Fazel, whose stationary car was at a sloping walkway meant for pedestrians.
The DPP said that when national service corporal Isaac Joseph Pragasam, 22, was standing about 3m in front of the car, Fazel suddenly drove his car forward, but the police officer managed to dodge the vehicle.
The officers immediately called for reinforcements and gave chase in their patrol car.
Fazel, in his haste to flee, hit a wall and the patrol car managed to block his Honda Civic from behind. But that did not stop Fazel. He repeatedly reversed his vehicle into the back of the patrol car, causing its rear bumper to be dislodged. Although he managed to get away, he hit a stationary motorcycle and uprooted a sign before his car got stuck.
Officers used batons to smash the driver's window and managed to open the side door.
But Fazel put up a struggle when he alighted. He punched Cpl Pragasam on the forehead when the latter was holding on to his arm.
The court heard that Fazel had been driving under the influence of drugs. Two packets of 0.19g of methamphetamine, or Ice, were found in his jeans pocket.
The court also heard that Fazel committed a total of 15 offences, including robbing a woman in November last year.
Click to enlarge
He had lured a 39-year-old freelance masseuse from China into his car on the pretext of asking her for massage services, but then drove her to Woodlands and robbed her of $320, with the aid of an accomplice, who was hiding in the back seat.
When the woman tried to run, the accomplice, who has been dealt with, grabbed her by the neck and pulled her hair. She was pinned down and Fazel punched her several times on her face and body. He also molested her, and this charge was among several that were considered during his sentencing.
DPP Chong said Fazel, a recalcitrant offender, showed a blatant and utter disregard for authority, and his behaviour posed a real threat to the public.
He has had a string of convictions including theft, housebreaking, robbery, drug trafficking and unlicensed moneylending harassment since he was in his teens.
"He has clearly not learnt anything from his mistakes, despite spending numerous years in prison and being caned," DPP Chong added.
---
---

The Straits Times, Singapore, 12 November 2011, p.A3
21 years for 'cobbler' heroin trafficker
His role was to transfer drugs from shoes of one mule to another
By Khushwant Singh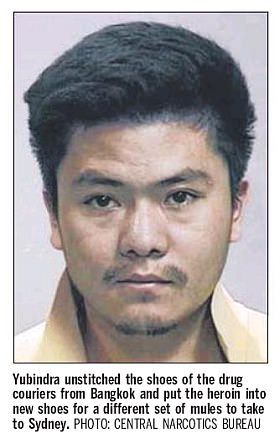 THE heroin arrived from Bangkok, hidden in the shoes of three Nepalese drug couriers.
Yubindra Bahadur Tamang's job was to unstitch the soles and transfer the drugs into new shoes for a different team of couriers to take to Sydney.
But the plan was foiled by officers from the Central Narcotics Bureau (CNB) before the couriers -- or drug "mules" -- could leave for Australia.
Yesterday, the Nepalese "cobbler" was sentenced to 21 years in jail and 24 strokes of the cane after pleading guilty to trafficking in heroin.
A total of nearly 1.5kg of heroin was seized, but the charge against Yubindra was reduced to trafficking in "not less than 14.99g" of heroin -- sparing him the mandatory death penalty by just 0.01g.
The High Court heard that the 24-year-old was arrested in August 2009 with three Nepalese and three South Koreans.
Nepalese Priyatam Tamang, also 24, also pleaded guilty last month to trafficking in "not less than 14.99g" of heroin and received the minimum sentence of 20 years and 15 strokes.
The other five men are claiming trial. It is believed to have been their first attempt at drug smuggling.
Deputy Public Prosecutor Samuel Chua said Yubindra was looking for work in Bangkok in February 2009 when he was roped in by a drug syndicate.
He was given dozens of shoes so that he could perfect his stitching and unstitching skills. He arrived here on Aug 15, 2009, and stayed at a Verdun House condominium off Kitchener Road.
There was to be a drug-smuggling operation late that month, and Yubindra booked a room at the Golden Landmark Hotel in Victoria Street for the three Koreans who would do the Singapore-Sydney run. It is now known as the Landmark Village Hotel.
He also bought black Moda Paolo shoes to fit the Koreans and booked their return flight tickets from Sydney.
Kim Gwang Seok, 42, Han Tae Seop, 53, and Kang Bong Je, 52, arrived from Seoul on Aug 28, and checked into the room at the Golden Landmark. Their flight to Australia was on the morning of Aug 30.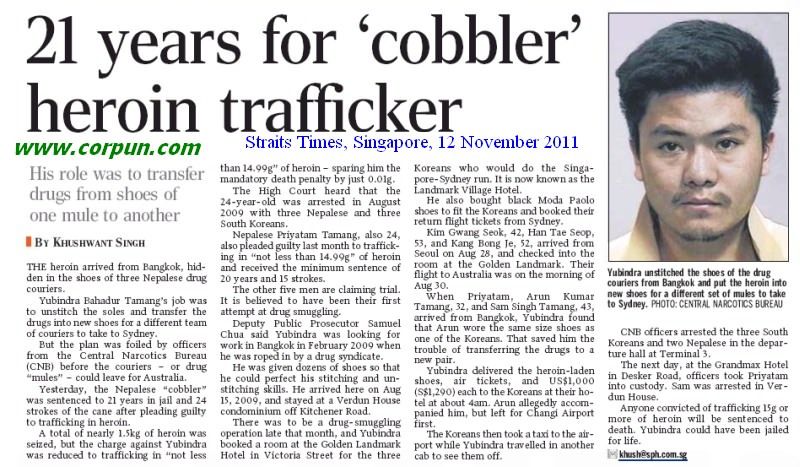 Click to enlarge
When Priyatam, Arun Kumar Tamang, 32, and Sam Singh Tamang, 43, arrived from Bangkok, Yubindra found that Arun wore the same size shoes as one of the Koreans. That saved him the trouble of transferring the drugs to a new pair.
Yubindra delivered the heroin-laden shoes, air tickets, and US$1,000 (S$1,290) each to the Koreans at their hotel at about 4am. Arun allegedly accompanied him, but left for Changi Airport first.
The Koreans then took a taxi to the airport while Yubindra travelled in another cab to see them off.
CNB officers arrested the three South Koreans and two Nepalese in the departure hall at Terminal 3.
The next day, at the Grandmax Hotel in Desker Road, officers took Priyatam into custody. Sam was arrested in Verdun House.
Anyone convicted of trafficking 15g or more of heroin will be sentenced to death. Yubindra could have been jailed for life.