The Straits Times, Singapore, 19 October 2011, p.A4
Jail, cane for man who molested 14 years ago
Child victim speaks up, afraid that paedophile might abuse again
By Elena Chong
Court Correspondent
FOR 10 years, a young girl lived with the secret that she had been molested by a man who was her parents' close friend.
She never told anyone what had happened until she was 15 and learnt that relief taxi driver Peter Lee Chee Soon had offered to look after her aunt's baby girl.
Afraid of what he might do to the infant, she finally broke her silence, told her mother and made a police report.
Yesterday, 14 years after molesting the girl in his Yishun home, Lee, 46, was sentenced to 20 months in jail and six strokes of the cane. His victim is now 19 and a student.
It was Lee's second time before the courts. He had been cleared earlier of performing oral sex on the girl's younger brother.
He was sentenced yesterday for abusing her sometime between 1997 and June 1998. Four other charges, of molesting her twice more and molesting another young girl, all in the 1990s, were taken into consideration.
The court heard that when the girl was five or six years old, she and her older brother were entrusted by their parents to Lee's care.
He appeared to like children and seemed trustworthy, and would take them out or look after them at his home.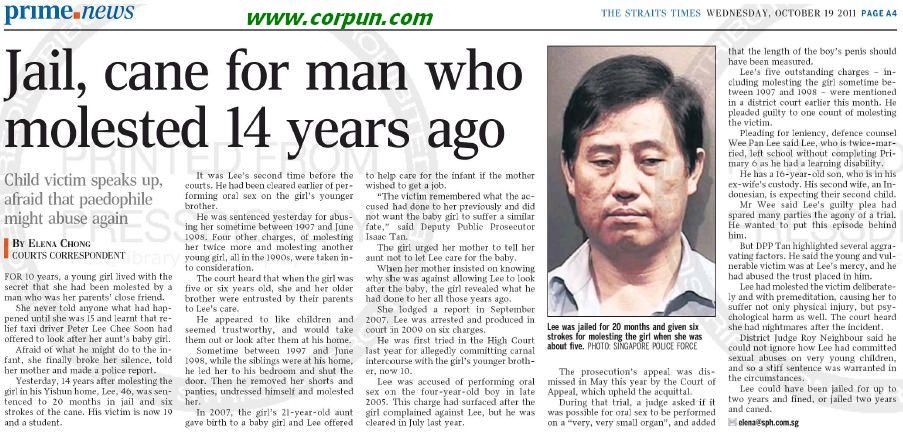 Click to enlarge
Sometime between 1997 and June 1998, while the siblings were at his home, he led her to his bedroom and shut the door. Then he removed her shorts and panties, undressed himself and molested her.
In 2007, the girl's 21-year-old aunt gave birth to a baby girl and Lee offered to help care for the infant if the mother wished to get a job.
"The victim remembered what the accused had done to her previously and did not want the baby girl to suffer a similar fate," said Deputy Public Prosecutor Isaac Tan.
The girl urged her mother to tell her aunt not to let Lee care for the baby.
When her mother insisted on knowing why she was against allowing Lee to look after the baby, the girl revealed what he had done to her all those years ago.
She lodged a report in September 2007. Lee was arrested and produced in court in 2009 on six charges.
He was first tried in the High Court last year for allegedly committing carnal intercourse with the girl's younger brother, now 10.
Lee was accused of performing oral sex on the four-year-old boy in late 2005. This charge had surfaced after the girl complained against Lee, but he was cleared in July last year.
The prosecution's appeal was dismissed in May this year by the Court of Appeal, which upheld the acquittal.
During that trial, a judge asked if it was possible for oral sex to be performed on a "very, very small organ", and added that the length of the boy's penis should have been measured.
Lee's five outstanding charges -- including molesting the girl sometime between 1997 and 1998 -- were mentioned in a district court earlier this month. He pleaded guilty to one count of molesting the victim.
Pleading for leniency, defence counsel Wee Pan Lee said Lee, who is twice-married, left school without completing Primary 6 as he had a learning disability.
He has a 16-year-old son, who is in his ex-wife's custody. His second wife, an Indonesian, is expecting their second child.
Mr Wee said Lee's guilty plea had spared many parties the agony of a trial. He wanted to put this episode behind him.
But DPP Tan highlighted several aggravating factors. He said the young and vulnerable victim was at Lee's mercy, and he had abused the trust placed in him.
Lee had molested the victim deliberately and with premeditation, causing her to suffer not only physical injury, but psychological harm as well. The court heard she had nightmares after the incident.
District Judge Roy Neighbour said he could not ignore how Lee had committed sexual abuses on very young children, and so a stiff sentence was warranted in the circumstances.
Lee could have been jailed for up to two years and fined, or jailed two years and caned.
---
---

The Straits Times, Singapore, 28 October 2011, p.B6
Malaysian jailed for plot to rob friend of $216,000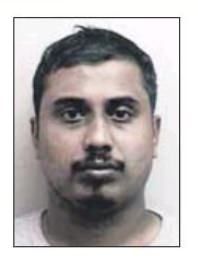 A MALAYSIAN man became the sixth person to be dealt with yesterday for colluding with three others to rob his friend, a money changer courier, of $216,236.
Abdul Jalil Nasar (right), 26 and himself a former money changer courier from Penang, was sentenced to the minimum three years in jail and 12 strokes of the cane for his role in the conspiracy.
He pleaded guilty to conspiring with a Singaporean woman, Nurhashimah Abdullah, 49; her son Nur Iskandar Shah Mohamed Nasar, 22; and a Bangladeshi named Md Milton Talukder Md Samsul Haq Talukder, 31, to rob Mr Zainun Sultan Baharuddin.
Mr Zainun, 41 and also a Malaysian, was then working for another money changer in Penang. He was robbed at knifepoint by a gang of Bangladeshis in a rented flat in Dorset Road at about 2am on May 27 last year.
The court heard that he made frequent trips here to deliver huge amounts of currencies to money-changing outlets.
On May 26 last year, he travelled with another person. The pair, with money strapped to their bodies and cash in a canvas bag, flew from Penang to Kuala Lumpur, where they transferred to a coach for the trip to Singapore.

Click to enlarge
They made the necessary declarations, cleared Customs the next day and headed to the flat, where Mr Zainun was robbed.
The "job" had been nearly two months in the planning. Nurhashimah, who lived in Kuala Lumpur, told Jalil that she had debts to settle and suggested that they rob Mr Zainun. He agreed.
He then gave her the address and the key to the flat, and tipped her off on when Mr Zainun would be there so the plan could be carried out.
For doing this, Jalil was paid RM50,000 (S$20,000).
Last week, two Bangladeshis were jailed between five and six years and ordered to be given 12 strokes each after a 22-day armed gang robbery trial.
Md Milton Talukder and two other Bangladeshis have been jailed between three and four years each and also caned.
Jalil could have been jailed for up to 14 years and given at least 12 strokes of the cane.