The Straits Times, Singapore, 1 September 2011, p.B15
Gambling debts land sales assistant in jail
Sacked after stealing from employer, he worked for loan sharks
By Khushwant Singh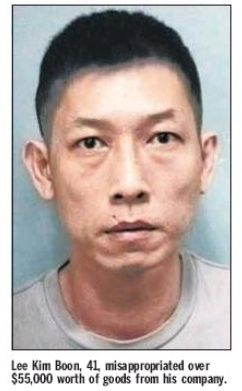 HE LOST his job and his flat, and now he has lost his freedom -- all to online football betting.
Lee Kim Boon, a 41-year-old father of three, was jailed for three years and ordered to be given 15 strokes of the cane for offences that he had committed in his effort to pay back loans he took to cover his gambling debts: He misappropriated over $55,000 worth of goods and racked up 10 counts of harassing debtors on the orders of loan sharks.
A district court heard that the sales assistant with Super Coffee Corporation got into gambling because he felt humiliated that his $2,000 monthly salary was only half that of his wife's, a logistics executive.
He sought to fatten his bank account through gambling, but instead sank into debt.
In late 2009, he misappropriated $26,918 worth of coffee powder, cereals and non-dairy creamer from his employer, sold them off and used the money to make good on his debts to unlicensed moneylenders. Emboldened by his success, he sold another $28,596 worth of such goods and pocketed the money early last year.
His offences were uncovered during an audit last October. The Corrupt Practices Investigation Bureau was called in, and he was fired.
Unemployed, he then sold his family home to get his hands on some money. But the plan backfired -- there was nothing left after paying back the property loans.
He moved his family into a smaller flat, and was left with only one way of reducing his debt -- work for the loan sharks.
Between last December and January, he scribbled graffiti and splashed paint on flats belonging to debtors in Bedok, Tampines, Pasir Ris, Serangoon Road, Hougang and Jurong West. He did this mostly alone, but on four occasions he had an accomplice, known only as Xiao Dong, who is still at large.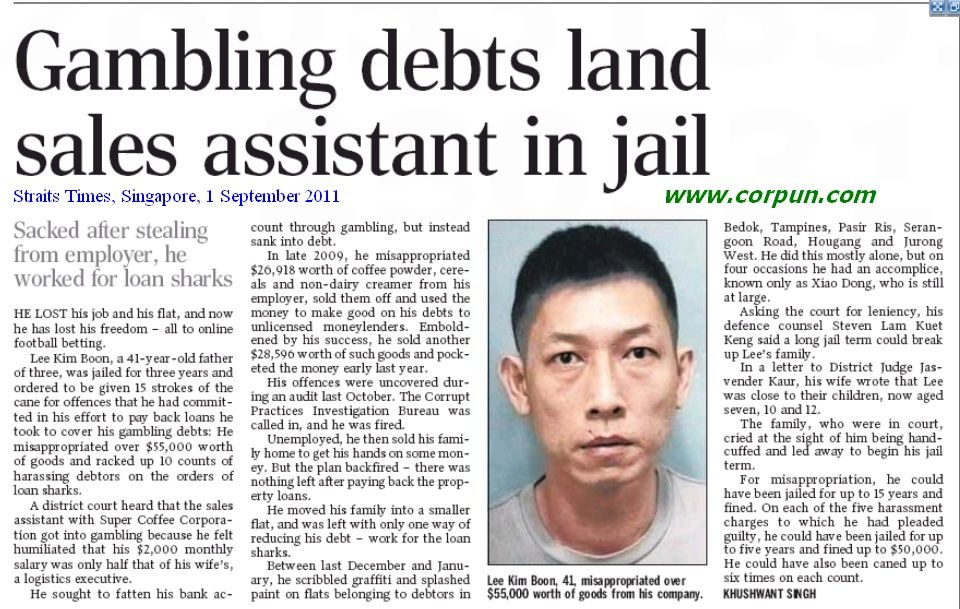 Click to enlarge
Asking the court for leniency, his defence counsel Steven Lam Kuet Keng said a long jail term could break up Lee's family.
In a letter to District Judge Jasvender Kaur, his wife his wife wrote that Lee was close to their children, now aged seven, 10 and 12.
The family, who were in court, cried at the sight of him being handcuffed and led away to begin his jail term.
For misappropriation, he could have been jailed for up to 15 years and fined. On each of the harassment charges to which he had pleaded guilty, he could have been jailed for up to five years and fined up to $50,000. He could also have been caned up to six times on each count.
---
---

The Straits Times, Singapore, 2 September 2011, p.B16
Jail and caning for molesting teenager in lift
Waiter also assaulted her mother and sister
By Elena Chong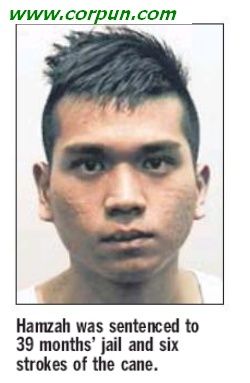 A WAITER followed a teenager into a lift and molested her when she was about to get out at her floor.
Her screams were heard by her younger sister and mother. They rushed out of their flat and were assaulted by him at the lift landing.
Yesterday, Hamzah Hambali, 26, was jailed for 39 months and ordered to be given six strokes of the cane for causing wrongful restraint while molesting the 17-year-old, and causing hurt to her sister and mother on Jan 23.
Deputy Public Prosecutor Yang Ziliang said the victim was on her way home at about 11pm when Hamzah, who did not live in her block, walked past her in the lift lobby.
He followed her into the lift and apologised after bumping into her arm.
When the lift door opened and she was about to exit, he pulled her towards him and kissed her.
She managed to break free but was pinned on the floor of the lift by Hamzah, said DPP Yang.
She shouted and screamed loudly.
He covered her mouth and continued molesting her.
When the victim's sister and mother rushed to the lift landing, they saw her lying on the floor with her legs inside the lift.
The mother pulled her up and asked Hamzah what he had done.
He did not reply but rushed out and gave her two slaps.
He pushed past the 42-year-old woman and punched her 16-year-old daughter twice on the jaw before fleeing down a staircase.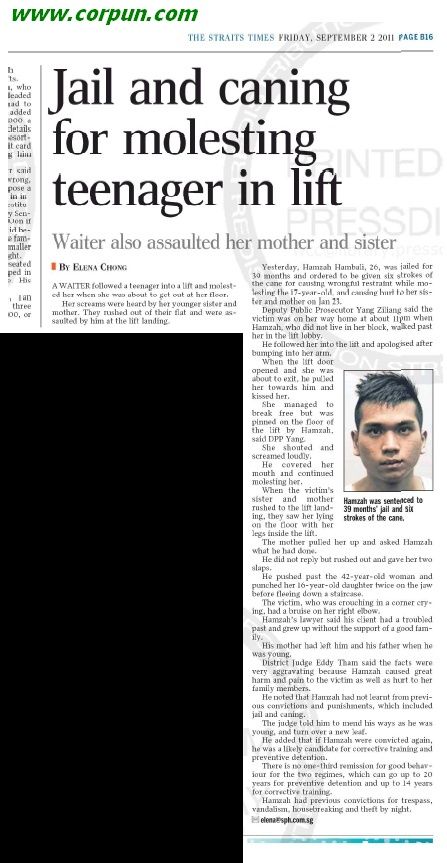 Click to enlarge
The victim, who was crouching in a corner crying, had a bruise on her right elbow.
Hamzah's lawyer said his client had a troubled past and grew up without the support of a good family.
His mother had left him and his father when he was young.
District Judge Eddy Tham said the facts were very aggravating because Hamzah caused great harm and pain to the victim as well as hurt to her family members.
He noted that Hamzah had not learnt from previous convictions and punishments, which included jail and caning.
The judge told him to mend his ways as he was young, and turn over a new leaf.
He added that if Hamzah were convicted again, he was a likely candidate for corrective training and preventive detention.
There is no one-third remission for good behaviour for the two regimes, which can go up to 20 years for preventive detention and up to 14 years for corrective training.
Hamzah had previous convictions for trespass, vandalism, housebreaking and theft by night.