The Straits Times, Singapore, 9 February 2012, p.B7
Jail, caning for Orchard Rd rioting
By Elena Chong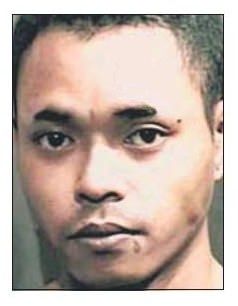 TWO more men who were involved in the 2010 Orchard Road gang-related fight that left one person dead and another injured, were packed off to jail yesterday for rioting.
One of the men jailed was identified as the headman of a secret society operating in Marsiling, while the other was a gang member.
Muhammad Fazri Mohd Noor, 27, said to be the headman, was armed with a parang during the attack on rival gang members. These included Mr Mohamad Noraidi Zahari and Mr Muhamad Rafi Tarjan Ali. It happened near Orchard Plaza on July 23, 2010.
Mr Noraidi, 28, died in hospital after police found him lying unconscious with multiple slash wounds at Orchard Plaza. The other victim, Mr Rafi, 41, was slashed in the shoulders.
Yesterday, Fazri was sentenced to five years' jail and six strokes of the cane after he pleaded guilty.
The other accused, Muhammad Suhairi Badron (right), 24, who was armed with a knife, got three years and six months as well as six strokes.
District Judge John Ng backdated both men's sentences to July 2010.
The court heard that when Fazri turned up for work at Chill Bar at Cuppage Plaza, he was told by Hassan Amat, 51, a senior member of the secret society, to "stand by" for a fight with a rival gang.
Fazri was told that weapons for the confrontation were inside a van parked on the side road.
He then called a junior headman, Muhd Saiful Islam Simon, 21, to gather his men. Saiful, who is now in reformative training, later arrived with seven others at around 2am.
Fazri then briefed him and his group on how to prepare for a fight with the rival gang members.

Click to enlarge
While waiting, he saw some 20 rival gang members coming towards them. He ran to the van, took a parang, and, together with more than 20 others, chased after the opposing group along Koek Road.
Fazri saw Mr Noraidi run into Orchard Plaza and fall after Hassan threw a chair at him. He also saw another fellow member slash Mr Rafi with a knife.
Someone shouted "Move, move, police come!" Fazri then threw the weapon back in the van before leaving for Johor Baru that night. He was detained by immigration officers two days later.
In Suhairi's case, the court heard that a fellow member called him to get ready to go to Chill Bar and to meet at Yew Tee MRT station. He later left home for the MRT station, where he was picked up by Saiful in a lorry that was driven by someone else.
Hassan and another accused will be dealt with in the High Court. Only one more suspect's case is pending trial in a district court.
The maximum penalty for rioting is 10 years' jail and caning.
---
---

The Straits Times, Singapore, 22 February 2012, p.B9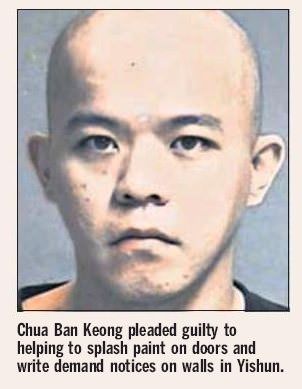 Case file
Jail, caning for runner
A DEBTOR who became a loan shark runner was jailed for two-and-a-half years yesterday.
Chua Ban Keong was also sentenced to 15 strokes of the cane after pleading guilty to helping to splash paint on doors and write demand notices on walls in Yishun.
The unemployed 33-year-old turned to illegal moneylenders after losing more than $10,000 at the Singapore Turf Club in 2010, a court heard. He borrowed about $15,000 from the loan sharks and owed banks around $30,000.
Chua became a runner early last year. He was asked to go to Changi Airport to pick up Chinese nationals working for an illegal lender known only as Ah Tian, then arrange their accommodation and transport.
Click to enlarge
Last June, Chua and a loan shark called Alex helped Chinese national Song Hui, 24, splash paint on the properties in Yishun.
The trio were also allegedly helped by Singaporean taxi driver Yeo Hock San, 44, whose case is pending. Song has already been sentenced to two years in jail and 12 strokes of the cane.