The Borneo Post, Kuching, 1 February 2012
Married couple gets life for possessing, planting cannabis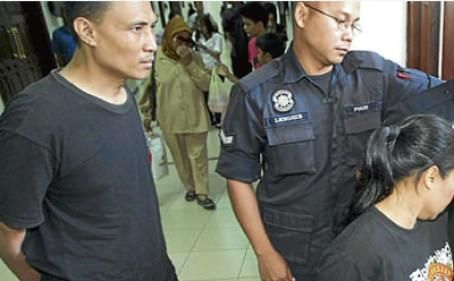 [Picture from New Straits Times, 1 February 2012]
KUCHING: A married couple was sentenced to life imprisonment after they were convicted of two drug charges namely possession of 20.44g cannabis and planting cannabis in their house last year.
Cannabis is also known as ganja.
Judge Afidah Abdul Rahman imposed the life sentence on Tajol Ashikin Tambi, 39, and wife Rozaimah Mat, 37, found guilty of the charges under Section 6 of the Dangerous Drug Act 1952 for possession of the cannabis, and the second charge of planting cannabis under Section 6B(1)(a) punishable under Section 6B(3) of the same act.
For the first charge, Tajol and Rozaimah were sentenced to three years' imprisonment. Tajol was also to be given three strokes of the rotan.
For the second charge, they were sentenced to life imprisonment with Tajol to be given another six strokes -- making a total of nine strokes in all.
The custodial sentences on both accused were to run concurrently.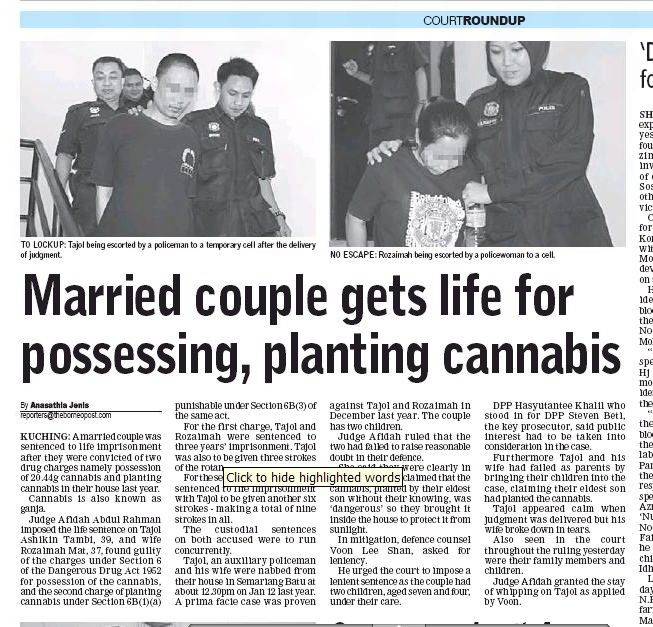 Click to enlarge
Tajol, an auxiliary policeman and his wife were nabbed from their house in Semariang Batu at about 12.30pm on Jan 12 last year. A prima facie case was proven against Tajol and Rozaimah in December last year. The couple has two children.
Judge Afidah ruled that the two had failed to raise reasonable doubt in their defence.
She said they were clearly in denial when they claimed that the cannabis, planted by their eldest son without their knowing, was 'dangerous' so they brought it inside the house to protect it from sunlight.
In mitigation, defence counsel Voon Lee Shan, asked for leniency.
He urged the court to impose a lenient sentence as the couple had two children, aged seven and four, under their care.
DPP Hasyutantee Khalil who stood in for DPP Steven Beti, the key prosecutor, said public interest had to be taken into consideration in the case.
Furthermore Tajol and his wife had failed as parents by bringing their children into the case, claiming their eldest son had planted the cannabis.
Tajol appeared calm when judgment was delivered but his wife broke down in tears.
Also seen in the court throughout the ruling yesterday were their family members and children.
Judge Afidah granted the stay of whipping on Tajol as applied by Voon.
Copyright © 2009 The Borneo Post. All rights reserved.
---
---
The Borneo Post, Kuching, 15 February 2012
Filipino's sentence for child molest enhanced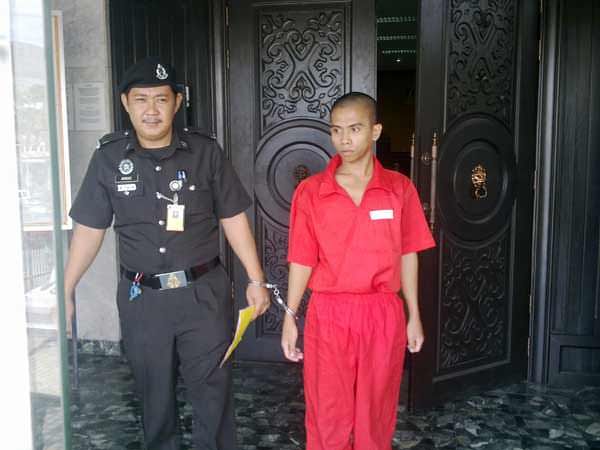 APPEAL DISMISSED: Nazri (right) leaving the courtroom after the proceedings yesterday.
KOTA KINABALU: The High Court here yesterday dismissed an appeal by a Filipino for a reduction of his sentence of four years' jail and three strokes of the cane for molesting a young child.
Instead, the Chief Judge of Sabah and Sarawak Tan Sri Richard Malanjum enhanced the sentence imposed by the Magistrate's Court on Nazri Abbas to six years' jail and six strokes of the cane.
Malanjum held that the previous sentence imposed by the subordinate court should be enhanced on the ground that
such offences are nowadays rampant and that consequent to his act, the appellant's mother had lost her job as a maid to the child.
He also pointed out that he has dealt with five similar appeals since last week.
The Magistrate's Court had on Nov 17, last year, imposed the custodial and whipping sentences on Nazri after he pleaded guilty to molesting a six-year-old girl at a house in Putatan between 1pm and 1.15pm on Oct 8, 2011.
The offence under Section 354 of the Penal Code provides for a jail term of up to 10 years, or a fine, or whipping, or any two of such punishments, upon conviction.
Click to enlarge
In his appeal against sentence, the unrepresented Nazri told the court that he was not aware of what he was doing as he was drunk at that time.
He claimed to have only touched the victim and had no intention to commit anything, prompting deputy public prosecutor Luke Ressa Balang to stand up and informed the court that the appellant had rubbed his private parts against the child's vagina.
When the court asked the appellant to provide justifications on why the sentence should not be enhanced, the appellant replied: "My mother is already old and I want to take care of her."
Nazri said his mother lost her job as a maid to the child after the incident and he regretted with what he had done and wanted to change his life.
He also informed the court that he could not stand any heavy punishment.
Copyright 2010-2011 BorneoPost Online. All Rights Reserved.
---
---
The Borneo Post, Kuching, 24 February 2012
7 years' jail, rotan for rape of a minor
By Anasathia Jenis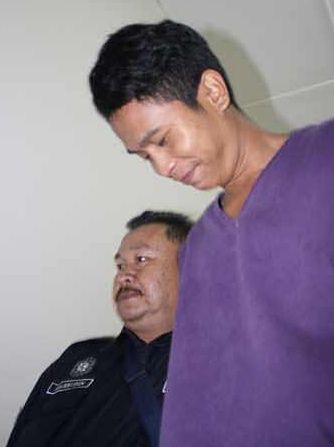 OFF TO PRISON: Degles being led out of the court room to serve his prison term.
KUCHING: A jobless youth was sentenced to seven years' jail and five rotan strokes after he pleaded guilty to a statutory rape charge.
Session Court judge Amelati Parnell passed the sentence after taking into consideration the facts of the case and the accused plea as well as the nature of offence.
Degles Tegong Ami, 21, admitted to have raped an 11-year-and-two-month old victim at his parents' house in Stutong Road near here between 10pm and 8am on Feb 1.
The brief facts of the case stated that the complainant (the girl's mother) had sensed something amiss when her daughter did not return home that night.
It was said that the victim had gone out with a friend to Taman Stutong that evening when they were approached by the accused, who managed to talk her into following him to his house where the rape took place.
She only managed to go home the next morning.
On reaching home the girl was quizzed by her mother but she refused to say anything.
Unsatisfied, the mother brought her to a hospital for a check where it was confirmed that there was a tear in her private part. There were also signs of love bites in her neck and other parts of the body.
A police report was duly made and the accused was arrested the same day.
Degles is charged under Section 376 (2)(e) of the Penal Code which provides a maximum 30 years' jail and whipping on conviction.
In mitigation, Degles said he felt remorse and asked for a lenient sentence as he was the sole breadwinner for his family.
Click to enlarge
The prosecuting officer ASP Carl Patrick Ramesh, however, urged the court to impose a deterrent sentence against the accused.
"Even though he pleaded guilty to the charge the court must consider public interest which demands for deterrent sentence for such a cases," he said.
He said the incident had left the child (victim) who is in Primary 5 traumatised.
Degles, who was not represented, appeared calm when the sentence was handed down while his mother broke into tears.
Both his parents were also agitated when they saw reporters outside the courtroom.
Copyright 2010-2011 BorneoPost Online. All Rights Reserved.