The Star, Kuala Lumpur, 20 January 2012, p.23
Teen robber to be whipped 10 times

Click to enlarge
KOTA KINABALU: A 17-year-old youth will be whipped 10 times with a light cane and jailed six months for two counts of robbery in Tawau.
The teen was sentenced to the light canings under the Child Act 2001 (Act 611) for robbing and instilling fear in his victim.
He pleaded guilty to using a sharp weapon and stealing a watch from the victim on Nov 25.
Magistrate Edward Paul ordered the teen to be referred to the Immigration Department.
Edward jailed the teen for six months for another robbery involving the use of a weapon here on Nov 26.
Police arrested the teen later that day and found seven flying feathers, a dart-like weapon, in his back pockets.
---
---
Daily Express, Kota Kinabalu, 26 January 2012
Bomoh's jail for rape increased to 15 years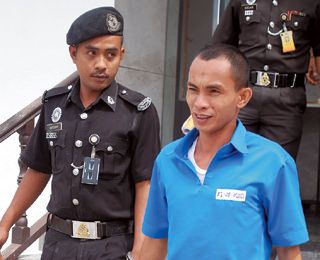 Kota Kinabalu: A 30-year-old local bomoh saw his sentence of six years' jail and two strokes of the cane for raping a woman in Kota Belud seven years ago increased to 15 years' jail and eight lashes of the cane by the High Court on Wednesday.
Chief Justice of Sabah and Sarawak Tan Sri Richard Malanjum allowed the appeal by the prosecution against the sentence imposed on Ajimi Abd Rashid by the Sessions Court on March 25, 2010.
He ordered the sentence passed by the Sessions Court to be set aside and substituted it with the sentence of 15 years of imprisonment and eight strokes of the cane.
Malanjum held that the court agreed with the prosecution that the sentence was inadequate, considering the facts of the case and that the respondent, Ajimi is still not remorseful over what he did.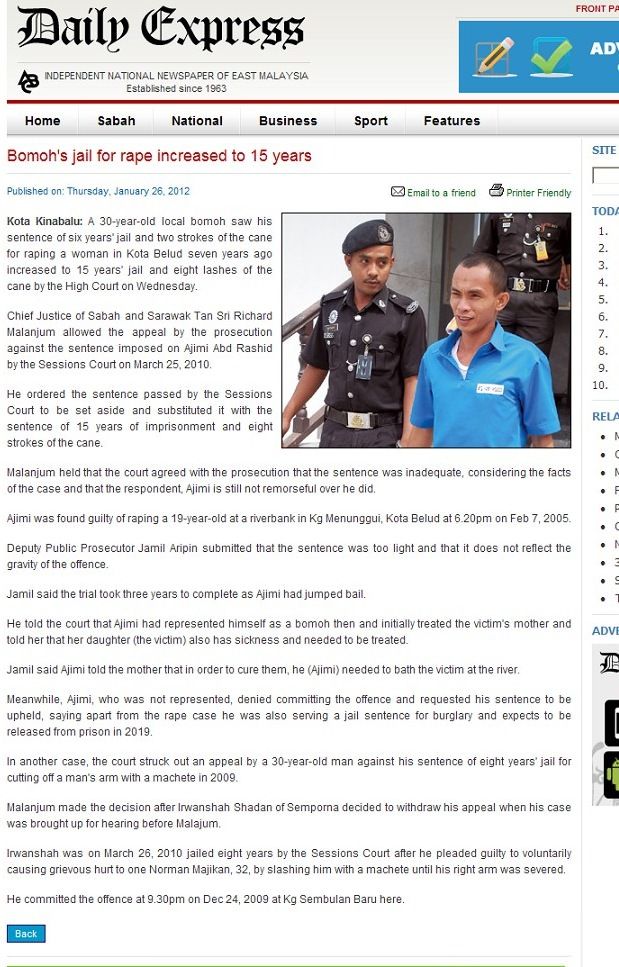 Click to enlarge
Ajimi was found guilty of raping a 19-year-old at a riverbank in Kg Menunggui, Kota Belud at 6.20pm on Feb 7, 2005.
Deputy Public Prosecutor Jamil Aripin submitted that the sentence was too light and that it does not reflect the gravity of the offence.
Jamil said the trial took three years to complete as Ajimi had jumped bail.
He told the court that Ajimi had represented himself as a bomoh then and initially treated the victim's mother and told her that her daughter (the victim) also has sickness and needed to be treated.
Jamil said Ajimi told the mother that in order to cure them, he (Ajimi) needed to bath the victim at the river.
Meanwhile, Ajimi, who was not represented, denied committing the offence and requested his sentence to be upheld, saying apart from the rape case he was also serving a jail sentence for burglary and expects to be released from prison in 2019.
In another case, the court struck out an appeal by a 30-year-old man against his sentence of eight years' jail for cutting off a man's arm with a machete in 2009.
Malanjum made the decision after Irwanshah Shadan of Semporna decided to withdraw his appeal when his case was brought up for hearing before Malajum.
Irwanshah was on March 26, 2010 jailed eight years by the Sessions Court after he pleaded guilty to voluntarily causing grievous hurt to one Norman Majikan, 32, by slashing him with a machete until his right arm was severed.
He committed the offence at 9.30pm on Dec 24, 2009 at Kg Sembulan Baru here.
© Copyright 2012 Sabah Publishing House Sdn. Bhd.
---
---
New Straits Times, Kuala Lumpur, 28 January 2012
Teen jailed 8 years for having drugs
GEORGE TOWN: A 19-year-old former Japanese restaurant worker was yesterday sentenced by the High Court here to eight years' jail and 10 strokes of the cane for possessing 782g of cannabis.
Mohammad Arfhad Md Yusoff being led away from the Penang High Court after he was sentenced to eight years' jail and ordered to be whipped 10 times for possessing 782g of cannabis. Pic courtesy of Guang Min Daily
Mohammad Arfhad Md Yusoff was initially charged with drug trafficking, but pleaded guilty on the first day of the hearing on Dec 7 last year when an alternative charge of possession was offered by the prosecution.

Mohammad Arfhad committed the offence in front of Hyundai Cartech Auto Centre Sdn Bhd in Jalan Sungai Pinang, Datuk Keramat, about 3.10pm on May 4 last year.

Counsel Hussaini Abdul Rashid, who represented Mohammad Arfhad, said his client was not a violent person and had a good relationship with his parents and five siblings.

Hussaini said his client, who had studied up to Form Three, had committed a stupid mistake and regretted his action.

Click to enlarge
"He has taken the initiative to better himself. While in remand, he has been studying Form 5 subjects," he said in asking for the minimum five-year jail sentence.

Deputy public prosecutor Sariza Ismail submitted said the probation report did not put the accused in a positive light.

Judge Datuk Zamani Abdul Rahim ordered the sentence to begin from the date of arrest on May 4 last year.

Mohammad Arfhad was seen smiling as he was leaving the court.
Copyright © 2011 The New Straits Times Press (Malaysia) Berhad. All rights reserved.