The Star, Kuala Lumpur, 12 March 2012, p.14
Man gets jail for raping receptionist
Court sentences him to 16 years in prison
By Joseph Kaos Jr
KOTA BARU: A man who is being investigated for 20 sexual assault cases in Kelantan has been jailed 16 years and ordered to be given eight strokes of the rotan for raping a 25-year-old receptionist last year.
Amran Che Jaafar, 31, admitted raping the woman at her staff quarters in Jalan Kuala Krai here on April 14, 2011.
Sessions judge Irwan Suaindon said the court took into consideration the seriousness of the offence, in which the offender also threatened to kill the victim with a knife.
"The incident has taken away the victim's pride and future and caused her life-long trauma. The accused had also used a weapon to strike fear into the victim.
"Let this heavy sentence be a lesson and a reminder to the public that the court will not take rape cases lightly," the judge said.
The judge ordered the sentence to start from the date of the arrest on Nov 25.
Counsel Ahmad Ridzwan Awang requested a lighter sentence since Amran had pleaded guilty.
"He has repented and hopes to be given a second chance," he added.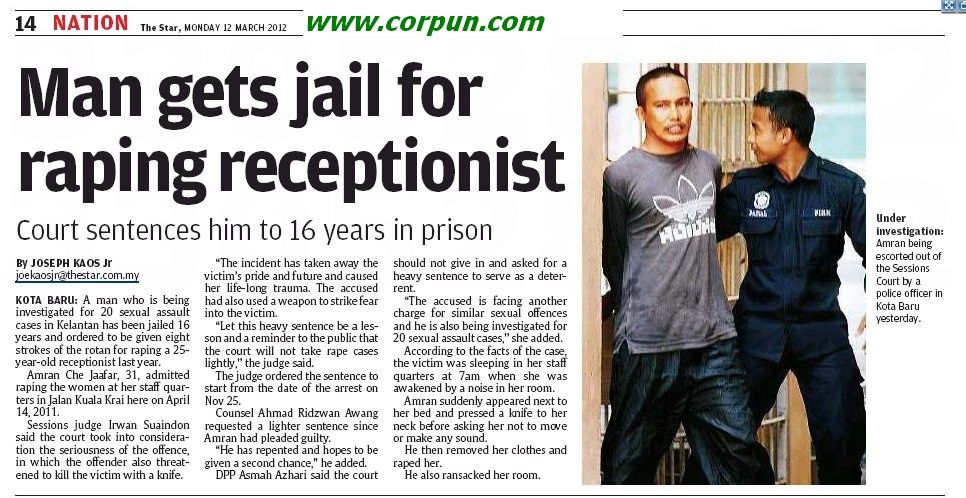 Click to enlarge
DPP Asmah Azhari said the court should not give in and asked for a heavy sentence to serve as a deterrent.
"The accused is facing another charge for similar sexual offences and he is also being investigated for 20 sexual assault cases," she added.
According to the facts of the case, the victim was sleeping in her staff quarters at 7am when she was awakened by a noise in her room.
Amran suddenly appeared next to her bed and pressed a knife to her neck before asking her not to move or make any sound.
He then removed her clothes and raped her.
He also ransacked her room.
---
---
The Borneo Post, Kuching, 21 March 2012
Jail, cane for not having proper travel document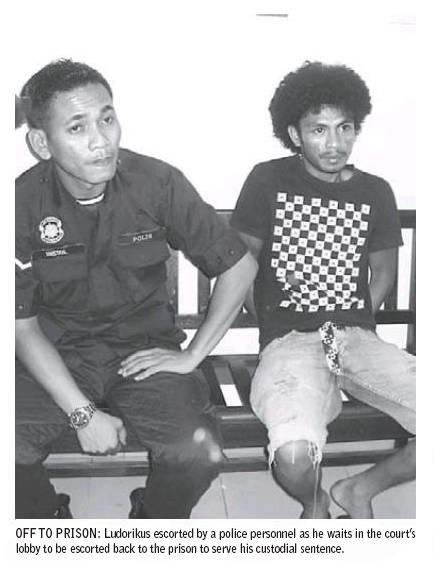 KUCHING: An Indonesian man who stayed back here without valid travel document was sentenced to three months' imprisonment and two lashes after he pleaded guilty to the offence in the Magistrates' Court here.
Ludorikus Bau, 26, appeared before Magistrate Maris Agan who ordered him to be deported to his country upon completion of the custodial sentence which took effect yesterday.
Magistrate Maris convicted him of a charge under Section 6 (1)(c) of the Immigration Act 1959/63 and punishable under Section 6(3) of the same act. He was detained at Bau Police Station at about 10pm on Feb 26 this year. Initial investigation showed he had entered the country illegally.
The accused, who was unrepresented, pleaded for a lenient sentence as he had to work to support his family back in his own country.
DPP Samira Khalili prosecuted.
Copyright 2010-2011 BorneoPost Online. All Rights Reserved.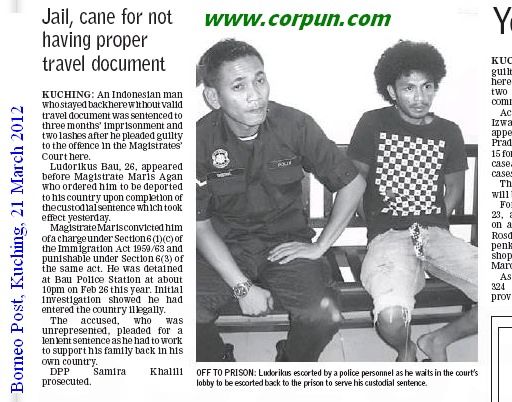 Click to enlarge
---
---
The Sun, Kuala Lumpur, 27 March 2012
860 on death row for various offences
By Hemananthani Sivanandam
(extracts)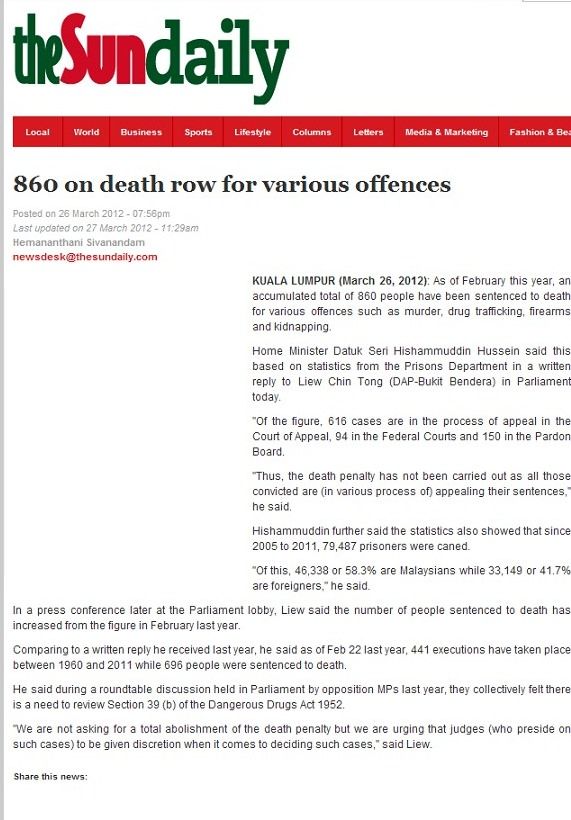 Click to enlarge
KUALA LUMPUR (March 26, 2012): As of February this year, an accumulated total of 860 people have been sentenced to death for various offences such as murder, drug trafficking, firearms and kidnapping.
Home Minister Datuk Seri Hishammuddin Hussein said this based on statistics from the Prisons Department in a written reply to Liew Chin Tong (DAP-Bukit Bendera) in Parliament today.
[...]
Hishammuddin further said the statistics also showed that since 2005 to 2011, 79,487 prisoners were caned.
"Of this, 46,338 or 58.3% are Malaysians while 33,149 or 41.7% are foreigners," he said.
[...]
Copyright © 2012 Sun Media Corporation Sdn. Bhd. All rights reserved.