The Borneo Post, Kuching, 29 September 2011, p.14
15 years' jail, 10 strokes for having cannabis
By Jane Moh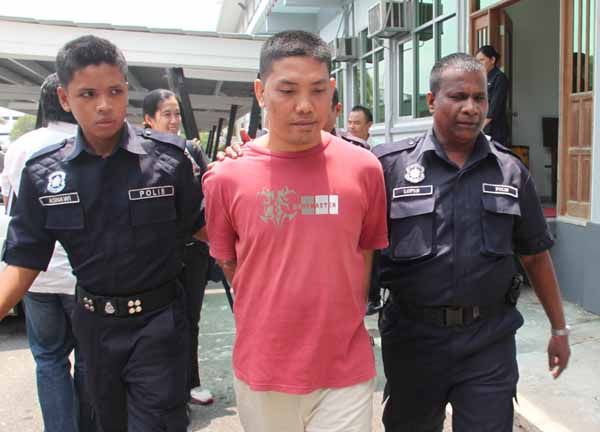 CONVICTED: Darsono being escorted to the lock-up after he was sentenced.
SIBU: A 30-year-old Indonesian man was sentenced to 15 years' jail and 10 strokes of the cane by the High Court yesterday after he pleaded guilty to possession of cannabis.
Darsono Hadi Sunarso, originally charged under Section 39B (1)(a) of the Dangerous Drug Act 1952 which carries the death penalty, was convicted of an alternative charge under Section 6 of the Dangerous Drug Act 1952, punishable under Section 39A(b) of the same act.
The Section provides for a life imprisonment or jail term of not less than five years and not less than 10 lashes.
Before passing sentence, Justice Yew Jen Kie said the accused had been involved in drug activities for quite some time but had not been caught earlier.
According to the facts of the case, on June 15, 2010, detective Sergeant-Major John Berma received a phone call from Sergeant Roslan at about 3.45pm about a drug activity in Sibu involving an Indonesian man.
Sergeant Roslan received the information from his informer.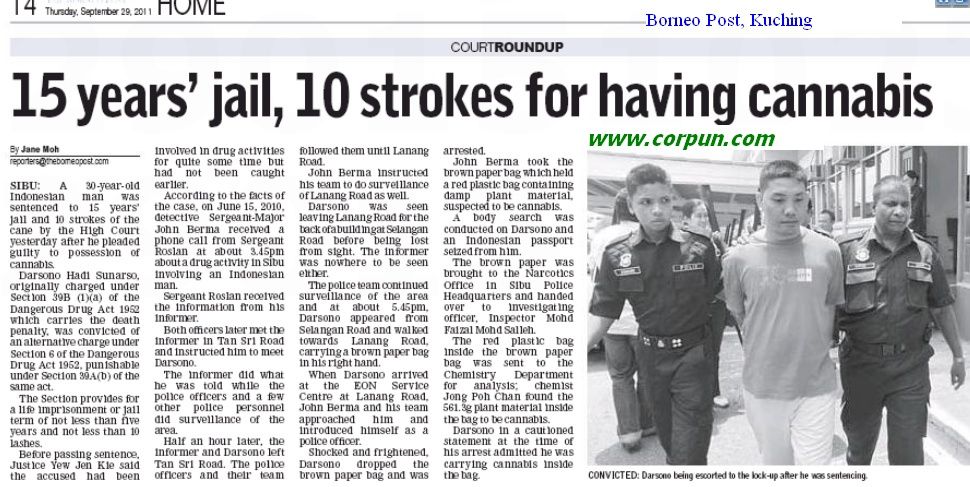 Click to enlarge
Both officers later met the informer in Tan Sri Road and instructed him to meet Darsono.
The informer did what he was told while the police officers and a few other police personnel did surveillance of the area.
Half an hour later, the informer and Darsono left Tan Sri Road. The police officers and their team followed them until Lanang Road.
John Berma instructed his team to do surveillance of Lanang Road as well.
Darsono was seen leaving Lanang Road for the back of a building at Selangan Road before being lost from sight. The informer was nowhere to be seen either.
The police team continued surveillance of the area and at about 5.45pm, Darsono appeared from Selangan Road and walked towards Lanang Road, carrying a brown paper bag in his right hand.
When Darsono arrived at the EON Service Centre at Lanang Road, John Berma and his team approached him and introduced himself as a police officer.
Shocked and frightened, Darsono dropped the brown paper bag and was arrested.
John Berma took the brown paper bag which held a red plastic bag containing damp plant material, suspected to be cannabis.
A body search was conducted on Darsono and an Indonesian passport seized from him.
The brown paper was brought to the Narcotics Office in Sibu Police Headquarters and handed over to investigating
officer, Inspector Mohd Faizal Mohd Salleh.
The red plastic bag inside the brown paper bag was sent to the Chemistry Department for analysis; chemist Jong Poh Chan found the 561.3g plant material inside the bag to be cannabis.
Darsono in a cautioned statement at the time of his arrest admitted he was carrying cannabis inside the bag.
Copyright © 2009 The Borneo Post. All rights reserved.