The Borneo Post, Kuching, 2 August 2011
Consented sex with girl lands man in jail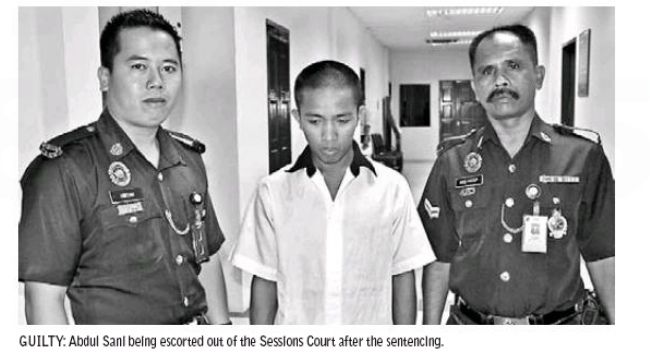 TAWAU: A 34-year-old local man who pleaded guilty to having consented sex with a 15-year-old girl, was sentenced to five years' jail and three strokes of the cane by the Sessions Court yesterday.
Judge Egusra Ali meted out the sentence on Abdul Sani bin Sulaiman who was charged under Section 375(g) of the Penal Code which provides imprisonment of 20 years and whipping. Abdul Sani was ordered by the judge to serve the sentence consecutively after completing his current sentence for four convictions on August 11, 2012.
Deputy public prosecutor Shukor Abu Bakar in his submission called for the court to pass a deterrent sentence as such offence is rampant in the district and serves as a lesson to others.
Shukor said the accused was an adult and should protect the victim who was still a child and not to take advantage of her.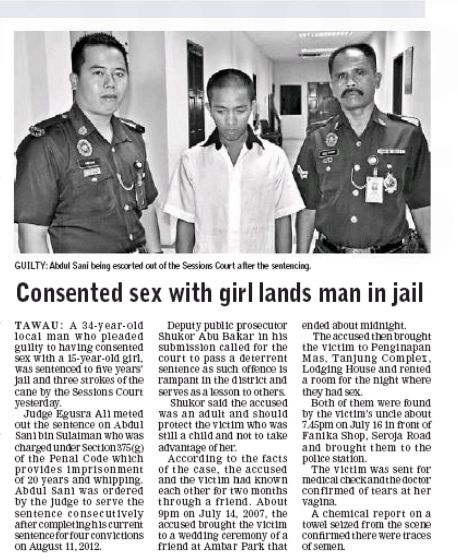 Click to enlarge
According to the facts of the case, the accused and the victim had known each other for two months through a friend. About 9pm on July 14, 2007, the accused brought the victim to a wedding ceremony of a friend at Ambar Park that ended about midnight.
The accused then brought the victim to Penginapan Mas, Tanjung Complex, Lodging House and rented a room for the night where they had sex.
Both of them were found by the victim's uncle about 7.45pm on July 16 in front of Fanika Shop, Seroja Road and brought them to the police station.
The victim was sent for medical check and the doctor confirmed of tears at her vagina.
A chemical report on a towel seized from the scene confirmed there were traces of semen.
Copyright 2010-2011 BorneoPost Online. All Rights Reserved.
---
---
The Star, Kuala Lumpur, 20 August 2011, p.26
'They forced us into piracy'
Suspects accuse moneylenders for crimes
By Simon Khoo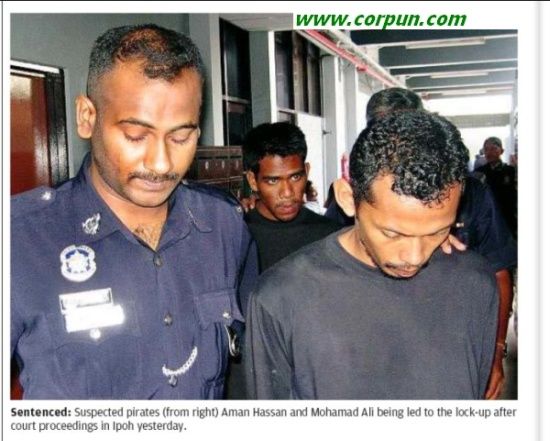 IPOH: Two men from Perlak, Aceh, told a Sessions Court here that they were forced by their moneylenders to rob and kidnap fishermen in Malaysian shores.
Mohamad Ali, 27, said he was left with no choice when he was forced to work as a pirate to pay off his debts.
"I had to support my elderly parents and I regret my action," he said during mitigation.
The second accused Aman Hassan Ali, 30, told judge Julie Lack Abdullah that he needed money to pay for the birth of his child.
"I am the sole breadwinner and need to support my family. I deeply regret my actions and plead for a lighter sentence," he said.
Both Mohamad and Aman Hassan were jointly charged with committing armed robbery against a Malaysian fishing trawler about 48 nautical miles northwest of Pulau Jarak, off Pulau Pangkor at about 2am on Aug 7.
They were charged under Section 395/397 of the Penal Code, which carries a maximum 20 years' jail and whipping if convicted.
According to the facts of the case, both accused, who were armed with AK-47 assault rifles, intercepted a trawler on a speedboat.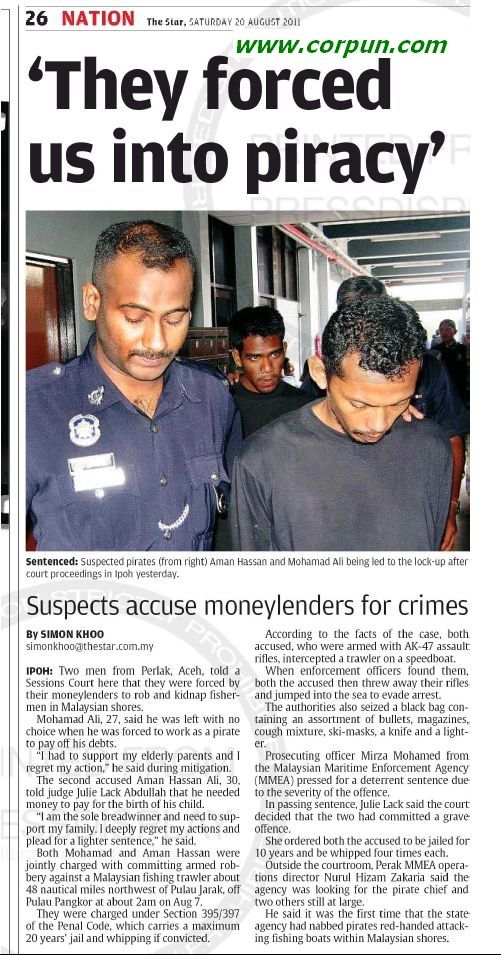 Click to enlarge
When enforcement officers found them, both the accused then threw away their rifles and jumped into the sea to evade arrest.
The authorities also seized a black bag containing an assortment of bullets, magazines, cough mixture, ski-masks, a knife and a lighter.
Prosecuting officer Mirza Mohamed from the Malaysian Maritime Enforcement Agency (MMEA) pressed for a deterrent sentence due to the severity of the offence.
In passing sentence, Julie Lack said the court decided that the two had committed a grave offence.
She ordered both the accused to be jailed for 10 years and be whipped four times each.
Outside the courtroom, Perak MMEA operations director Nurul Hizam Zakaria said the agency was looking for the pirate chief and two others still at large.
He said it was the first time that the state agency had nabbed pirates red-handed attacking fishing boats within Malaysian shores.