The Star Online (web only), Kuala Lumpur, 1 October 2011
Six Indonesian pirates jailed for 10 years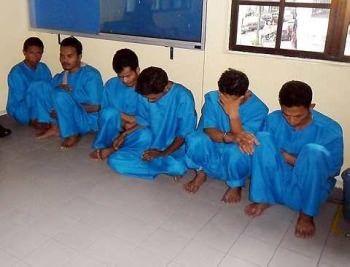 Going behind bars: The six Indonesians sitting outside the courtroom in Johor Baru Friday.
JOHOR BARU: Six Indonesian pirates who attempted to rob a vessel in Pontian were sentenced to 10 years' jail and four strokes of rotan by a Sessions Court here.
Rudiarto, 39, Andagunawan, 27, Edi, 45, Saleh, 45, Kahiru Fahmi, 25 and Uji Rashid, 33, all pleaded guilty to attempting to rob MT Sky Jupiter at around 12.49am on Sept 19 in Pontian.
They were all charged under Section 395 of the Penal Code, which carries a jail term of up to 20 years.
Sessions judge Mohamad Haldar Abdul Aziz sentenced all six to 10 years' imprisonment and four strokes of rotan each for the offence.
© 1995-2011 Star Publications (Malaysia) Bhd (Co No 10894-D)
---
---
Daily Express, Kota Kinabalu, 11 October 2011
First Sabah Syariah caning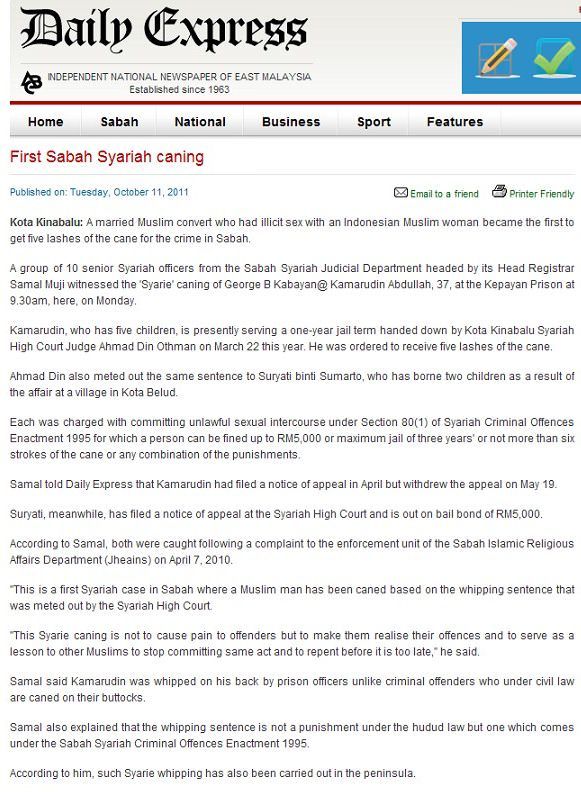 Click to enlarge
Kota Kinabalu: A married Muslim convert who had illicit sex with an Indonesian Muslim woman became the first to get five lashes of the cane for the crime in Sabah.
A group of 10 senior Syariah officers from the Sabah Syariah Judicial Department headed by its Head Registrar Samal Muji witnessed the 'Syarie' caning of George B Kabayan@ Kamarudin Abdullah, 37, at the Kepayan Prison at 9.30am, here, on Monday.
Kamarudin, who has five children, is presently serving a one-year jail term handed down by Kota Kinabalu Syariah High Court Judge Ahmad Din Othman on March 22 this year. He was ordered to receive five lashes of the cane.
Ahmad Din also meted out the same sentence to Suryati binti Sumarto, who has borne two children as a result of the affair at a village in Kota Belud.
Each was charged with committing unlawful sexual intercourse under Section 80(1) of Syariah Criminal Offences Enactment 1995 for which a person can be fined up to RM5,000 or maximum jail of three years' or not more than six strokes of the cane or any combination of the punishments.
Samal told Daily Express that Kamarudin had filed a notice of appeal in April but withdrew the appeal on May 19.
Suryati, meanwhile, has filed a notice of appeal at the Syariah High Court and is out on bail bond of RM5,000.
According to Samal, both were caught following a complaint to the enforcement unit of the Sabah Islamic Religious Affairs Department (Jheains) on April 7, 2010.
"This is a first Syariah case in Sabah where a Muslim man has been caned based on the whipping sentence that was meted out by the Syariah High Court.
"This Syarie caning is not to cause pain to offenders but to make them realise their offences and to serve as a lesson to other Muslims to stop committing same act and to repent before it is too late," he said.
Samal said Kamarudin was whipped on his back by prison officers unlike criminal offenders who under civil law are caned on their buttocks.
Samal also explained that the whipping sentence is not a punishment under the hudud law but one which comes under the Sabah Syariah Criminal Offences Enactment 1995.
According to him, such Syarie whipping has also been carried out in the peninsula.
© Copyright 2011 Sabah Publishing House Sdn. Bhd.
---
---
The Borneo Post, Kuching, 20 October 2011
Bornfree gets jail, cane for rape of 12-year-old
By Anasathia Jenis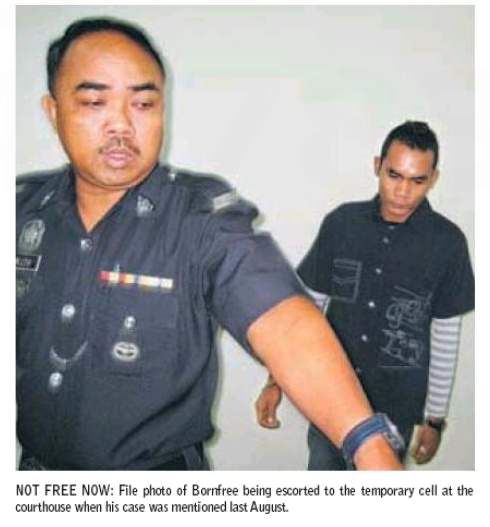 KUCHING: The Sessions Court here yesterday sentenced a man from Sebuyau to 12 years' jail and 10 lashes after he pleaded guilty to three counts of raping his 12-year-old girlfriend last year.
Judge Nixon Kennedy Kumbong meted the sentence against Bornfree Tait, 26, from Sebuyau after taking into consideration the accused's mitigation and facts of the case.
The unemployed pleaded guilty to the crime committed at his girlfriend's house at Taman Lee Ling in Matang in November and December 2010 for the first and second charge.
They repeated the act in Bornfree's house in Sebuyau on Dec 18, 2010.
For the first and second charge, he was sentenced to six years' imprisonment and three strokes each, the jail term to run concurrently.
And for the third charge, he received another six years' jail and four lashes to run consecutively after the conviction.
Altogether he received 12 years' jail and 10 strokes of the cane.
Nixon ordered the jail term to start from yesterday.
The first and  second charges come under Section 376 (1) of the Penal Code for statutory rape which carries a maximum penalty of 20 years imprisonment and whipping upon conviction.

Click to enlarge
Meanwhile, the third charge comes under Section 376(2)(d) of the Penal Code which provides a maximum penalty of 20 years' imprisonment and whipping upon conviction.
According to the facts of the case, the girl's parent found she had gone missing from their house, and her father lodged a police report.
Shortly after, the parents were informed that the daughter had followed her boyfriend to his house in Sebuyau.
The father lodged another police report that the daughter could have been outraged by the boyfriend, and brought her to a clinic for a medical checkup, which showed a tear in the hymen.
Hence the parents lodged a police report of rape by the boyfriend.
DPP Heng Yan Loo earlier asked for a severe punishment as the girl was underaged.
Bornfree, who was not represented, wept when he heard his punishment.
Copyright 2010-2011 BorneoPost Online. All Rights Reserved.
---
---
Free Malaysia Today, 24 October 2011
A stroke of searing pain
A young Myanmar refugee speaks about the torture that takes place in the caning room of detention centres.
By Stephanie Sta Maria
Click to enlarge
There are some wounds that time doesn't heal. For these wounds the only balm is the ceasing of nightmares and the loose embrace of normality once again. But the passageway between darkness and light is never quite sealed.
Nom Khai, 26, has been traversing this passageway for the past three years. He lives mostly in the light these days but a single flashback can hurl him right back into the dark pool of pain and fear.
In October 2008, Nom Khai was en route to the UN High Commissioner for Refugees (UNHCR) to apply for his refugee card when he was stopped by police.
As a Myanmar refugee living in Malaysia for three years he was used to such occurrences and braced himself for yet another interrogation. If he was lucky he would be let off without being relieved of all his money this time.
Instead he was arrested and subsequently bundled off to a prison near Kuala Lumpur where he spent the next three months waiting to be told of his fate.
The news finally arrived and with it came the first arrow of fear. Nom Khai was to be transferred to a detention camp.
"I was taken to court where the judge passed a sentence I couldn't understand," he told FMT through a translator. "My translator told me it was a three-month jail term and one stroke of the cane."
"I was scared but he tried to comfort me by saying that other detainees had received harsher punishments. What we weren't told was the date and time of the caning."
A typical Inmate Card provides the precise number of years and months of the penal sentence and the number of strokes but not when the sentence will be executed.
Mental torture
Caned inmates interviewed in a recent Amnesty International report, entitled "A Blow to Humanity: Torture by Judicial Caning in Malaysia", described this indefinite period of waiting as "mental anguish" and "like waiting to be hanged".
"At first I was calm until one of my cellmates was caned," Nom Khai said. "I saw the pain he was in and at one point his wound was exposed. That's when I began feeling really scared."
"We were told that if we bribed the prison officials we wouldn't be hit so hard. I think the fee was about RM300. I would have paid but I didn't have any money."
Caning officers receive regular salaries as prison officials and a bonus for each caning they perform based on the number of strokes. In 2005, the government raised that bonus from RM3 to RM10 per stroke.
Amnesty also learnt that caning officers exploit a loophole in the caning procedure whereby a stroke that misses is still counted as a stroke. For a bribe, some caning officers will agree to miss one.
But since inmates don't know which caning officer will be assigned to them, other prison officials are used as middlemen.
Nom Khai was eventually told of his date and time of the caning a week ahead. As the day drew closer he cried himself to sleep.
"At 11am that morning 30 of us were called out and assigned numbers," he recalled. "Mine was 12. Then we had to stand in a line outside the caning room."
While waiting for their turn the inmates were ordered to strip and don a small loin cloth that covers the genitals but leaves the buttocks exposed. A doctor checked then checked their heart and blood pressure to certify their fitness to be caned.
"We weren't told the reason for the examination," Nom Khai said. "But no one was rejected."
Completely immobilised
From the waiting area the sounds of the actual caning were clearly audible. Inmates have described it as the sound of fireworks exploding accompanied by screaming and crying.
"Boom boom boom!" Nom Khai said solemnly. His translator flinched. "Some inmates had to be carried out because they couldn't walk or had fainted. I was finally called in at 1pm."
Then he fell silent and stared at his hands. His subsequent narration of what took place in the caning area was succinct.
"My hands and feet were spread and tied to wooden bars. I couldn't move. I heard the prison official shout out 'one' and then I felt the cane. I have never felt such pain before."
The Amnesty report has chronicled the events from the waiting area to the caning area. According to the interviewees, when an inmate enters the caning area a prison officer reads the sentence aloud after which the inmate is forced to respond, "Terima kasih, tuan".
The inmate is then taken to a scaffolding of an A-frame truss where his hands and legs are tied, a belt is fastened around his waist and an open panel is placed around his buttocks.
Inmates told Amnesty that the restraints rendered them completely immobilised and the resulting sense of powerlessness was terrifying. The report went on to describe the excruciating details of the caning.
"Once the inmate is secured a guard counts out the strokes. At each count the caning officer lifts his cane, takes a full-body twirl and lands the end of his cane directly on the victim's buttocks," the report said.
"The canes are over one metre long, 1.25cm in diameter and rinsed in saltwater so it is heavy. It travels up to 160 kilometres per hour to shred the victim's naked skin, turn the fatty tissue into pulp and leave permanent scars that extend all the way to muscle fibres."
Bucket of iodine
The report added that the impact of the caning causes the inmate to lose muscle control in the buttocks and at times even over his urinary and bowel functions. Nom Khai nodded silently when asked if this account was accurate.
"Before we left the area we had to bend over in front of a guard who dipped a paint brush in a bucket of iodine and brushed it over our wounds," he said. "That was all the medical treatment we got."
"I had to lie on my stomach for the first week and I was only able to sit after a few weeks. The scar is still visible and even now it hurts if I sit for too long."
Since no special clothing is provided to the caned inmates, they cut out the seat of their pants to avoid the cloth from sticking to the wound.
Nom Khai was released four days after his caning and promptly sold to a syndicate in Thailand by, he alleged, Malaysian authorities. FMT was unable to verify this claim. But he returned to Malaysia within a week.
"I'm seeking asylum in the US," he explained. "As soon as I am granted it, I will bring the rest of my family to Malaysia and we will leave together. I don't want to live here anymore."
Since his detention, Nom Khai has been arrested five more times but none resulted in another caning sentence. He continues to live in fear but insisted that he has no other choice.
"I left Myanmar because the junta took my father away and returned him with two broken legs," he said. "Then the junta came for me, so I ran to Thailand and now I'm here. I'm the sole breadwinner and I'm earning more in Malaysia than I did in Thailand."
"But it's a difficult situation. If I return to Myanmar, I will surely be killed. If I remain in Malaysia, I am an illegal and the punishment for that is like a death sentence."
*In 1996, amendments to the Immigration Act made caning mandatory for illegal entry and forging of immigration documents. In 2002, Parliament made immigration violations punishable by "whipping of not more than six strokes."
Copyright (C) 2011 MToday News Sdn. Bhd. All Rights Reserved.
---
---
Free Malaysia Today, 27 October 2011
Caning: Deterrent or abuse?
A prison official speaks of this much criticised form of corporal punishment and defends it.
By Stephanie Sta Maria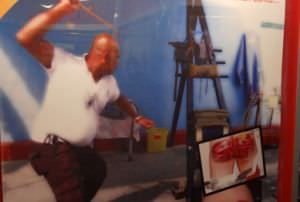 Within the Kajang Prison Unit Security (UKP) are 10 individuals who belong to an elite corps, handpicked to carry out a specialised task that requires both skill and strength. They are all big and strong.
Their powerful build is a necessity for the job; they have to swing a metre-long cane at 160 kilometres per hour to create a force upon impact of 90 kilogrammes. They are the prison's caning officials.
In 2005 a local daily reported that there were 50 caning officers and executioners in Malaysia. Unlike hanging, caning is a highly sought-after job among prison officials, especially after that year, when the government increased the bonus from RM3 to RM10 per stroke.
"We get many applicants for the job," said a Kajang Prison UKP official who gave his name only as Baharuddin. "It pays well and it's not a difficult job if you have the stomach for it."
Baharuddin confessed that he does not have that hardy a stomach. His tolerance extends only to explaining the graphic images plastered around the Prisons Department booth, which he was manning at the Second General Police and Special Equipment Exhibition and Conference in Putrajaya.
According to him, the training of caning officials involve teaching them to lift the canes, taking a full body twirl and landing the cane on an small target with accuracy. Once they get the hang of this, they sharpen the skill by practising on small sandbags.
"We use three different canes for different purposes," he said, gesturing at the canes on exhibition. "The first cane is for violent crimes like armed robbery or rape, the second is for white-collar crimes and the third is for juvenile offenders."
The first cane is also used on illegal immigrants. In 1996, amendments to the Immigration Act made caning mandatory for illegal entry and forging of immigration documents. Six years later, Parliament made immigration violations punishable by "whipping of not more than six strokes".
Gross atrocity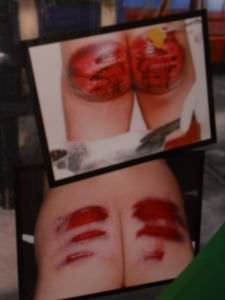 Amnesty International Malaysia is among the scores of NGOs who have decried whipping as a gross atrocity of human rights and is lobbying hard for this "act of barbarism" to be abolished.
In a report entitled "A Blow To Humanity: Torture by Judicial Caning in Malaysia", Amnesty estimated that about 10,000 people are caned each year, the majority being foreign nationals.
In 2009, the government revealed that 34,923 foreigners were caned between 2002 and 2008. More than 60% were Indonesians, 14% were Myanmars and 14% were Filipinos.
"Under international human rights law, any punishment that is intentionally inflicted by an official and causes severe pain and suffering to the victim is considered torture," Amnesty said.
Caning for criminal offences was introduced by the British colonial administration. It imposed the Indian Penal Code on the Straits Settlements in 1870, eventually extending it to the Malay peninsula.
In the 19th century, English criminal law provided for caning for a variety of offences. However, Britain has long abolished caning, as has India.
"Among the Commonwealth countries that have not yet abolished caning, Malaysia is the only country that has a population of over 10 million people and a high level of human development," Amnesty stated.
Zaman Khan, a former director-general of the Prisons Department, has a dual stand on whipping. While he advocates it as an appropriate punishment for violent crimes, he abhors its use on asylum seekers.
"I have also been the Criminal Investigation Department director and I can tell you that it is very hard to have mercy on perpetrators when you have looked into their victims' eyes," he said.
"The people who have hurt the innocent deserve to be whipped. But not genuine refugees who are escaping atrocities in their own countries."
No distinction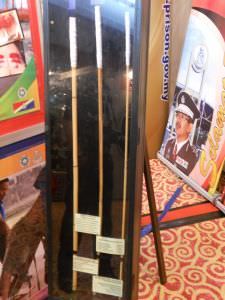 Baharuddin, however, brushed this distinction aside. To him it is simple; whoever breaks the law has to accept the punishment.
He acknowledged the accuracy of most of Amnesty's report findings as well as the first-hand account of a whipping sentence that Myanmar refugee Nom Khai gave to FMT in an earlier interview.
"But there are some facts that are inaccurate," he frowned. "We don't purposely withhold the sentence date and time, like Amnesty claims. The inmates are duly informed when the sentence is passed in court.
"We also provide adequate medical treatment after the caning. The inmate is taken to the prison hospital every day for iodine treatment to prevent infection and speed up the healing."
Nom Khai told FMT he did not receive any medical treatment aside from iodine, which was swiped across his buttocks with a paint brush immediately after the caning.
Baharuddin elaborated on other aspects of the caning procedure. According to him, the doctor who assesses an inmate's fitness for caning is meant to check for serious conditions like cancer or heart ailments.
"If an inmate is found to suffer from either, he will be presented in court again for a different sentence, perhaps a longer jail term or a fine," he explained.
Baharuddin also disputed Amnesty's report that if an inmate loses consciousness from pain during the caning, the doctor present is ordered to revive him so that the caning can continue.
Physical and psychological scars
"That is not true," he said. "If the inmate faints, we stop the caning and take him to court. But they don't usually faint.
"Most of the time, they just scream for their mothers or call out for God's mercy. Except for the Chinese. They take it very quietly."
Baharuddin protested against allegations of inmates bribing caning officers to miss a stroke. According to Amnesty's report, caning officials exploit a loophole in the system that allows for a missed stroke to count as valid.
"If they miss a stroke, they are taken off the team to undergo a refresher course," he said. "This means they lose their additional income. So why would they risk that?
"Besides, if an inmate is to be given more than three strokes, we switch the officials to maintain momentum. They can't all be bribed. And there is no such thing as instalments. The inmate receives all his strokes at one time."
Asked if each stroke was made atop a previous one, Baharuddin replied that it depended on the caning official.
"Sometimes he aims for the same spot, or if he's in the mood, he goes for the Adidas logo," he chuckled.
Caning, according to former inmates, leaves both physical and psychological scars. Those interviewed by Amnesty spoke of visible scarring, pain in the remaining wound, pinched nerves, post-traumatic stress disorder and a lightheaded feeling that continued years after the caning.
An inmate told Amnesty that the purpose of caning was not only to punish a person for a past crime but also to deter him from committing another.
But in 2008, Immigration director Baharom Talib said that 4,326 illegal immigrants had returned to Sabah to work after being caned and deported. It is a risk most of them are willing to take for the sake of their and their families' future.
Kop Thang, who had fled abuses by the military in Myanmar's Chin state, told Amnesty: "I was crying. I thought of my experiences in Myanmar, being abused and tortured, and now being abused here in Malaysia. I felt I was still not safe."
Copyright (C) 2011 MToday News Sdn. Bhd. All Rights Reserved.