The New Vision, Kampala, 14 September 2009
Masaka councillor canes pupils
By Ali Mambule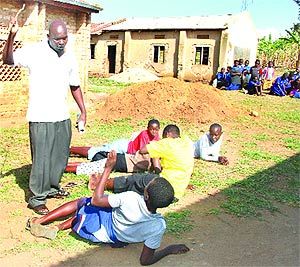 Sansa canes pupils at Balimanyantya Primary School
MASAKA district finance secretary Eddie Sansa on Thursday caned pupils of Balimanyantya Primary School for delaying to report to school.

While on an inspection tour of the Universal Primary Education (UPE) schools and health centres in Lwengo sub-county, Sansa was shocked to find that many schools had not yet opened up for the third term which started on September 7.

In Balimanyantya near Kyetume trading centre on the Masaka-Mbarara highway, all classes, apart from P7, had not resumed.

Even in P7, only 23 pupils out of 65 who registered for the final examinations had reported.

"Even the teachers are not here. Is it the administration that instructed pupils not to report to school?" Sansa asked Vincent Byarugaba, the only teacher present.

"How do you expect to compete with pupils in Kampala schools where lessons start on the first day of a term?"
Click to enlarge
Six P7 girls dressed in plain clothes and clutching their books in their armpits arrived at school at about 11:00am while Sansa was grilling their class teacher about the poor turn up of pupils.

"Where have you been and what have you been doing?" Sansa asked the girls before he ordered them to lie down. He gave them 10 strokes of the cane each and instructed them to return to their homes and prepare for Friday lessons.

Sansa asked the deputy headteacher, Mary Nakaayi, to write a report to the district education officer, explaining the absence of the pupils and their teachers.

He directed her to copy the letter to the county education officer.
© Copyright 2000-2009 The New Vision. All rights reserved.
Country files: School CP in Uganda
Other external links: School corporal punishment