The New Vision, Kampala, 11 October 2009
Caning pupils resumes in Masaka
By Dismus Buregyeya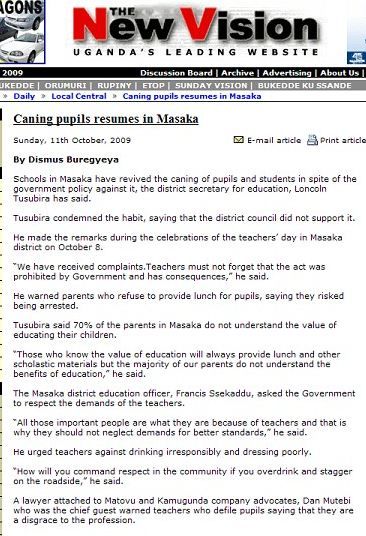 Click to enlarge
Schools in Masaka have revived the caning of pupils and students in spite of the government policy against it, the district secretary for education, Loncoln Tusubira has said.

Tusubira condemned the habit, saying that the district council did not support it.

He made the remarks during the celebrations of the teachers' day in Masaka district on October 8.

"We have received complaints. Teachers must not forget that the act was prohibited by Government and has consequences," he said.

He warned parents who refuse to provide lunch for pupils, saying they risked being arrested.

Tusubira said 70% of the parents in Masaka do not understand the value of educating their children.

"Those who know the value of education will always provide lunch and other scholastic materials but the majority of our parents do not understand the benefits of education," he said.

The Masaka district education officer, Francis Ssekaddu, asked the Government to respect the demands of the teachers.

"All those important people are what they are because of teachers and that is why they should not neglect demands for better standards," he said.

He urged teachers against drinking irresponsibly and dressing poorly.

"How will you command respect in the community if you overdrink and stagger on the roadside," he said.

A lawyer attached to Matovu and Kamugunda company advocates, Dan Mutebi who was the chief guest warned teachers who defile pupils saying that they are a disgrace to the profession.
© Copyright 2000-2009 The New Vision. All rights reserved.
Country files: School CP in Uganda
Other external links: School corporal punishment