Daily Monitor, Kampala, 12 August 2009
Parents cane drunk teachers
By Warom Felix Okello
Maracha-Terego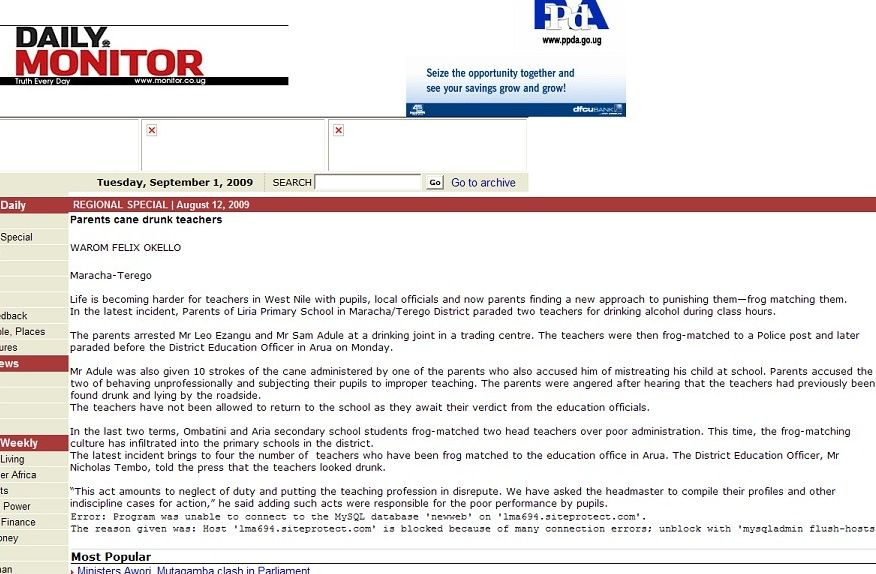 Click to enlarge
Life is becoming harder for teachers in West Nile with pupils, local officials and now parents finding a new approach to punishing them -- frog matching them.
In the latest incident, Parents of Liria Primary School in Maracha/Terego District paraded two teachers for drinking alcohol during class hours.

The parents arrested Mr Leo Ezangu and Mr Sam Adule at a drinking joint in a trading centre. The teachers were then frog-matched to a Police post and later paraded before the District Education Officer in Arua on Monday.

Mr Adule was also given 10 strokes of the cane administered by one of the parents who also accused him of mistreating his child at school. Parents accused the two of behaving unprofessionally and subjecting their pupils to improper teaching. The parents were angered after hearing that the teachers had previously been found drunk and lying by the roadside.
The teachers have not been allowed to return to the school as they await their verdict from the education officials.

In the last two terms, Ombatini and Aria secondary school students frog-matched two head teachers over poor administration. This time, the frog-matching culture has infiltrated into the primary schools in the district.
The latest incident brings to four the number of  teachers who have been frog matched to the education office in Arua. The District Education Officer, Mr Nicholas Tembo, told the press that the teachers looked drunk.
"This act amounts to neglect of duty and putting the teaching profession in disrepute. We have asked the headmaster to compile their profiles and other indiscipline cases for action," he said adding such acts were responsible for the poor performance by pupils.
Country files: School CP in Uganda
Other external links: School corporal punishment