The Straits Times, Singapore, 4 November 2009
Man jailed for tossing burning paper onto car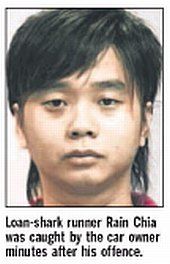 HE TOSSED burning tissue paper onto a parked car and caused $28 in damages.
For that act, loanshark runner Rain Chia Kuan Guan was handed a jail sentence of two years and three months yesterday.
Although the damage to the car was minimal, the district court found that it was a dangerous act as a fire could have damaged other vehicles.
The recent spate of cases of runners starting fires -- usually outside flats of debtors -- also made it necessary to send a signal that all forms of harassment by fire will be dealt with severely, said District Judge Jasvender Kaur.
The 25-year-old was caught by the car owner at 10pm on June 20, minutes after the crime. The odd-job worker admitted being told to do so by a loan shark after being handed to the police. He had become a runner as he was unable to repay a debt.

Click to enlarge
Chia was given a separate jail sentence of one year and three months, as well as three strokes of the cane, for scribbling loan-shark warnings outside a flat in Ang Mo Kio. The offences all took place in June, during which he also committed several traffic violations and harassed debtors.
He was fined a total of $2,800 and disqualified from driving any vehicle for a year, after colliding into a centre divider along North Canal Road on June 6. He also admitted yesterday to driving carelessly and driving without a licence and insurance.
Chia, who has previous convictions for copyright infringements and drug trafficking, could have been jailed for up to seven years and fined for committing mischief by fire.
---
---
Today, Singapore, 10 November 2009
One of the 'worst' predators ever: Judge
Molester's plea against 32-year jail, 24 strokes of the cane dismissed
By Ong Dai Lin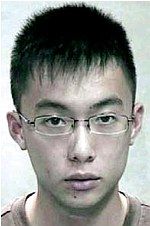 Huang Shiyou, 23, appeared impassive during the hearing yesterday.
Photo courtesy Singapore Police Force
SINGAPORE -- He molested nine young girls in a span of 16 months -- making Huang Shiyou's case "one of the worst" to have come before the courts, according to Justice V K Rajah.
And so the defence's plea that a 32-year jail term and 24 strokes of the cane were "manifestly excessive" was dismissed yesterday by the Court of Appeal, which found no reason to disagree with the sentence given by the trial judge in April.
Huang, 23, had preyed on girls aged nine to 14 in Tampines, from April 2007 to July last year.
His first four victims were molested in a lift.
The former National Serviceman forced some of the other victims to follow him to staircase landings, where he groped them, made them perform oral sex on him and tried to rape them.
He was arrested after his ninth victim, an 11-year-old, filed a police report.
Huang's lawyer Chia Kok Seng argued yesterday that a shorter jail term of around 20 to 22 years should be "adequate" to keep his client away from society and for him to be rehabilitated.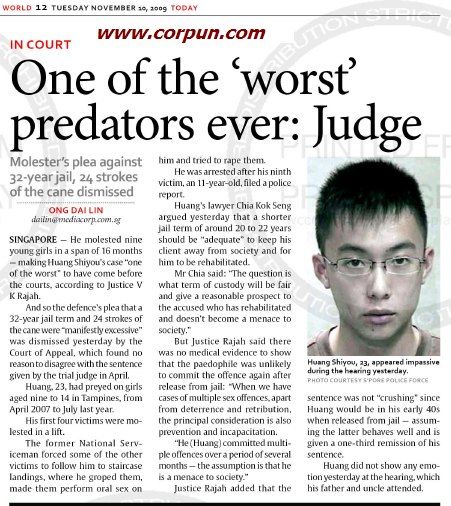 Click to enlarge
Mr Chia said: "The question is what term of custody will be fair and give a reasonable prospect to the accused who has rehabilitated and doesn't become a menace to society."
But Justice Rajah said there was no medical evidence to show that the paedophile was unlikely to commit the offence again after release from jail: "When we have cases of multiple sex offences, apart from deterrence and retribution, the principal consideration is also prevention and incapacitation.
"He (Huang) committed multiple offences over a period of several months -- the assumption is that he is a menace to society."
Justice Rajah added that the sentence was not "crushing" since Huang would be in his early 40s when released from jail -- assuming the latter behaves well and is given a one-third remission of his sentence.
Huang did not show any emotion yesterday at the hearing, which his father and uncle attended.
---
---

The Straits Times, Singapore, 11 November 2009
Dad who scalded child gets jail term
Pouring boiling water is no way to discipline 9-year-old, says judge
By Elena Chong
Courts Correspondent

Click to enlarge
PARENTS are entitled to discipline their children, but scalding is definitely out as a method of punishment, said a district judge yesterday.
District Judge Hamidah Ibrahim was passing sentence yesterday on a self-employed man who poured boiling water on his then nine-year-old daughter for lying and stealing.
The man was given an 18-month jail term and three strokes of the cane. He cannot be named, in order to protect his daughter's identity.
The judge rejected his lawyer's recommendation that a probation report be called, saying probation was inappropriate, given the aggravating facts of the case.
Deputy Public Prosecutor Ang Feng Qian told the court that when the girl, a Primary 4 pupil, returned from school on the afternoon of July 10, she got a shelling from her father for lying about having to stay back in school.
He found items in her school bag that did not belong to her, among them, an exercise book. Asked for an explanation, the girl said she borrowed 50 cents from a teacher to buy it, which he found out was a lie. He filled a mug with hot water, intending to pour it on her hand as a warning against stealing again. The girl's retort -- that he did not buy her what she wanted -- infuriated him further.
He chased her as she ran into the bathroom just off the kitchen, splashing hot water on her along the way. From behind the bathroom door, the girl apologised, to which her father said it was not the first time she had made major mistakes.
He took another mug, one of stainless steel which he had earlier filled with water and set on the stove to boil, and flung its contents over the top of the bathroom door. The girl screamed in pain.
Forcing open the door, he quizzed her further, and she confessed to having stolen two CashCards from his van. He then caned her, bought ointment and cream for her to apply on her wounds and told her to stay home for the next six days.
When she turned up in school on July 17, a teacher noticed a swelling on her face and notified the authorities. The girl is now in foster care. The man's lawyer, Mr B. Ganesh, said his client had asked to go for counselling and a parenting-skills workshop, and that this was the first time he had disciplined his daughter this way.
He added that the man dearly loved his daughter, whom he single-handedly raised; his first wife, the girl's mother, walked out on them when the girl was less than a week old. The man has since remarried. His second wife, 32, told The Straits Times that her stepdaughter was a cheerful, outgoing and obedient child until she started school and began to lie.
Asked if he would appeal, the man said the most important thing now was for his daughter to stop lying and stealing because "we must be truthful to ourselves".
He said: "Every parent will feel the same. I don't mind going in. At the end of the day, I hope my daughter gets the message." He said he was truly sorry for what he had done, and that his emotions had got the better of him.
He could have been jailed up to seven years or caned or fined or meted any combination of these penalties. The court allowed him to defer his sentence for a week so that he can settle some matters.