The Straits Times, Singapore, 21 October 2009
Courts get tough on loan sharking
Harshest penalty yet for runner comes on back of rising harassment cases
By Elena Chong
Courts Correspondent
Zuraimi was sentenced to six years in prison and six strokes of the cane. He had torched and splashed paint on doors and defaced the walls of staircase landings.
LOAN-SHARK syndicate runners who harass debtors can expect stiff sentences from now on.
Zuraimi Abdul Rahim, 29 and jobless, was yesterday handed down a six-year jail term and six strokes of the cane for three counts of mischief by fire and six of harassing debtors on behalf of unlicensed moneylenders.
It was the harshest penalty yet for loan-shark runners who use violence to intimidate debtors into paying up what they owe.
At least four other runners are awaiting sentencing, also for setting fire to property.
Zuraimi, who admitted to the nine charges, had another seven taken into consideration during his sentencing.
Operating in various housing estates between March and August, he set fire to the doors of three flats, causing damage to the tune of $50 to $1,000. He also splashed paint on the doors of several known and unknown debtors and defaced the walls of staircase landings with "O$P$", loan sharks' shorthand for "owe money, pay money".
Deputy Public Prosecutor Sabrina Choo said Zuraimi became a runner for a loan shark known as K-Box when he could no longer service his loan of $500 earlier this year.
He cut a deal with K-Box to be paid $50 for every flat he defaced and $100 to $200 for every one he torched.
Click to enlarge
After 1½ months, when K-Box stopped using him, Zuraimi asked for more assignments as he needed the money.
He then started working for two other unlicensed moneylenders known only as King Kong and Ah Gu.
In August, he went back to work for K-Box, who promised to pay him $500 to set fire to three homes. He was arrested on Aug 5, before he could torch the third one.
Pressing for a deterrent sentence, DPP Choo argued that the rise in the number of moneylending-related offences warranted the courts' sending out a strong and unequivocal message against them.
In Zuraimi's case, she added, the aggravating factors were that he canvassed for assignments in return for lucrative payments; he also put public safety at risk and created an atmosphere of fear among the victims' neighbours, especially when the blazes he started could have spread to their homes.
She further noted that loan sharks were a menace not only to debtors, but also to the innocent, who are targeted to put the heat on debtors to pay up.
DPP Choo said Zuraimi's acts were pre-meditated and well planned, and that he was a professional runner who carved out a lucrative "career" for himself.
Police figures indicate that the number of moneylending-related offences has risen in the last five years as the economy headed south.
The total number of reports made last year went up by 20.7 per cent to 11,789 from 9,765 the year before.
Then in the first half of this year, the number of reports leapt 97 per cent to 9,395, from 4,759 in the corresponding period last year.
---
---

The Straits Times, Singapore, 24 October 2009
He mistook victims for gang members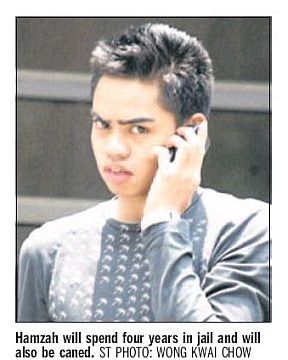 AN INSTANCE of mistaken identity has resulted in a 22-year-old man being sentenced to four years behind bars and 12 strokes of the cane.
Hamzah Hamid, armed with a knife, went at two teenagers who he thought were members of a rival gang.
Of his two victims, one now has a scar on his face, and the other, two deformed fingers from having used his hands to ward off the attack in March.
Hamzah, now unemployed, admitted to grievously hurting Institute of Technical Education student Mohamed Nur Faiz Mohamad Hafidz, 17, by slashing at his face.
He also pleaded guilty to using the knife on the forearms and fingers of Mr Muhammad Nuh Firsha M. Zaid, 18.
The court heard that Hamzah approached four men, including the two victims, at the void deck of Block 474, Tampines Street 44, between March 17 and 18 and asked which secret society they were from.
When they denied belonging to any, he whipped out his knife and slashed Mr Faiz once on his face.
Mr Faiz stumbled backwards and fled the scene together with a friend.
Click to enlarge
Hamzah gave chase but turned back when he failed to catch up with them. He returned to the void deck to find Mr Firsha still there with the fourth man.
When Mr Firsha again denied being a gang member, Hamzah cut him off and slashed him.
Hamzah, arrested just over a month later, told police he was carrying the knife to slash members of a rival gang.
He admitted not knowing his victims and said he thought they were his intended targets.
Assistant Public Prosecutor Evelyn Jasmine Lee highlighted the serious injuries suffered by Mr Faiz and Mr Firsha in the pre-meditated, vicious and senseless attack in a public place.
Hamzah, asked by District Judge May Mesenas if he had anything to say, said he would like to apologise to the victims.
He could have been jailed for up to 15 years and fined or caned on each charge.
---
---

The Straits Times, Singapore, 31 October 2009
Two loan-shark runners receive stiff sentences
Their serious offences harmed safety of others
By Elena Chong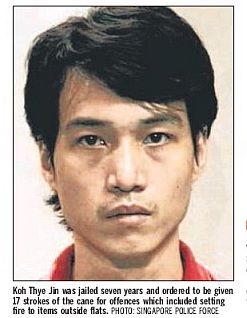 TO PAY off their debts and earn more money, two men who themselves owed money to loan sharks decided to work for them by harassing other debtors.
Koh Thye Jin, 29, even set fire to doors and items outside Housing Board flats on eight occasions between April and June this year to harass the debtors.
On the latest occasion in June, Koh committed the offence with Thiam Chin Loong, 27, who acted as his look-out.
Yesterday, the court showed them just how seriously it views those offences.
Koh, who faced 78 charges, mostly of harassing debtors, was jailed for seven years and ordered to be given 17 strokes of the cane.
Thiam, who faced 52 charges and had previous convictions for loan-shark offences, was jailed for six years and ordered to be given 14 strokes of the cane.
The court heard how they had each taken a $500 loan from a loan shark they knew as Alex to meet their daily expenses.
When they could not meet the repayments, they agreed to work for him to harass other debtors. Thiam also took up an offer by Koh to work for two other loan sharks, Ken and Jit Ban, from whom Koh had borrowed money, to get extra income.
District Judge Liew Thiam Leng agreed with Deputy Public Prosecutor Mohamed Faizal that what the two did had placed the residents and their neighbours in danger.
Click to enlarge
It was necessary to impress upon the accused persons, as well as other like-minded people, the seriousness of committing such offences, he said.
In mitigation, Koh's lawyer, Mr Barry Delaney, said his client had succumbed to pressure and had joined the loan sharks after threats were made against his family.
The lawyer argued that his client was a victim and was "sincerely remorseful" for what he had done.
Mr Sunil Sudheesan, who represented Thiam, said his client accepted responsibility for what he had done.
He would come out of prison "straightened out" and would certainly not fall prey to the whims of loan sharks again, the lawyer said.
Koh and Thiam were the latest loan-shark runners to be given stiff punishments for their offences this month.
Earlier, a 29-year-old man was jailed for six years and ordered to be given six strokes of the cane. Another loan shark runner, a 16-year-old girl with no previous convictions, was jailed for four years for harassing debtors, among other things. Like Koh, she had harassed debtors by setting items on fire outside their flats.
In pressing for a deterrent sentence in such cases, DPP Faizal said that a "strong and unequivocal" message had to be sent out given the increasing prevalence of moneylending-related offences over the last few years.
Pointing out a "disquieting increase" in the number of loan-sharking and harassment reports, DPP Faizal said there were 9,395 such cases in the first half of this year, nearly double the 4,759 reports over the same period last year.
Arrests of loan sharks and those working them had also gone up significantly, he said.
In a separate case yesterday, Tian Boon Keng was jailed for 16 months and ordered to be given two strokes of the cane for attempted harassment and splashing paint on the door of a flat.
The 21-year-old had admitted to taking a can of paint and a bicycle chain to a flat in Ang Mo Kio on July 11 with the intent of harassing the occupant, just a day after he splashed paint on the door of a flat in Serangoon North Avenue 3 on the orders of a loan shark.