The Straits Times, Singapore, 11 September 2009
Jail for man who hit a Jew
He is the first to be convicted of religiously motivated assault
By Elena Chong
Court Correspondent

Click to enlarge
HE HAD the words "ANTI JEWS" tattooed on his face and Azmi Osman showed the hostility he felt in February this year when he punched a Jewish man on the arm without any apparent reason.

Yesterday, the unemployed man, 34, became the first to be convicted of a religiously motivated assault and of promoting enmity between different groups with the tattoo on the right side of his face.

Azmi, who has schizophrenia, pleaded guilty to the two charges and two others of armed robbery and causing hurt by using a dangerous weapon at an NTUC FairPrice outlet in Bedok on April 24.

He was sentenced to three years' jail and 12 strokes of the cane by Community Court judge Ng Peng Hong.

Deputy Public Prosecutor Kevin Yong told the court that Mr Eliyahu Benhiyoun, 21, an American religious worker based in Singapore with the Jewish Welfare Board, was in the lobby of the National Library on Feb 25, engrossed in sending an SMS to a friend, when he suddenly heard someone shout at him and felt a punch on his upper right arm.

Mr Benhiyoun, who was wearing a yarmulke, an orthodox Jewish skullcap, saw Azmi staring at him. He noticed the tattoo on his right cheek, which he said offended him.

Azmi claimed at first that the victim had provoked him. He also claimed that "ANTI JEWS" stood for "Anti Jagged", "Endeavour", "Worship" and "Satanic", and symbolised underground music.
But while investigation into the case was ongoing, Azmi got into further trouble when he stole three bottles of tonic wine and a knife from the Bedok supermarket on April 24. He also slashed a staff member on the back of his right hand.

Pressing for a stiff sentence, DPP Wong Kok Weng argued that Azmi's February offences were racially or religiously aggravated, and such acts could threaten the long-term stability and social cohesion which Singaporeans had taken great pains to preserve. "Such xenophobic acts cannot be condoned in a multi-religious and multi-racial society such as Singapore," he said.

In February last year, the Penal Code was amended to enhance the punishment for a religiously aggravated assault by 1½ times to reflect the "seriousness of offences involving or motivated by hostility towards racial or religious groups".

DPP Wong said if hate acts based on race or religion were allowed to persist, the fault lines between groups would deepen. This would create opportunities that extremist elements could exploit.

He also said Azmi lacked remorse as he had been given a chance while he was out on police bail to remove the offending tattoo, but the words could still be seen beneath the picture of a Merlion he had tattooed over it.

Azmi, whose psychiatric illness was in remission when he committed the offences, had two other charges considered during his sentencing.

Judge Ng, who backdated his sentence to April, agreed that there was a need to maintain harmony and order in a multi-racial and multi-religious society like Singapore.

Azmi, who has previous convictions for assault, could have been fined up to three years and/or fined up to $7,500 for an assault which is racially or religiously aggravated. The offence of promoting enmity between different groups is punishable with up to three years' jail and/or a fine.
---
---

The Straits Times, Singapore, 15 September 2009
18 years, 16 strokes for killing baby
Man killed girlfriend's 2-month-old infant after taking her from shelter
By Selina Lum
HEAVY PENALTY
"Those who inflict an ounce of violence on children unjustifiably should therefore not be surprised to receive a much more weighty punishment and not expect merely an ounce for an ounce."
Justice Tay Yong Kwang, in handing down the sentence on Sarle Steepan Kolundu (left), said adults must resolve their problems within their own sphere and not visit their sins or troubles on any child.
PHOTO: SINGAPORE POLICE FORCE
A MAN who took his girlfriend's baby from the women's shelter where she was staying, and killed the infant in a fit of anger, was yesterday jailed for 18 years.

Sarle Steepan Kolundu, 44, who was convicted of culpable homicide not amounting to murder, was also ordered to be caned 16 strokes.

In handing down the sentence, Justice Tay Yong Kwang said those who inflict violence on children, who are "defenceless and completely innocent victims", can expect a painful and severe punishment.

Sarle Steepan's lawyer, Mr Roland Ng, pleaded for leniency, arguing that his client felt betrayed by his girlfriend's infidelity.

But Justice Tay said nothing could ever justify punishing an innocent and helpless baby for any perceived wrong committed by her parent.

He minced no words when he told Sarle Steepan: "Adults must resolve their problems within their own sphere and not visit their sins or troubles upon any child.

"Those who inflict an ounce of violence on children unjustifiably should therefore not be surprised to receive a much more weighty punishment and not expect merely an ounce for an ounce."

Sarle Steepan had fractured the skull of the two-month-old baby girl on June 1 last year after he lied to the shelter -- Good Shepherd Centre -- that the girl's mother gave him permission to take the infant out.

The mother, Ms Siti Noor Fazlina Haron, 24, who put up at the shelter at the time, was out at work then.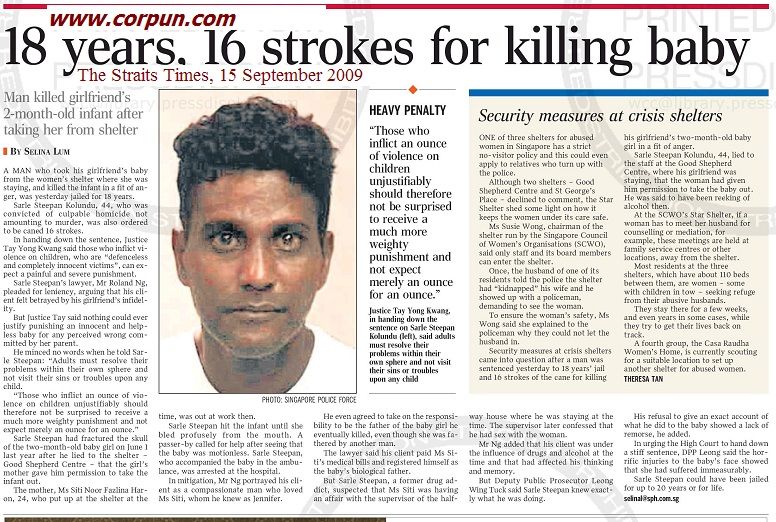 Click to enlarge
Sarle Steepan hit the infant until she bled profusely from the mouth. A passer-by called for help after seeing that the baby was motionless. Sarle Steepan, who accompanied the baby in the ambulance, was arrested at the hospital.

In mitigation, Mr Ng portrayed his client as a compassionate man who loved Ms Siti, whom he knew as Jennifer.

He even agreed to take on the responsibility to be the father of the baby girl he eventually killed, even though she was fathered by another man.

The lawyer said his client paid Ms Siti's medical bills and registered himself as the baby's biological father.

But Sarle Steepan, a former drug addict, suspected that Ms Siti was having an affair with the supervisor of the halfway house where he was staying at the time. The supervisor later confessed that he had sex with the woman.

Mr Ng added that his client was under the influence of drugs and alcohol at the time and that had affected his thinking and memory.

But Deputy Public Prosecutor Leong Wing Tuck said Sarle Steepan knew exactly what he was doing.

His refusal to give an exact account of what he did to the baby showed a lack of remorse, he added.

In urging the High Court to hand down a stiff sentence, DPP Leong said the horrific injuries to the baby's face showed that she had suffered immeasurably.

Sarle Steepan could have been jailed for up to 20 years or for life.
---
---

The Straits Times, Singapore, 19 September 2009
Undergrad preyed on boys
Molester sentenced to 4½ years and five strokes; he is appealing
By Elena Chong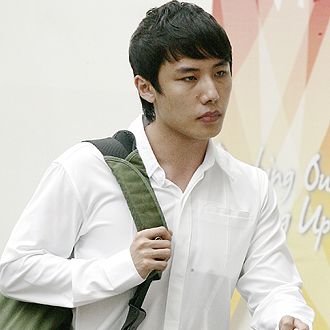 Lee would station himself at an MRT station or void deck and tail his victim home and attack him in the lift.-- ST PHOTO: WONG KWAI CHOW
THE final-year undergraduate would station himself at an MRT station or void deck and wait for his potential victims.

Once he set his eye on someone, he would tail the boy home and attack him while in the lift with him.

Andy Lee Kee Liang, 24, made one of his victims perform oral sex on him. He groped and kissed the other boys.

In all, the National University of Singapore chemical engineering student molested three teenage boys in HDB flat lifts over a two-week period in 2007.

Lee was sentenced to 4½ years' jail and ordered to be caned five times yesterday by District Judge Roy Neighbour.

Lee, who is appealing against the conviction and sentence, was offered bail of $25,000. His passport was impounded and he has to report weekly to the investigating officer.

On Aug 30, 2007, after molesting a 14-year-old boy, he knelt down and performed oral sex on the victim. Lee then followed the boy out and ordered his victim to perform oral sex on him on the staircase landing.

Five days later, Lee kissed a 15-year-old boy in the lift. A week later, he tried molesting a Secondary 2 student, aged 14, who pushed him away.

The eight-day hearing centred on Lee's mental state at the time of the alleged offences, as he claimed to be of unsound mind then. He also said voices had told him to commit the acts.

Two consultant psychiatrists -- Dr Yeo Seem Huat and Dr Ang Yong Guan -- testified for the defence that Lee had been suffering from severe depression with psychotic symptoms at the time, and was of "unsound mind".

Click to enlarge
But under cross-examination by Deputy Public Prosecutor Isaac Tan, they conceded that Lee knew the nature of his acts, and that what he was doing was wrong or contrary to the law.

The prosecution's rebuttal witness, Dr Jerome Goh, a consultant psychiatrist with the Institute of Mental Health, said he had found nothing wrong with Lee after examining him about two weeks after his last offence.

Lee was also observed to be behaving normally when he was remanded for three weeks at the medical centre within Changi Prison for psychiatric assessment.

Addressing the court on sentencing earlier, DPP Tan had said Lee's nefarious acts were deliberate and systematic. He had held little regard for the fear, trauma and distress to which he had subjected those young and vulnerable victims.

"The ill-effects of the accused's wrongdoings continue to plague these young victims long after the offences were committed," said the prosecutor.

The first victim, who was mildly retarded, was "besieged by fear", and will not go out alone.

Another victim has since developed a phobia of lifts, while the other has become more paranoid and suspicious of others who take the same lift as him.
---
---

The Straits Times, Singapore, 24 September 2009
Rag-and-bone man jailed over slashing of rival
By Elena Chong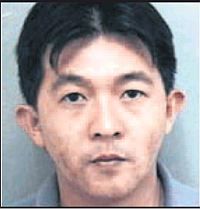 Ang Tai Wei, 36, admitted to causing hurt to his 66-year-old rival Mr Tee Hai Swee.
A RAG-AND-BONE man who -- together with another man armed with a parang -- hurt a 66-year-old rival in May, was dealt six months' jail and three strokes of the cane yesterday.

Ang Tai Wei, 36, admitted to causing hurt to Mr Tee Hai Swee, together with the unknown man, in the void deck of a Boon Lay Drive block on May 3.

Although Ang did not wield the parang, he is deemed under the law to have shared a common intention to cause hurt.

The court heard that Mr Tee was making his rounds in Choa Chu Kang the day before when Ang told him to lay off his territory. Mr Tee left and later called his boss to find out whether he knew Ang, and if he did, to ask Ang to allow him to make some money in the neighbourhood.
Click to enlarge
The next day, Mr Tee received a call from someone telling him to stay put, as the caller and another person would be with him shortly.

Mr Tee was near Block 175 in Boon Lay Drive when Ang showed up and punched him twice, flooring him.

As Mr Tee picked himself up, he saw Ang coming at him again. With him was another man, armed with a parang.

Mr Tee used his arms to ward off the blows as the unknown man attacked him with the parang. He is still receiving treatment for his right arm, more than four months later.

Ang's lawyer Kelvin Lim said his client does not know the other man who appeared on the scene with the weapon. Mr Lim added that Ang had, in fact, tried to restrain this man from attacking Mr Tee. The unknown man is still at large. Ang could have been jailed up to seven years, fined, caned or received any combination of these penalties.
Country files: Corporal punishment in Singapore
Article: Judicial caning in Singapore