Today, Singapore, 4 December 2009
Abused by foster father
An Act of betrayal
Hassan Sheikh Hobibi Rahman sentenced to 14 months' jail, three strokes of the cane
By Zul Othman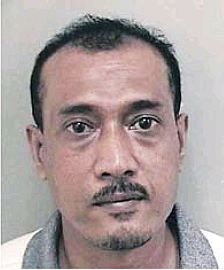 SINGAPORE -- The man and his wife were appointed in 2003 as foster parents by the Ministry of Community, Youth and Sports (MCYS) to care for young persons who, for various reasons, are unable to remain at home with their biological parents.
But at the Subordinate Courts yesterday, machinist Hassan Sheikh Hobibi Rahman (picture) was sentenced to 14 months' jail with three strokes of the cane for molesting his then 15-year-old ward.
The girl, who cannot be named to protect her identity, had previously suffered the same fate at the hands of her father.
Although 47-year-old Hassan, who has a daughter, told the court that he was "remorseful" of his actions, Deputy Public Prosecutor (DPP) Isaac Tan pressed for a custodial sentence of at least 12 months as he had inflicted undue psychological trauma on the "young and vulnerable" teen.
District Judge Jasvender Kaur agreed and had very strong words for Hassan before sentencing.
"This is a very serious matter," she said. "You have committed a gross, deliberate breach of trust as one might regret to see."
Hassan and his wife had applied to the MYCS for the role of surrogate parents to take care of children on a temporary basis or until such time alternative care provisions could be provided.
It is understood that in such cases, foster parents recruited by the ministry get a monthly allowance to cover the child's schoolgoing and living expenses.
According to court documents, the girl had been staying with Hassan and his family at their Jurong West flat since October 2005.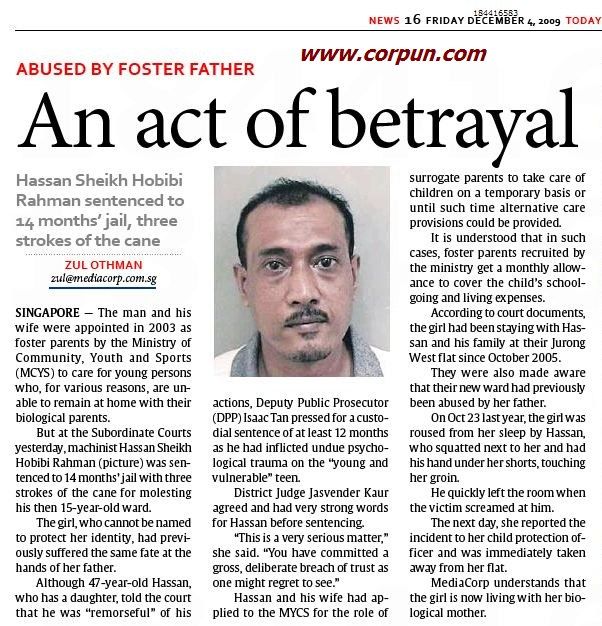 Click to enlarge
They were also made aware that their new ward had previously been abused by her father.
On Oct 23 last year, the girl was roused from her sleep by Hassan, who squatted next to her and had his hand under her shorts, touching her groin.
He quickly left the room when the victim screamed at him.
The next day, she reported the incident to her child protection officer and was immediately taken away from her flat.
MediaCorp understands that the girl is now living with her biological mother.
---
---

The Straits Times, Singapore, 11 December 2009
Cabby jailed for trying to rob passenger
By Elena Chong
Courts Correspondent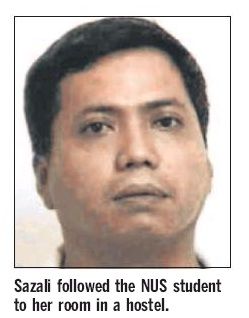 A CABBY who followed his passenger to her hostel in an attempt to rob her was jailed three years and ordered to be given six strokes of the cane yesterday.
Sazali Sujak, 32, who pleaded guilty, aborted his plan to rob Korean student Dan Bee Shin, 20, when she shouted for help.
The offence took place at her room in King Edward VII Hall, Kent Ridge Road, at about 3am on July 7 this year.
Assistant Public Prosecutor Lydia Goh said the National University of Singapore student had taken Sazali's taxi to her hostel after a night out at St James Power Station. After paying the fare, she went up to her hostel. As she was about to close the door, Sazali pushed it open and she fell.
He then covered her mouth while she tried to break free. There was a scuffle and he fled when she shouted for help.
The victim suffered injuries to her right hand, bruising to the left cheek and her lips were cut.
Pleading for leniency, lawyer S.S. Dhillon said the father of four could not explain his foolish action on that day. He said the victim did not suffer any monetary loss nor was she seriously injured.

Click to enlarge
For attempted robbery, the punishment is between two and seven years' jail and at least six strokes of the cane.
The courts have made it clear that they will take a tough stand against public transport workers who attack commuters. Last month, Justice V.K. Rajah jailed a cabby eight weeks after he allowed the prosecution's appeal against a $2,000 fine imposed on Heng Swee Weng, 57, for molesting a 15-year-old Australian student more than a year ago.
The judge said in his judgment earlier this week that taxi passengers should expect as much protection from errant cab drivers as public transport workers get from attacks on them by dangerous commuters.
Commuters are entitled to expect complete safety when they travel in cabs or other forms of public transport, he said.
A deterrent jail term would send a strong message that the courts will not tolerate public transport workers taking advantage of helpless commuters.
Earlier this year, Justice Rajah had raised the jail term of a commuter -- from one month to three -- for assaulting a cab driver, to send a clear message that such workers had a right to be protected.
---
---

The Straits Times, Singapore, 11 December 2009
Man gets jail, caning for fatal attack in Chinatown
Of his 3 accomplices, two are sent for reformative training, the other to be sentenced later
By Elena Chong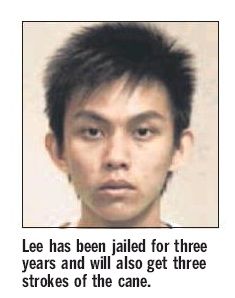 A 22-YEAR-OLD man who, with three others, attacked a student in Chinatown earlier this year leading to the victim's death, was jailed for three years and ordered to be given three strokes of the cane yesterday.
Two of fruit seller Lee Chang Feng's accomplices -- Kan Zhan Peng and Joshua Leong Wei Jun -- were recently given reformative training. A notice of appeal has been lodged by the prosecution against the co-accused's sentences.
The third accomplice, Hong Kong passport holder Liu Wing Sing, will be sentenced next month. All three accomplices are 20 years of age.
The January attack left Institute of Technical Education (Bedok) student Siah Wui Xiang, 18, with a severe head injury. He died four days later.
Lee and his friends had admitted to grievously hurting the teen by kicking him in the face and causing him to suffer a broken skull at the open-air carpark of People's Park Centre.
Lee had also pleaded guilty to punching Wui Xiang's friend Ou Wen Han, 18, and hitting his head with a beer bottle.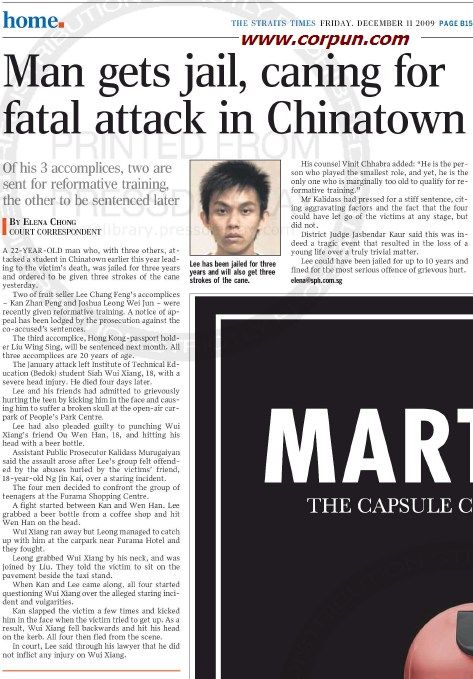 Click to enlarge
Assistant Public Prosecutor Kalidass Murugaiyan said the assault arose after Lee's group felt offended by the abuses hurled by the victims' friend, 18-year-old Ng Jin Kai, over a staring incident.
The four men decided to confront the group of teenagers at the Furama Shopping Centre.
A fight started between Kan and Wen Han. Lee grabbed a beer bottle from a coffee shop and hit Wen Han on the head.
Wui Xiang ran away but Leong managed to catch up with him at the carpark near Furama Hotel and they fought.
Leong grabbed Wui Xiang by his neck, and was joined by Liu. They told the victim to sit on the pavement beside the taxi stand.
When Kan and Lee came along, all four started questioning Wui Xiang over the alleged staring incident and vulgarities.
Kan slapped the victim a few times and kicked him in the face when the victim tried to get up. As a result, Wui Xiang fell backwards and hit his head on the kerb. All four then fled from the scene.
In court, Lee said through his lawyer that he did not inflict any injury on Wui Xiang.
His counsel Vinit Chhabra added: "He is the person who played the smallest role, and yet, he is the only one who is marginally too old to qualify for reformative training."
Mr Kalidass had pressed for a stiff sentence, citing aggravating factors and the fact that the four could have let go of the victims at any stage, but did not.
District Judge Jasbendar Kaur said this was indeed a tragic event that resulted in the loss of a young life over a truly trivial matter.
---
---

The Straits Times, Singapore, 12 December 2009
20 years' jail for sexually abusing boy
Man sodomised teen while pretending to perform religious ritual
By Selina Lum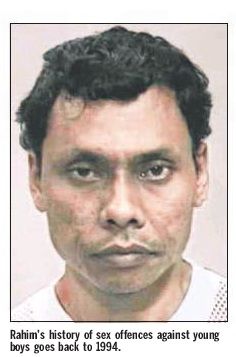 A MAN'S casual remark about the number of young people coming to the mosque led a religious teacher to discover the sexual abuses he committed against a boy while pretending to perform a religious ritual.
The teacher, Ustaz Muhammad Firdaous Abdul Rashif, became concerned for the safety of his students when he heard Rahim Basron utter the words "jaga jaga", or "watch out" in Malay.
Checks by the teacher found that the teenage boy who was often seen in Rahim's company at the mosque was a victim of repeated sexual abuse.
Yesterday, Rahim, 43, who has a criminal history of sex offences against young boys, was sentenced to 20 years' preventive detention and eight strokes of the cane.
He was convicted by the High Court of two counts of sodomy, one count of molestation and one count of gross indecency.
In sentencing, Justice Tay Yong Kwang agreed with the prosecution that, in view of his previous convictions and his predilection for young boys, Rahim should be sentenced to preventive detention to protect the public.
Preventive detention, ranging from seven to 20 years, can be handed down to repeat offenders and offers no early release for good behaviour.
Rahim's trail of abuse began in 1994, when he impersonated a narcotics officer to molest two boys, aged eight and 10, on the pretext of searching them. He was jailed 10 months.
Then in 1998, he was jailed for eight years and caned 18 strokes for sexually violating an 11-year-old boy he had befriended at a fast-food restaurant.
The events in the current case took place in late 2006, about three years after his release from prison.
The victim, now 16, and who has a low IQ, testified that Rahim, then jobless, first befriended him in 2005. He met the man again in the mosque and took to calling him "abang", Malay for big brother.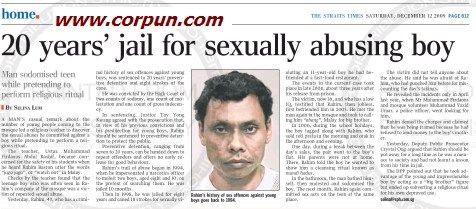 Click to enlarge
In 2006, during the school holidays, the boy tagged along with Rahim, who sold roti prata in the morning and otak in the afternoon and evening.
One day, during a break between the day's sales, the pair went to the boy's flat. His parents were not at home. There, Rahim told the boy he wanted to show him a cleansing ritual known as mandi hadas.
In the bathroom, the man bathed himself, then molested and sodomised the boy. The next month, Rahim again committed sex acts on the teen at the same place.
The victim did not tell anyone about the abuse. He said he was afraid of Rahim, who had punched him before for miscounting the day's takings.
He revealed the incidents only in April last year, when Mr Muhammad Firdaous and mosque volunteer Muhammad Yazid Umar, a police officer, went looking for him.
Rahim denied the charges and claimed that he was being framed because he had refused to lend money to the boy's mother.
Yesterday, Deputy Public Prosecutor Crystal Ong argued that Rahim should be put away for a long time as he was a menace to society and had not learnt a lesson from his time in jail.
The DPP pointed out that he took advantage of the young and impressionable boy by acting as a "big brother" figure but ended up subverting a religious ritual for his own depraved use.
---
---
Today, Singapore, 29 December 2009
The path to jail
By Ansley Ng
SINGAPORE -- He took his friend's car -- by force -- and drove it for more than a month.
Now, David Tay Chin Heng, 36, will be caned and jailed for not knowing how to accept "no" for an answer.
Tay had wanted to borrow the Honda Fit on March 4 this year, but his friend refused, saying he needed it for work.
The odd-job labourer continued his attempts to persuade his friend, but when the latter would not budge, Tay pulled out a metal rod from his pouch and warned his friend not to "make him go crazy".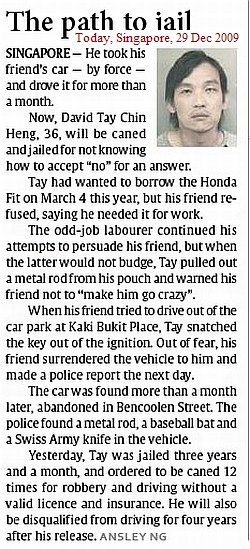 Click to enlarge
When his friend tried to drive out of the car park at Kaki Bukit Place, Tay snatched the key out of the ignition. Out of fear, his friend surrendered the vehicle to him and made a police report the next day.
The car was found more than a month later, abandoned in Bencoolen Street. The police found a metal rod, a baseball bat and a Swiss Army knife in the vehicle.
Yesterday, Tay was jailed three years and a month, and ordered to be caned 12 times for robbery and driving without a valid licence and insurance. He will also be disqualified from driving for four years after his release.