The Straits Times, Singapore, 28 July 2009
Repeat molester gets 6 years and 12 strokes
Lee, nabbed in April, had finished a 21-month jail term in January
By Elena Chong
Courts Correspondent
JUST over a month after getting out of jail for a series of molestation cases, Lee Fuxiang was at it again.

Between February and April, the 24-year-old groped eight young girls, the youngest of whom was aged nine.

He was arrested at his home in Jurong West on April 28, 12 days after his latest assault on the nine-year-old girl in Tampines.

District Judge F.G. Remedios sentenced Lee to six years of corrective training -- a regime for repeat offenders which does not offer early release for good behaviour -- and 12 strokes of the cane yesterday. The judge had earlier been told by the prosecution that a doctor from the Institute of Mental Health felt that Lee was likely to commit more serious sexual offences in the future.

In January, Lee had been released from prison after finishing a 21-month jail term on seven charges of molestation. He had also been caned eight times. Details of these earlier offences were not revealed in court.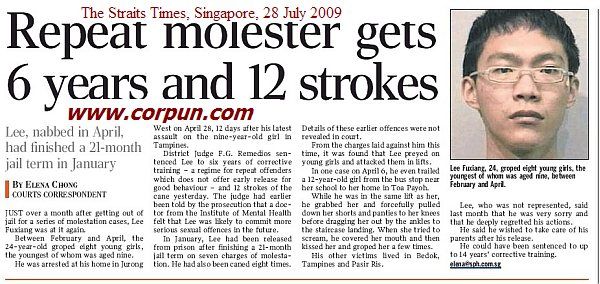 Click to enlarge
From the charges laid against him this time, it was found that Lee preyed on young girls and attacked them in lifts.
In one case on April 6, he even trailed a 12-year-old girl from the bus stop near her school to her home in Toa Payoh.

While he was in the same lift as her, he grabbed her and forcefully pulled down her shorts and panties to her knees before dragging her out by the ankles to the staircase landing. When she tried to scream, he covered her mouth and then kissed her and groped her a few times.

His other victims lived in Bedok, Tampines and Pasir Ris.

Lee, who was not represented, said last month that he was very sorry and that he deeply regretted his actions.

He said he wished to take care of his parents after his release.
He could have been sentenced to up to 14 years' corrective training.
Copyright © 2008 Singapore Press Holdings Ltd.
---
---

The Straits Times, Singapore, 28 July 2009
Inhumane, repulsive, shocking
Judge slams three prisoners who tortured cellmate
Be Selina Lum
What they did, what they got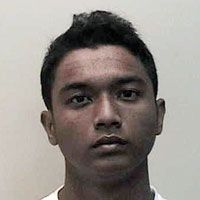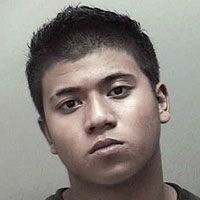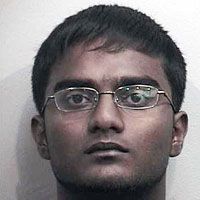 The three who tortured their cellmate (from left) Iryan Abdul Karim, Muhammad Hamdan Abdul Rahman and Mohammed Zameen Abdul Manoff. -- PHOTOS: SPF
IRYAN ABDUL KARIM, 21
Original release date: February next year
Click to enlarge
Convicted of:
9 charges of causing hurt by punching and kicking victim
1 charge of causing hurt by making the victim swallow human faeces
1 charge of causing grievous hurt by punching and kicking victim
2 charges of oral sex
Acquitted of:
1 charge of oral sex

Total sentence: 16 years' jail and 16 strokes of the cane
MUHAMMAD HAMDAN ABDUL RAHMAN, 20
Original release date: September last year (kept in remand pending this case)
Convicted of:
8 charges of causing hurt by punching and kicking victim
1 charge of causing hurt by making the victim swallow human faeces
1 charge of causing grievous hurt by punching and kicking victim
2 charges of oral sex
Total sentence: 16 years' jail and 16 strokes of the cane
MOHAMMED ZAMEEN ABDUL MANOFF, 22
Original release date: February this year (kept in remand pending this case)
Convicted of:
9 charges of causing hurt by punching and kicking victim
1 charge of causing hurt by making the victim swallow human faeces
1 charge of grievous hurt by punching and kicking victim
3 charges of oral sex
1 charge of sodomy
Total sentence: 19 years' jail and 22 strokes of the cane
Click to enlarge
THREE prisoners who tortured their cellmate for eight days by beating him and making him submit to sexual acts and eat faeces were yesterday each jailed between 16 and 19 years and ordered to be caned.
The "crude and cruel" atrocities they committed in the Changi Prison cell speak for themselves, High Court Judge Tay Yong Kwang said when he sentenced the trio yesterday.
"Their actions were inhumane and repulsive," he said.
"It is shocking that they allowed themselves to be carried away by their numerical and physical superiority, to the extent of bullying a fellow inmate using such sadistic and degrading acts."
Prosecutors had earlier described this as one of the worst cases of physical abuse in years, and urged the judge to sentence the three men to at least 20 years' jail and the maximum 24 strokes of the cane.
But Justice Tay felt the sentences he imposed were punishment enough for what they had done and would "make an indelible mark on their consciousness on the need never to stray into violence or any other crime again".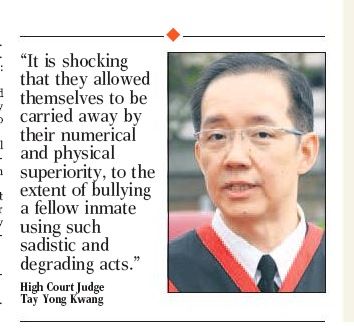 Between April 27 and May 4 last year, Iryan Abdul Karim, 21, Muhammad Hamdan Abdul Rahman, 20, and Mohammed Zameen Abdul Manoff, 22, repeatedly punched, kicked and stepped on their cellmate.
To stop the beatings, the 22-year-old victim offered to perform oral sex on them, and did so a few times. Zameen sodomised him once. The trio also made him eat human faeces.
The victim, who cannot be named, suffered multiple rib fractures and was hospitalised for two months.
His attackers conducted their own defence and admitted assaulting him, but insisted that the oral sex was consensual.
Yesterday, Justice Tay noted that the three had claimed trial to fight the charges not because they wanted to make the victim recount his traumatic ordeal, but because they wanted to dispute points of his allegations.
The questions they posed the victim were fair and relevant to what they perceived to be their defence, he said.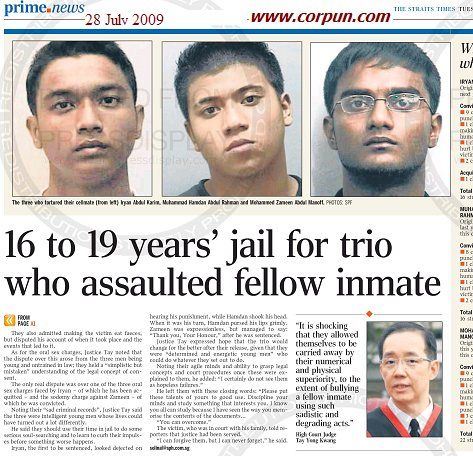 Click to enlarge
The judge noted that they admitted beating up the victim, although they said they were angry with his incessant lies and bragging.
They also admitted making the victim eat faeces, but disputed his account of when it took place and the events that led to it.
As for the oral sex charges, Justice Tay noted that the dispute over this arose from the three men being young and untrained in law; they held a "simplistic but mistaken" understanding of the legal concept of consent.
The only real dispute was over one of the three oral sex charges faced by Iryan -- of which he has been acquitted -- and the sodomy charge against Zameen -- of which he was convicted.
Noting their "sad criminal records", Justice Tay said the three were intelligent young men whose lives could have turned out a lot differently.
He said they should use their time in jail to do some serious soul-searching and to learn to curb their impulses before something worse happens.
Iryan, the first to be sentenced, looked dejected on hearing his punishment, while Hamdan shook his head. When it was his turn, Hamdan pursed his lips grimly. Zameen was expressionless, but managed to say: "Thank you, Your Honour," after he was sentenced.
Justice Tay expressed hope that the trio would change for the better after their release, given that they were "determined and energetic young men" who could do whatever they set out to do.
Noting their agile minds and ability to grasp legal concepts and court procedures once these were explained to them, he added: "I certainly do not see them as hopeless failures."
He left them with these closing words: "Please put these talents of yours to good use. Discipline your minds and study something that interests you. I know you all can study because I have seen the way you memorise the contents of the documents... "You can overcome." The victim, who was in court with his family, told reporters that justice had been served.
"I can forgive them, but I can never forget," he said.
---

The Straits Times, Singapore, 28 July 2009
Prison Service: This was an isolated case
By Sujin Thomas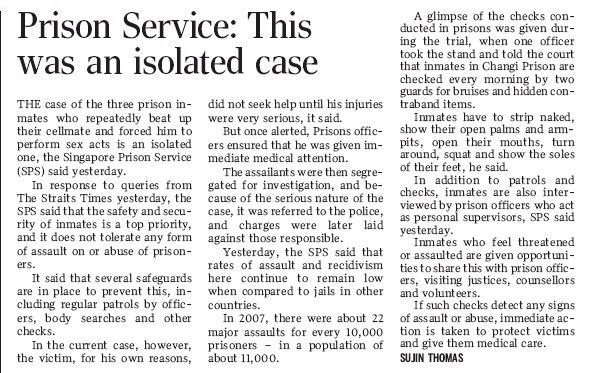 Click to enlarge
THE case of the three prison inmates who repeatedly beat up their cellmate and forced him to perform sex acts is an isolated one, the Singapore Prison Service (SPS) said yesterday.

In response to queries from The Straits Times yesterday, the SPS said that the safety and security of inmates is a top priority, and it does not tolerate any form of assault on or abuse of prisoners.

It said that several safeguards are in place to prevent this, including regular patrols by officers, body searches and other checks.

In the current case, however, the victim, for his own reasons, did not seek help until his injuries were very serious, it said.

But once alerted, Prisons officers ensured that he was given immediate medical attention.

The assailants were then segregated for investigation, and because of the serious nature of the case, it was referred to the police, and charges were later laid against those responsible.
Yesterday, the SPS said that rates of assault and recidivism here continue to remain low when compared to jails in other countries.

In 2007, there were about 22 major assaults for every 10,000 prisoners -- in a population of about 11,000.

A glimpse of the checks conducted in prisons was given during the trial, when one officer took the stand and told the court that inmates in Changi Prison are checked every morning by two guards for bruises and hidden contraband items.

Inmates have to strip naked, show their open palms and armpits, open their mouths, turn around, squat and show the soles of their feet, he said.

In addition to patrols and checks, inmates are also interviewed by prison officers who act as personal supervisors, SPS said yesterday.

Inmates who feel threatened or assaulted are given opportunities to share this with prison officers, visiting justices, counsellors and volunteers.

If such checks detect any signs of assault or abuse, immediate action is taken to protect victims and give them medical care.
---

The Straits Times, Singapore, 28 July 2009
Victim felt betrayed by partner-in-crime
By K.C. Vijayan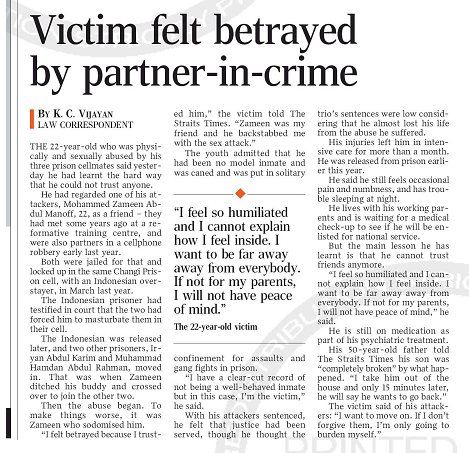 Click to enlarge
THE 22-year-old who was physically and sexually abused by his three prison cellmates said yesterday he had learnt the hard way that he could not trust anyone.

He had regarded one of his attackers, Mohammed Zameen Abdul Manoff, 22, as a friend -- they had met some years ago at a reformative training centre, and were also partners in a cellphone robbery early last year.

Both were jailed for that and locked up in the same Changi Prison cell, with an Indonesian overstayer, in March last year.

The Indonesian prisoner had testified in court that the two had forced him to masturbate them in their cell.

The Indonesian was released later, and two other prisoners, Iryan Abdul Karim and Muhammad Hamdan Abdul Rahman, moved in. That was when Zameen ditched his buddy and crossed over to join the other two.

Then the abuse began. To make things worse, it was Zameen who sodomised him.

"I felt betrayed because I trusted him," the victim told The Straits Times. "Zameen was my friend and he backstabbed me with the sex attack."

The youth admitted that he had been no model inmate and was caned and was put in solitary confinement for assaults gang fights in prison.

"I have a clear-cut record of not being a well-behaved inmate but in this case, I'm the victim," he said.
With his attackers sentenced, he felt that justice had been served, though he thought the

and trio's sentences were low considering that he almost lost his life from the abuse he suffered.

His injuries left him in intensive care for more than a month. He was released from prison earlier this year.

He said he still feels occasional pain and numbness, and has trouble sleeping at night.

He lives with his working parents and is waiting for a medical check-up to see if he will be enlisted for national service.

But the main lesson he has learnt is that he cannot trust friends anymore.

"I feel so humiliated and I cannot explain how I feel inside. I want to be far away from everybody. If not for my parents, I will not have peace of mind," he said.

He is still on medication as part of his psychiatric treatment.

His 50-year-old father told The Straits Times his son was "completely broken" by what happened. "I take him out of the house and only 15 minutes later, he will say he wants to go back."

The victim said of his attackers: "I want to move on. If I don't forgive them, I'm only going to burden myself."
Country files: Corporal punishment in Singapore
Article: Judicial caning in Singapore