The Straits Times, Singapore, 2 June 2009
Couple used stolen bank book to cheat Maybank of $7,595
By Elena Chong
Courts Correspondent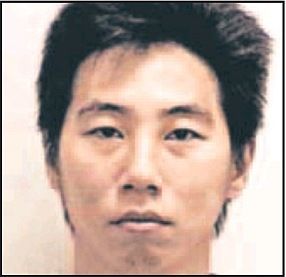 Yap Eng Heng, 29, asked Ang to use the bank book to withdraw money.
A COUPLE tried to trick a bank teller from the Geylang Serai branch of Maybank to hand them $7,500 by making a withdrawal from a stolen bank book.
When that failed, they moved on to another branch in People's Park Centre, where they managed to get the money.
Eeleen Ang Ee Ling, 29, had used her right thumbprint on a withdrawal slip to deceive the bank employee into believing she was actually a woman who is about 20 years older -- Madam Lai Sieu Choon, 48.
Ang and her boyfriend Yap Eng Heng, 29, an odd-job worker, had been sitting at a table beside Madam Lai in a coffee shop in Geylang on Dec 15 last year.
Madam Lai had placed her handbag that contained her wallet, bank book, identity card, cash and other items worth a total of $1,305 on the table.
Ang, then a part-time hostess, later snatched the handbag and fled. She checked into a hotel and called Yap, who suggested that they withdraw money from the victim's bank account.
At Maybank's Chinatown branch, Yap took a withdrawal slip, wrote $7,595 on it and asked Ang to place her thumbprint on it. At the counter, Ang handed over the stolen passbook and identity card to the staff before excusing herself to go to the toilet while Yap waited.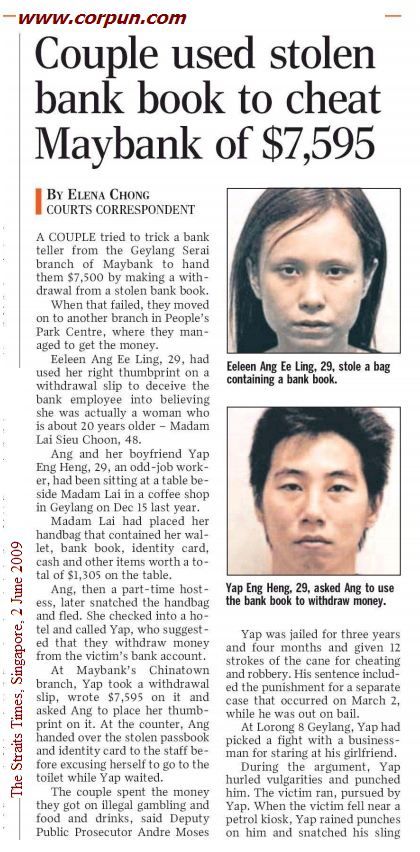 Click to enlarge
The couple spent the money they got on illegal gambling and food and drinks, said Deputy Public Prosecutor Andre Moses Tan. Yesterday, Ang was jailed for four months after pleading guilty to theft and cheating.
Yap was jailed for three years and four months and given 12 strokes of the cane for cheating and robbery. His sentence included the punishment for a separate case that occurred on March 2, while he was out on bail.
At Lorong 8 Geylang, Yap had picked a fight with a businessman for staring at his girlfriend.
During the argument, Yap hurled vulgarities and punched him. The victim ran, pursued by Yap. When the victim fell near a petrol kiosk, Yap rained punches on him and snatched his sling bag that contained $2,634 worth of property. Yap then fled with his girlfriend.
---
---

The Straits Times, Singapore, 4 June 2009
Preying on young girls
Paedophile who posed as cop gets 12-year sentence
He pretended to check for smuggled cigarettes, then attacked his victims
By Elena Chong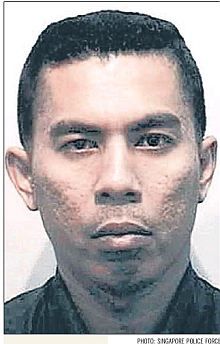 CRAFTY AND INSIDIOUS
'The accused must not be afforded the opportunity to inflict harm on the young and vulnerable children, for whom he has shown a special lust...He had clearly shown himself to be a crafty person who devised insidious schemes to prey on the vulnerable.'

Community Court Judge Ng Peng Hong, on Sufian
A PAEDOPHILE who sexually abused three young girls while pretending to search them for cigarettes was packed off to 12 years' preventive detention and ordered to be given 12 strokes of the cane yesterday.
Muhammad Sufian Hussain's modus operandi was to pose as a police officer.
He flashed his ez-link card at his victims, telling them he was doing a spot check for contraband cigarettes.
One girl was 13, and the others were 11.
This was the second time the 34-year-old was in the dock for sex crimes. In 2003, he was convicted of multiple sex offences involving young girls and sentenced to 12 months for molesting them and two months on each of two charges of insulting modesty.
He was then diagnosed with exhibitionism, a sexual disorder in which he became aroused by exposing himself to strangers.
The former cafe manager pleaded guilty last month to one charge of sexual assault, two of molestation and one of pretending to be a police officer.
Handing down the sentence yesterday, Community Court Judge Ng Peng Hong agreed with the prosecution that Sufian deserved a deterrent sentence in order to uphold the trust the people had in public institutions and to deter others from posing as public servants to commit crimes.
"The accused must not be afforded the opportunity to inflict harm on the young and vulnerable children, for whom he has shown a special lust.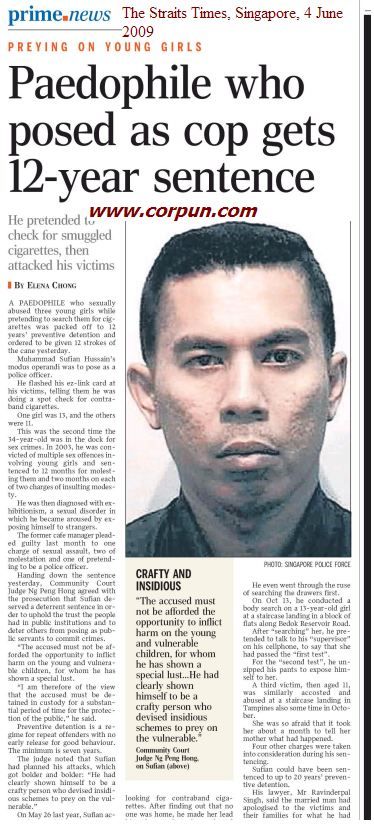 Click to enlarge
"I am therefore of the view that the accused must be detained in custody for a substantial period of time for the protection of the public," he said.
Preventive detention is a regime for repeat offenders with no early release for good behaviour. The minimum is seven years.
The judge noted that Sufian had planned his attacks, which got bolder and bolder: "He had clearly shown himself to be a crafty person who devised insidious schemes to prey on the vulnerable."
On May 26 last year, Sufian accosted the child on her way home, pretending to be an officer looking for contraband cigarettes. After finding out that no one was home, he made her lead him there, where he molested her.
He even went through the ruse of searching the drawers first.
On Oct 13, he conducted a body search on a 13-year-old girl at a staircase landing in a block of flats along Bedok Reservoir Road.
After "searching" her, he pretended to talk to his "supervisor" on his cellphone, to say that she had passed the "first test".
For the "second test", he unzipped his pants to expose himself to her.
A third victim, then aged 11, was similarly accosted and abused at a staircase landing in Tampines also some time in October.
She was so afraid that it took her about a month to tell her mother what had happened.
Four other charges were taken into consideration during his sentencing.
Sufian could have been sentenced to up to 20 years' preventive detention.
His lawyer, Mr Ravinderpal Singh, said the married man had apologised to the victims and their families for what he had done.