The Straits Times, Singapore, 8 May 2009
10 years, 24 strokes for fatal robbery
By Selina Lum
AFTER a night of heavy drinking, three Malaysians went looking for someone to rob when they ran out of alcohol.
They fixed their eyes on a lone Bangladeshi worker and started bashing him with a metal rod and raining punches and kicks on him.
All they got from their victim was $50, but he was so badly injured that he died six days later in hospital.
Yesterday, two of the assailants -- Hirris Martin, 22, and James Anggang, 23 -- were each sentenced to 10 years' jail and 24 strokes of the cane, the maximum number of strokes allowed under the law.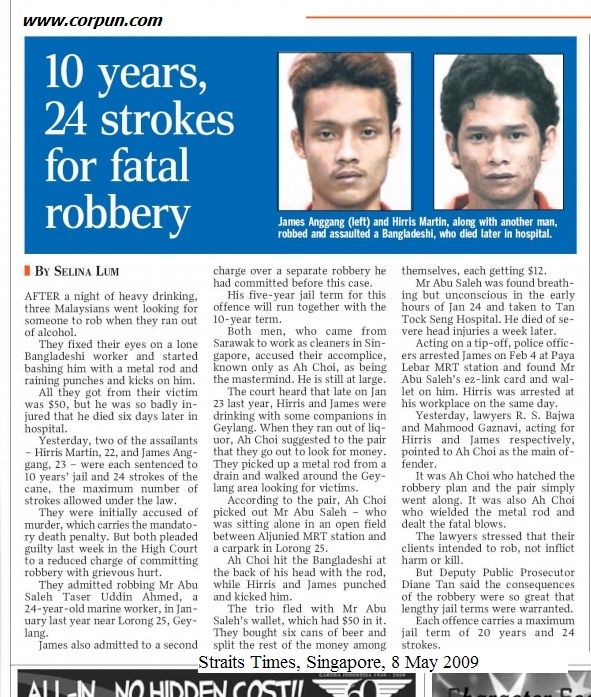 Click to enlarge
They were initially accused of murder, which carries the mandatory death penalty. But both pleaded guilty last week in the High Court to a reduced charge of committing robbery with grievous hurt.
They admitted robbing Mr Abu Saleh Taser Uddin Ahmed, a 24-year-old marine worker, in January last year near Lorong 25, Geylang.
James also admitted to a second charge over a separate robbery he had committed before this case.
His five-year jail term for this offence will run together with the 10-year term.
Both men, who came from Sarawak to work as cleaners in Singapore, accused their accomplice, known only as Ah Choi, as being the mastermind. He is still at large.
The court heard that late on Jan 23 last year, Hirris and James were drinking with some companions in Geylang. When they ran out of liquor, Ah Choi suggested to the pair that they go out to look for money. They picked up a metal rod from a drain and walked around the Geylang area looking for victims.
According to the pair, Ah Choi picked out Mr Abu Saleh -- who was sitting alone in an open field between Aljunied MRT station and a carpark in Lorong 25.
Ah Choi hit the Bangladeshi at the back of his head with the rod, while Hirris and James punched and kicked him.
The trio fled with Mr Abu Saleh's wallet, which had $50 in it. They bought six cans of beer and split the rest of the money among themselves, each getting $12.
Mr Abu Saleh was found breathing but unconscious in the early hours of Jan 24 and taken to Tan Tock Seng Hospital. He died of severe head injuries a week later.
Acting on a tip-off, police officers arrested James on Feb 4 at Paya Lebar MRT station and found Mr Abu Saleh's ez-link card and wallet on him. Hirris was arrested at his workplace on the same day.
Yesterday, lawyers R. S. Bajwa and Mahmood Gaznavi, acting for Hirris and James respectively, pointed to Ah Choi as the main offender.
It was Ah Choi who hatched the robbery plan and the pair simply went along. It was also Ah Choi who wielded the metal rod and dealt the fatal blows.
The lawyers stressed that their clients intended to rob, not inflict harm or kill.
But Deputy Public Prosecutor Diane Tan said the consequences of the robbery were so great that lengthy jail terms were warranted.
Each offence carries a maximum jail term of 20 years and 24 strokes.
---
---
Today, Singapore, 12 May 2009
Jailed for rape, causing hurt
Singaporean forced himself on Chinese national here on social visit pass
By Ong Dai Lin, TODAY
He made sexual advances on his flatmate and when he was ignored, he pulled her into his room and raped her.

For rape and another charge of voluntarily causing hurt to a 50-year-old man, K Mahendran was on Monday sentenced to eight years and two weeks in jail and 10 strokes of the cane.

The court heard that the rape victim, a 25-year-old woman from China, had arrived in Singapore on March 26 last year on a social visit pass to see a friend. She stayed at the friend's house, but after the two had a quarrel, she left and rented a bed in a room at No. 10, Lorong 14 Geylang.

Mahendran, 41, was staying in a rented room in the same house.

On June 2, the victim went to the balcony to check if her laundry had dried. She saw Mahendran, with only a towel wrapped around his lower body, waving to her and saying "Oei, oei".

Click to enlarge
She did not understand what he was saying and said "No, no" and went back to her room. Later in the afternoon, when the victim opened her room door to go out for lunch, Mahendran pulled her into his room and forced himself on her.

After the rape, the victim called the police and Mahendran was arrested.

The court also heard that on the afternoon of Aug 13 last year, Mahendran had engaged the services of a prostitute and both had consensual sex in Amrise Hotel in Geylang, after which he fell asleep.

The prostitute approached a cleaner at the hotel, Mr Peh Eng Seng, for help to wake Mahendran up.

When Mahendran saw Mr Peh, he pulled out his identity card from his wallet and repeatedly stated that he was a Singaporean. He then punched Mr Peh's forehead. The 50-year-old cleaner reported the matter to the hotel counter staff, who called the police and handed Mahendran to them.

Mahendran, who was unrepresented, told Justice Kan Ting Chiu in mitigation that he regretted his actions and pleaded for leniency.
Copyright © 2009 MediaCorp Pte Ltd. All Rights Reserved.
---
---

The Straits Times, Singapore, 19 May 2009
Armed robber gets 8 years' jail and caning
Sentence also for rioting with dangerous weapon twice earlier
By Elena Chong
Courts Correspondent
Lim Wei Liang robbed a Geylang shop in January, making off with valuables worth about $28,000.
TO CLEAR his debts, a 44-year-old man decided robbery was his only course of action.
On Jan 30, Lim Wei Liang and his co-accused, known only as Ah Hwee, robbed a Geylang jewellery shop at knifepoint and made off with items worth more than $28,000.
Armed with a 60cm-long parang and cable ties given to him by his accomplice, Lim entered the jewellery shop through the back door and held up a 32-year-old female shop assistant by pointing the parang at her neck.
When another employee walked out of the toilet, he also placed the parang at her neck and uttered the word "robbery".
Administration officer Hou Boo, 38, and a 24-year-old colleague who had seen Lim enter the shop through the shop's closed-circuit television, came out to check.
Seeing them, Lim made them stand with the others.
He took all four women into the toilet and tied their thumbs with the cable ties.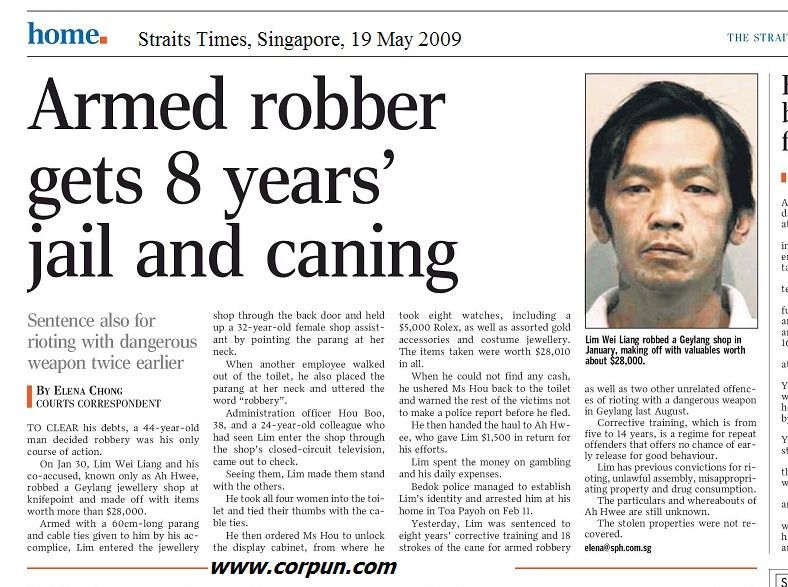 Click to enlarge
He then ordered Ms Hou to unlock the display cabinet, from where he took eight watches, including a $5,000 Rolex, as well as assorted gold accessories and costume jewellery. The items taken were worth $28,010 in all.
When he could not find any cash, he ushered Ms Hou back to the toilet and warned the rest of the victims not to make a police report before he fled.
He then handed the haul to Ah Hwee, who gave Lim $1,500 in return for his efforts.
Lim spent the money on gambling and his daily expenses.
Bedok police managed to establish Lim's identity and arrested him at his home in Toa Payoh on Feb 11.
Yesterday, Lim was sentenced to eight years' corrective training and 18 strokes of the cane for armed robbery as well as two other unrelated offences of rioting with a dangerous weapon in Geylang last August.
Corrective training, which is from five to 14 years, is a regime for repeat offenders that offers no chance of early release for good behaviour.
Lim has previous convictions for rioting, unlawful assembly, misappropriating property and drug consumption.
The particulars and whereabouts of Ah Hwee are still unknown.
The stolen properties were not recovered.
---
---

The Straits Times, Singapore, 20 May 2009
Man beat his girlfriend's child to death
Jealous boyfriend gets seven years, 12 strokes
By Elena Chong
Courts Correspondent
Additional reporting by Kimberly Spykerman
Firdaus punched toddler Muhammad Izzul in the face, slammed his head into a door frame and bit his penis.
TODDLER Muhammad Izzul Salihin Muhammad Farzid received the beating of his life from his mother's boyfriend Firdaus Abdullah on his third birthday last year.
He was punched repeatedly in the face and had his head slammed into a door frame. Firdaus, 27, even sank his teeth into the boy's penis and scrotum. Four days later, Muhammad Izzul died in hospital from severe head injuries.
Yesterday, Firdaus was jailed for seven years and ordered to be caned 12 times for his actions. The prosecution described the case as "one of the worst and most egregious cases" of child abuse here.
Firdaus, who was unemployed at that time and living with his girlfriend in her flat near Chin Swee Road, was jealous that his girlfriend was closer to her son than she was to him.
He would take his frustrations out on the boy whenever he cried.
On Jan 12 last year, Firdaus used his fist to hit the boy's head with so much force that his knuckle swelled.
The boy had been crying because Firdaus insisted on drying him with a towel after washing him in the toilet. The boy had earlier soiled his diapers.
Click to enlarge
The next day, the couple had a heated quarrel during which the boy's mother, Ms Nadiyana Yacoub, 26, told Firdaus to leave and said that she wanted to find her son a better stepfather.
A day later, on Muhammad Izzul's birthday, Firdaus set on the boy again when he cried for his mother, who was out settling her divorce.
Firdaus punched the child several times on the face, forehead and chin. He then lifted the boy, swung him in the air and slammed his head against the edge of the door frame with great force.
Next, he pulled down one side of the boy's diapers and grabbed his penis, shaking and squeezing it violently. He pinched, pulled and bit his private parts, right thigh and nose.
As a result of the attack, Deputy Public Prosecutor Royce Wee said the boy suffered a host of serious injuries which led to his death.
On admission to KK Women's and Children's Hospital, the boy was found to have multiple injuries all over his body as well as swelling in the brain and bleeding in the eyes.
Pressing for a stiff sentence, DPP Wee said: "Instead of caring for the deceased, the accused blatantly abused this trust by viciously attacking the deceased when the deceased's mother was away leaving the deceased with him at home alone.
"The manner in which the accused inflicted the extensive injuries on the deceased is shocking and grossly inhuman."
Firdaus, the prosecutor added, had not shown any remorse, and during the nine-day trial, had raised many baseless and far-fetched allegations. Firdaus said the boy had suffered the injuries when he fell down twice in the bedroom and outside the toilet.
Neighbours said it was not uncommon to hear the little boy's wails at all hours of the day. The family's next-door neighbour said she often heard shouting and loud thuds on the wall.
She thought however, that it was merely a case of an ill-disciplined child and so did not interfere.
She was the one who called the ambulance when Firdaus brought the child's limp body to her front door, pleading with her to call for help.
Another neighbour said she was puzzled when she walked by the open door of the flat to find Ms Nadiyana doing housework, seemingly oblivious to Firdaus's angry shouts and the child's cries. The family kept largely to themselves, she said. The toddler was seldom seen outside the home, but was described as "small-sized, skinny but very cute" boy.
The neighbours also added that Firdaus lived a few doors away when Ms Nadiyana, her ex-husband and son moved in at the beginning of 2007. He later moved in with her after her husband left the home.
She has since moved out of the flat.