Daily Express, Kota Kinabalu, 4 September 2009
Drugs: Two Filipinos jailed plus 10 strokes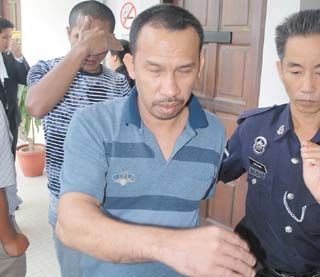 Kota Kinabalu: Two Filipinos were jailed 11 years and 10 years and ordered given 10 strokes of the cane each by the Sessions Court here Thursday for being in possession of drugs.
Painter Mukim Tamang, 49, was found guilty of having 11 packets of syabu weighing 38.76gm at 9.15pm on Dec 11, 2007 at a roadside in Inanam Jaya, Inanam.
Judge Ismail Brahim ordered Mukim to serve his 11 years' imprisonment from the date of his arrest on Dec 11, 2007.
In his judgement, Ismail held that the prosecution had proved its case beyond reasonable doubt.
Counsel Hamid Ismail, who represented Mukim, applied for leniency, saying it was the accused's first offence and that the amount of drug was not massive.
Hamid said his client, who had been under remand for two years, has two wives with eight children aged between one and nine years.
Deputy Public Prosecutor Shukor Abu Bakar, however, urged the court to impose a deterrent sentence on the grounds that drugs are the country's number one enemy.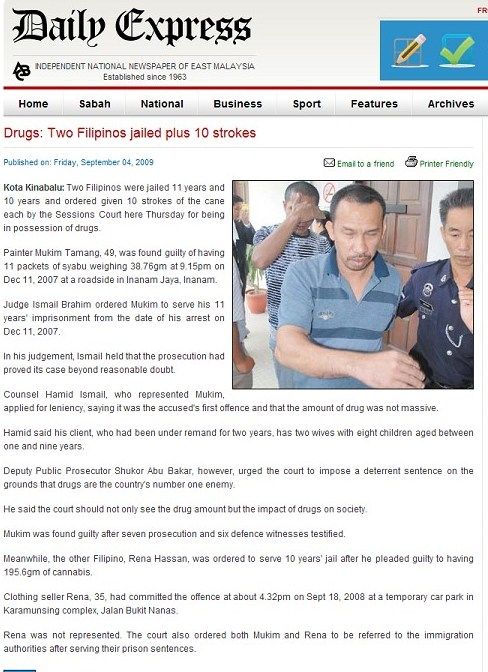 Click to enlarge
He said the court should not only see the drug amount but the impact of drugs on society.
Mukim was found guilty after seven prosecution and six defence witnesses testified.
Meanwhile, the other Filipino, Rena Hassan, was ordered to serve 10 years' jail after he pleaded guilty to having 195.6gm of cannabis.
Clothing seller Rena, 35, had committed the offence at about 4.32pm on Sept 18, 2008 at a temporary car park in Karamunsing complex, Jalan Bukit Nanas.
Rena was not represented. The court also ordered both Mukim and Rena to be referred to the immigration authorities after serving their prison sentences.
© Copyright 2009 Sabah Publishing House Sdn. Bhd.
---
---

The Straits Times, Singapore, 16 September 2009
Pahang orders caning for Indonesian who drank
By Elizabeth Looi
Malaysia Correspondent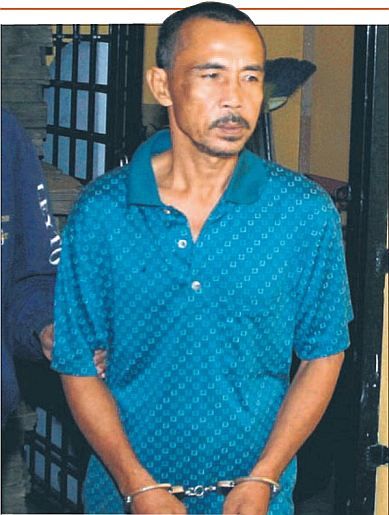 Nazarudin leaving the Kuantan court on Monday after he became the first foreigner in Malaysia to be sentenced by a syariah court to jail and caning for drinking alcohol. PHOTO: REUTERS
KUALA LUMPUR: An Indonesian Muslim man has become the first foreigner in Malaysia to be sentenced by a syariah court to be caned and jailed for drinking alcohol.
The sentence was handed down by the same Islamic court judge who caused a national furore recently after he sentenced a Malaysian Muslim woman to be caned when she was caught drinking.

In this case, Indonesian national Nazarudin Kamaruddin, 46, was ordered on Monday by the Pahang Syariah High Court to spend a year in jail and receive six strokes of the rotan.

The odd-job worker is a Malaysian permanent resident. He was caught drinking samsu, a locally distilled alcoholic beverage, on Aug 27.

The judge, Datuk Abdul Rahman Mohd Yunos, sparked a bitter debate in Malaysia after he sentenced Kartika Sari Dewi Shukarno, a 32-year-old mother of two, to be caned for drinking beer.
The New Straits Times newspaper on Tuesday quoted the judge as saying after sentencing Nazarudin: "The sentence meted out to him is not meant as punishment but to serve as a lesson."

Only the states of Kelantan, Perlis and Pahang have enforced whipping for drinking, according to Malaysian Syariah Lawyers Association president Mohd Isa Abdul Ralip.

"In these states, it is mandatory to cane a Muslim for consuming alcohol, so the judge did not have a choice," he told The Straits Times. The sentence comes against a rising tide of anti-Malaysian sentiment in Jakarta following a series of controversies that have soured bilateral ties.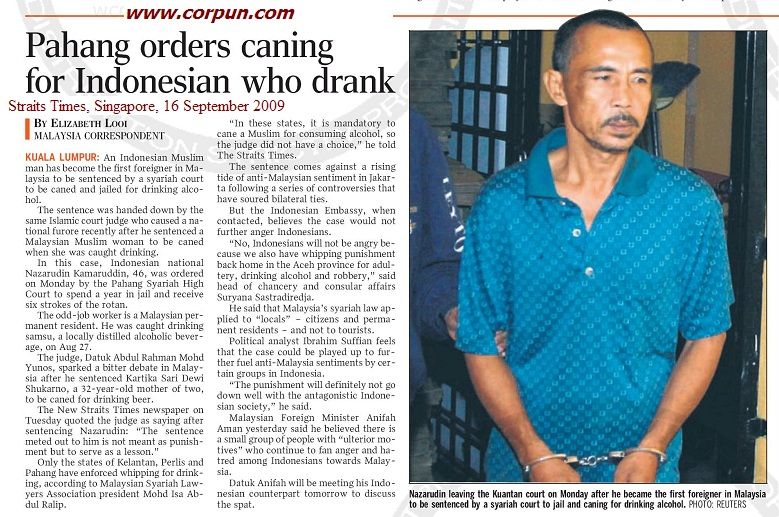 Click to enlarge
But the Indonesian Embassy, when contacted, believes the case would not further anger Indonesians.

"No, Indonesians will not be angry because we also have whipping punishment back home in the Aceh province for adultery, drinking alcohol and robbery," said head of chancery and consular affairs Suryana Sastradiredja.

He said that Malaysia's syariah law applied to "locals" -- citizens and permanent residents -- and not to tourists.

Political analyst Ibrahim Suffian feels that the case could be played up to further fuel anti-Malaysia sentiments by certain groups in Indonesia.

"The punishment will definitely not go down well with the antagonistic Indonesian society," he said.

Malaysian Foreign Minister Anifah Aman yesterday said he believed there is a small group of people with "ulterior motives" who continue to fan anger and hatred among Indonesians towards Malaysia.

Datuk Anifah will be meeting his Indonesian counterpart tomorrow to discuss the spat.
---
---
The Star, Kuala Lumpur, 16 September 2009
Syariah judge stands by his caning decision
By Roslina Mohamad
KUANTAN: Although his decisions to whip Muslims caught for drinking has been criticised by some, Kuantan Syariah High Court judge Datuk Abdul Rahman Md Yunos makes no apologies for his actions.

"I am merely carrying out my duties as a court official as well as to society," he said when contacted yesterday.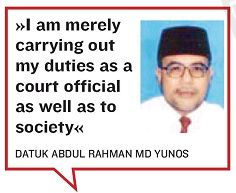 When asked to comment on the controversy surrounding his decisions -- including the caning of part-time model Kartika Sari Dewi Shukarno -- Abdul Rahman replied it was unethical for him to give his opinion.

On whether he was affected by the publicity surrounding his decision and the prominence his judgment has received worldwide, Abdul Rahman said he has not read the comments.

Abdul Rahman, 53, has been a Kuantan Syariah High Court judge since 1996 when the Pahang Religious Affairs Department and the Pahang Syariah Judiciary Department were separated at the end of 1995. Prior to that he was the Chief Kadi.

Abdul Rahman, from Kampung Kuala Bera in Bera, Pahang, is married with five children. He is a graduate of Al-Azhar University and obtained his degree in Islamic Syariah Law in 1982andaLawDiploma from the International Islamic University Malaysia in 1989.

He has ruled on six Muslims accused of consuming liquor from 2004 until this year.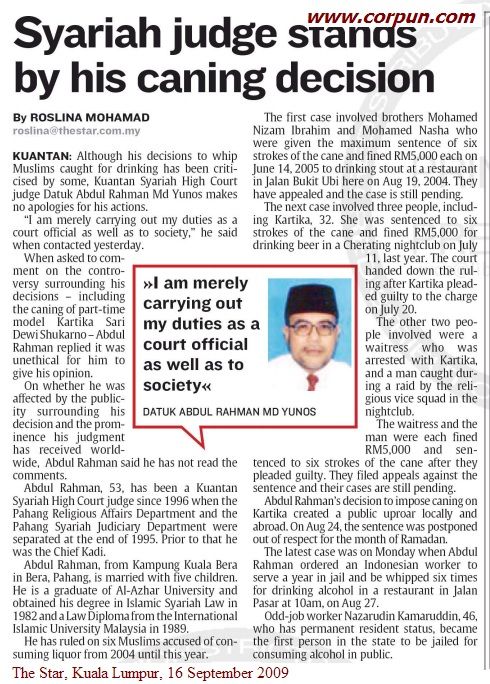 Click to enlarge
The first case involved brothers Mohamed Nizam Ibrahim and Mohamed Nasha who were given the maximum sentence of six strokes of the cane and fined RM5,000 each on June 14, 2005 to drinking stout at a restaurant in Jalan Bukit Ubi here on Aug 19, 2004. They have appealed and the case is still pending.

The next case involved three people, including Kartika, 32. She was sentenced to six strokes of the cane and fined RM5,000 for drinking beer in a Cherating nightclub on July 11, last year. The court handed down the ruling after Kartika pleaded guilty to the charge on July 20.

The other two people involved were a waitress who was arrested with Kartika, and a man caught during a raid by the religious vice squad in the nightclub.

The waitress and the man were each fined RM5,000 and sentenced to six strokes of the cane after they pleaded guilty. They filed appeals against the sentence and their cases are still pending.

Abdul Rahman's decision to impose caning on Kartika created a public uproar locally and abroad. On Aug 24, the sentence was postponed out of respect for the month of Ramadan.

The latest case was on Monday when Abdul Rahman ordered an Indonesian worker to serve a year in jail and be whipped six times for drinking alcohol in a restaurant in Jalan Pasar at 10am, on Aug 27.

Odd-job worker Nazarudin Kamaruddin, 46, who has permanent resident status, became the first person in the state to be jailed for consuming alcohol in public.
---
---
New Straits Times, Kuala Lumpur, 18 September 2009
Caning for couple caught almost naked in car
By Rita Jong
Click to enlarge
SHAH ALAM: A man and a woman earned the dubious distinction of being the first couple to receive six strokes of the rotan by the Syariah High Court here for attempting to have sex out of wedlock. Mohd Shahrin Abd Majid, 29, and his lover Nadiah Najat Hussin, 24, who are both working in the private sector, were fined RM5,000 or 12 months' jail and ordered to be caned six times each.

They pleaded guilty to attempting to have sex in a car which was parked at the PKNS Complex car park at 7.15pm on May 16.

According to the facts, both were found clad only in their undergarments.

Judge Mohammad Khalid Shaee @ Shaii sentenced them on Wednesday. Both Shahrin and Nadiah paid the fine.

Yesterday, however, Khalid granted a stay on the caning pending an appeal following an application by counsel Shahida Elias, who represented the couple.

Selangor Islamic Religious Department prosecutor Shafezan Rusli did not object.

Khalid granted the stay and ordered both accused to produce two sureties.

"One of the bailors has to be a grade A government servant. If not, only family members can stand as bailors," he said.

Khalid also advised both accused to marry as soon as possible as both had, in mitigation on Wednesday, claimed they were to be engaged after Hari Raya and scheduled to be married on Feb 20 next year.

"You are still young... after Hari Raya seek consent from both your parents to marry," he said.

He also explained to Shahrin and Nadiah that they would have to be sent to prison in order to receive the caning, in the event their appeal was dismissed.
Copyright © 2009 NST Online. All rights reserved.
---
---
The Star, Kuala Lumpur, 29 September 2009
Kartika's whipping punishment upheld
By Roslina Mohamad

Click to enlarge
KUANTAN: The Kuantan Syariah High Court Appeals Panel has upheld the punishment meted out to part-time model Kartika Sari Dewi Shukarno who was found guilty of drinking beer by the Syariah High Court.
Syarie Chief Judge Datuk Abdul Hamid Abdul Rahman said the High Court Judge had acted within the jurisdiction provided under Section 136 of the Pahang Islamic Administration and Malay Customs Enactment 1982 (amended 1987).
"As the Pahang Syarie Chief Judge, I can make the review any time and I did so before the Hari Raya Aidilfitri.
"I found that the High Court Judge had acted accordingly. As such, the decision stays," he said when contacted at his office here yesterday.
Kartika, 32, was sentenced to six strokes of the cane and fined RM5,000 after pleading guilty to committing the offence in the nightclub in Cherating on July 11, last year.
Two others, a waitress and a man, were also caught during a raid by the religious vice squad. They are appealing against their sentences.
Justice Abdul Hamid was asked about the review following the ruling made by Syariah High Court Justice Datuk Abdul Rahman Md Yunos that caught even international attention.

Justice Abdul Hamid said as far as the court was concerned, they had done their judicial duties.
"It is now up to the Pahang Islamic Religious Department to implement the punishment. The department is responsible in enforcing the penalty imposed," he added.

The sentence against Kartika was postponed once out of respect for the month of Ramadan.