New Sabah Times, Kota Kinabalu, 7 January 2009
Indonesian jailed 14 years for raping teenager
Ribas (left) being led into the court before the proceedings.
KOTA KINABALU: A 23-year-old vegetable planter from Kundasang, Ranau who raped a 14-year-old girl and tried to flee back to Indonesia was yesterday imprisoned 14 years and given three strokes of the rotan.
Sessions court judge Supang Lian meted out the sentence against Ribas Samsuddin who admitted to raping the girl in a bedroom of an unnumbered house in Kg Cenderamata, Kundasang on Sept 3 of 2007 at 8am.
In his mitigation, Ribas ask for leniency. "When I was under remand, none of my family members were here as they are all in Indonesia," he said.
Assistant Public Prosecutor (APP) Syukor Abu Bakar urged the court to hand down a severe punishment as a lesson not only to the accused but the public at large.
"The court should consider the victim's age and the trust of the family in the accused, who tried to run away by fleeing to Tawau before joining his family back in Indonesia," he said.
Click to enlarge
APP Syukor told the court that while the victim's mother was away, the victim who was in the kitchen washing dishes was forced into the room where she was raped by Ribas.
The incident was witnessed by the victim's three-year-old brother who struck Ribas with a broom.
Their mother who returned home from selling vegetables was informed by the boy. Ribas immediately took off for Tawau.
Relatives of the victim in Tawau were informed of the incident and the police was informed to search for Ribas. He was later apprehended at the Tawau bus terminal station.
Investigation revealed that Ribas had been staying with the victim's family who is also from Indonesia.
---
---

Straits Times, Singapore, 14 January 2009
Malaysian waitress ordered to be caned for drinking
Agence France-Presse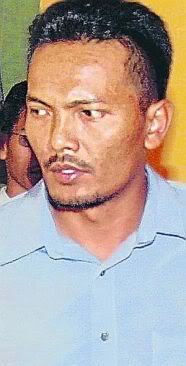 Noorazah (left) and Mohamad Nasir (right) were both sentenced to six strokes of the cane and ordered to pay a fine of RM5,000. This is believed to be the first case in Malaysia of a woman receiving a caning sentence for drinking. -- PHOTO: NEW STRAITS TIMES PRESS
KUALA LUMPUR: A religious court has sentenced a Muslim woman to six strokes of the cane for drinking alcohol, possibly for the first time in Malaysia.
The Syariah High Court in Pahang also handed the same sentence to a man on Monday, and is due to make a decision on another woman in May.
Mohamad Nasir Mohamad, 38, a father of four, and waitress Noorazah Baharuddin, 22, were found drinking beer separately in pubs in July last year in central Pahang state, said reports released yesterday.
Nasir admitted that he had drunk beer at a pub in Cherating on July 11, while Noorazah was caught drinking at the pub where she worked, in Jalan Gambut.
Both were also fined RM5,000 (S$2,100) each by the Pahang court on Monday.
The third accused was part-time model Kartika Sari Dewi Shukarno, 32. According to the New Straits Times, Kartika, a Singapore permanent resident, could not attend court as she is studying in Singapore.
Click to enlarge
Judge Abdul Rahman Yunus said that he had given the maximum fine and caning as a deterrent to other Muslims, but had spared them a jail sentence.
"The caning is to shame them and should be done at any of the prisons in the country," he was quoted as saying by NST.
The case comes after two controversial fatwas, or edicts - one over tomboyish behaviour by women and the other concerning the practice of yoga - sparked intense public debate over decisions made by the country's top religious body.
Malaysia has a two-track legal system, with the civil courts operating alongside state-based syariah courts. Muslims are governed by syariah laws in family and personal matters, while ethnic Chinese, Indians and other races come under civil courts.
According to NST, this is the second time such a sentence has been handed down. In 2005, the same judge sentenced two Muslim brothers to six strokes of the cane after they were caught drinking.
However, the caning has yet to be carried out as the men are appealing against the decision.
Alcohol is widely available in Malaysia, and Muslims are rarely punished for consuming it.
"It's rare but it's within the law and Muslims are subject to such law in this country," said lawyer Pawancheek Merican, a syariah law committee member of the Malaysian Bar Council.
MP Salahuddin Ayub, the youth chief of the opposition Islamic party PAS, said he "agreed" with the court ruling.
"The ruling only concerns Muslims and it does not affect the non-Muslims. It is to remind the Muslims not to drink," he said.
Copyright © 2008 Singapore Press Holdings Ltd.
---
Note by C.F.: It is important to be clear that this "syariah" caning ordered by a religious court is a more or less symbolic affair, and not to be confused with Malaysia's judicial canings ordered by a criminal court (to which females are never sentenced). See 27 June 2005, The pain is in the shame.
---
---

New Straits Times, Kuala Lumpur, 16 January 2009
Man who raped nurse gets 28 years
By Lydia Gomez
Civajanam (left) and the juvenile being led away after sentencing for abduction, rape and armed robbery.
SHAH ALAM: He said he was drunk on whisky and claimed in his defence that it was his intoxicated state that led him and his companion, a teenager, to abduct a nurse, rape her and rob her before letting her go after a futile attempt to get a ransom for her from her father.
The High Court did not buy his defence, and Civajanam Subramanian, 29, was sentenced to 28 years in jail and eight strokes of the rotan for the abduction, rape and armed robbery committed six years ago

His juvenile accomplice, now 20 years old, was ordered to remain in prison till he reached the age of 21.

In throwing out Civajanam's defence that he was intoxicated, judicial commissioner Abang Iskandar Abang Hashim said: "He must, at least, show that he was forced to drink and, as a result, acted recklessly. But, the whisky bottle was found in his car.

"Rape, abduction and armed robbery should not be taken lightly, especially given the circumstances of this case. Society is already crying out that enough is enough."
Civajanam and the teenager were jointly charged with abducting the 19-year-old nurse after crashing into her car at a traffic light junction in Sungai Pelong and raping the nurse in the back seat of their Proton Saga near a car park in Jalan Alfa 9/5, Kampung Baru Subang 2, here between 11.30pm on July 17, 2003, and 2.30am the next day.

They were also charged with committing armed robbery and using a parang to threaten the girl.

According to the facts of the case, the nurse was on her way home after work at 10pm when her car was hit from behind by a Proton Saga driven by Civajanam.

Civajanam then drove in front of her car and blocked it, while his teenage accomplice got down and threatened the nurse with a parang, blaming her for the accident.

The nurse insisted that it was not her fault and told them to call her father as she lived nearby, but they tied her up and forced her into their car. They drove her to an industrial area where Civajanam raped her and then the juvenile.

After they were done with her, they called her father. They demanded a ransom of RM10,000 and asked him to meet them at the Sungai Buloh train station.

However, when her cousin showed up at the station empty-handed because her father had yet to raise the ransom amount, they sped off. A chase ensued.

Civajanam and the boy eventually dumped the girl at a housing area in Jinjang, leaving her by the roadside in her underwear and sweater. Her uniform was discarded by the two elsewhere.

The police picked her up and sent her to University Malaya Medical Centre to be treated.

Civajanam and the boy were subsequently arrested and they claimed trial when they were charged in August 2003.

Last October, midway through the trial, they pleaded guilty.

Yesterday at sentencing, none of their family members or friends was present in court.

Civajanam was represented by counsel Puan Sri N. Saraswathy Devi and R. Alegandra, while counsel Imran Hadzalie Abdul Hamid represented the teenager.

The case was prosecuted by deputy public prosecutor Muhammad Iskandar Ahmad.
Copyright © 2007 NST Online. All rights reserved.
---
---

New Straits Times, Kuala Lumpur, 19 January 2009
Convicted robber chooses whip rather than longer jail time
By Irdiani Mohd Salleh
A chicken rice seller was willing to endure the pain of being whipped rather than endure a longer jail term. At Sessions Court today, Loh Poh Meng, 40, in pleading for leniency told judge Zainal Abidin Kamarudin that he did not want to spend long years in jail as had to take care of his sick grandmother and sent her to hospital for dialysis every month. "If you want to lessen your jail term, do you want to be whipped? Remember that it will leave scars for a life time," Zainal Abidin said.

"Yes, yes, sir. I want to reduce the jail term," said Loh who pleaded guilty to robbery.

Zainal Abidin sentenced him to four years' jail and three strokes of rotan for robbing Chan Mee Lin, 42, of her handphone worth RM500 at her shop Mix Two Fashion Sdn Bhd, No. 12, Lorong Meranti 2, Jalan Kenanga in Dang Wangi while armed with a knife at 7pm on May 7, 2008.

Another man Yong Tai Weng, 33, who was jointly charged with Loh, however, claimed trial.

"How would you feel if you were robbed while going home with the money you earned from your business? You'll be mad, wouldn't you?" Zainal Abidin asked.
"Of course I'll be mad," said Loh.

Deputy public prosecutor Noor Aishah KM Abu Bakar told the court that Loh had nine previous convictions including drug related offences, robbery, keeping stolen property and extortion.
© Copyright 2009 The New Straits Times Press (M) Berhad. All rights reserved.