New Sabah Times, Kota Kinabalu, 10 February 2009
Worker, accomplice jailed for robberies
KOTA KINABALU: An odd job worker and his accomplice who received 18 months' jail for five robberies last week was yesterday given another 33 years plus 20 strokes of rotan for 11 other crimes.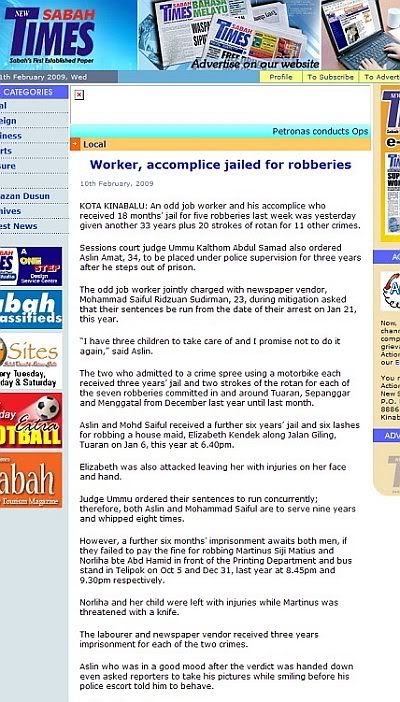 Click to enlarge
Sessions court judge Ummu Kalthom Abdul Samad also ordered Aslin Amat, 34, to be placed under police supervision for three years after he steps out of prison.
The odd job worker jointly charged with newspaper vendor, Mohammad Saiful Ridzuan Sudirman, 23, during mitigation asked that their sentences be run from the date of their arrest on Jan 21, this year.
"I have three children to take care of and I promise not to do it again," said Aslin.
The two who admitted to a crime spree using a motorbike each received three years' jail and two strokes of the rotan for each of the seven robberies committed in and around Tuaran, Sepanggar and Menggatal from December last year until last month.
Aslin and Mohd Saiful received a further six years' jail and six lashes for robbing a house maid, Elizabeth Kendek along Jalan Giling, Tuaran on Jan 6, this year at 6.40pm.
Elizabeth was also attacked leaving her with injuries on her face and hand.
Judge Ummu ordered their sentences to run concurrently; therefore, both Aslin and Mohammad Saiful are to serve nine years and whipped eight times.
However, a further six months' imprisonment awaits both men, if they failed to pay the fine for robbing Martinus Siji Matius and Norliha bte Abd Hamid in front of the Printing Department and bus stand in Telipok on Oct 5 and Dec 31, last year at 8.45pm and 9.30pm respectively.
Norliha and her child were left with injuries while Martinus was threatened with a knife.
The labourer and newspaper vendor received three years imprisonment for each of the two crimes.
Aslin who was in a good mood after the verdict was handed down even asked reporters to take his pictures while smiling before his police escort told him to behave.
---
---

New Straits Times, Kuala Lumpur, 13 February 2009
Jail, rotan for having drugs
SHAH ALAM: A 25-year-old man was sentenced to nine years' jail and 10 strokes of the rotan for possessing drugs. High Court judge Datuk Syed Ahmad Helmy Syed Ahmad sentenced Chin Kek Shen after he pleaded guilty to an amended charge of possessing 646.1gm of methylenedioxy-methamphetamine (MDMA) in Jalan Kenari 19A, Bandar Puchong Jaya in Petaling Jaya at 8.30pm on Oct 3, 2007.

Chin was holding a bag when he was stopped by police.

They found 4,700 Ecstasy pills that contained MDMA. The pills are sold for RM30 each on the streets.
© Copyright 2009 The New Straits Times Press (M) Berhad. All rights reserved.
---
---
Daily Express, Kota Kinabalu, 24 February 2009
Indon gets 5 yrs, 3 strokes for raping girl, 15
Kota Kinabalu: An Indonesian vegetable seller was jailed five years jail and ordered to be given three strokes of the cane by the Sessions Court here Monday for having sex with his underage girlfriend last year.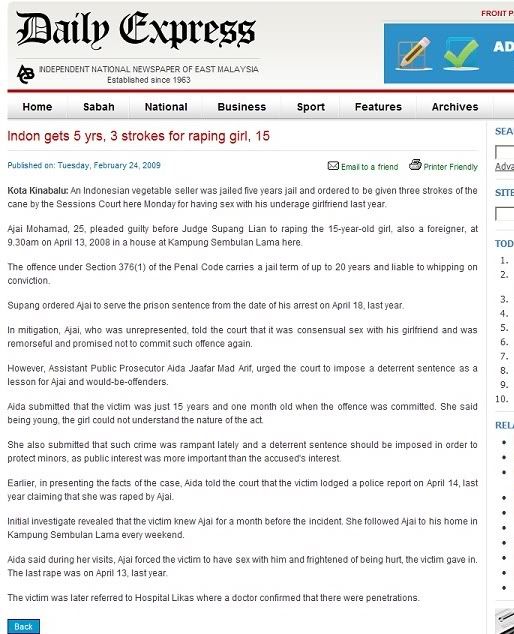 Click to enlarge
Ajai Mohamad, 25, pleaded guilty before Judge Supang Lian to raping the 15-year-old girl, also a foreigner, at 9.30am on April 13, 2008 in a house at Kampung Sembulan Lama here.
The offence under Section 376(1) of the Penal Code carries a jail term of up to 20 years and liable to whipping on conviction.
Supang ordered Ajai to serve the prison sentence from the date of his arrest on April 18, last year.
In mitigation, Ajai, who was unrepresented, told the court that it was consensual sex with his girlfriend and was remorseful and promised not to commit such offence again.
However, Assistant Public Prosecutor Aida Jaafar Mad Arif, urged the court to impose a deterrent sentence as a lesson for Ajai and would-be-offenders.
Aida submitted that the victim was just 15 years and one month old when the offence was committed. She said being young, the girl could not understand the nature of the act.
She also submitted that such crime was rampant lately and a deterrent sentence should be imposed in order to protect minors, as public interest was more important than the accused's interest.
Earlier, in presenting the facts of the case, Aida told the court that the victim lodged a police report on April 14, last year claiming that she was raped by Ajai.
Initial investigate revealed that the victim knew Ajai for a month before the incident. She followed Ajai to his home in Kampung Sembulan Lama every weekend.
Aida said during her visits, Ajai forced the victim to have sex with him and frightened of being hurt, the victim gave in. The last rape was on April 13, last year.
The victim was later referred to Hospital Likas where a doctor confirmed that there were penetrations.
© Copyright 2009 Sabah Publishing House Sdn. Bhd.