New Straits Times, Kuala Lumpur, 6 July 2009
Get facts right about caning, immigration tells Amnesty
By Farrah Naz
Click to enlarge
PUTRAJAYA: Amnesty International has been slammed for urging the government to abolish the caning of illegal immigrants, with a top Immigration Department official telling the London-based human rights organisation to "get its facts right". Immigration director-general Abdul Rahman Othman said not all illegal immigrants in the country were liable to be caned. Immigration law allows caning only for those who enter the country through illegal means.

"Most of the estimated two million illegal immigrants in the country are over-stayers, and -- be clear about this -- they do not face caning."

Rahman said the Amnesty International report should get its take on the issues right.

"On the one hand, it wants us to address the problem of human trafficking. When we execute the law that can help reduce this problem, we are chastised for it.

"Illegal entry into this country is dealt with severely because it not only poses a security threat to Malaysia but contributes to various other problems, including prostitution and the much-talked about human trafficking."

Last month, the United States identified Malaysia as one of the worst offenders on its blacklist of governments believed to be doing little to stop the trafficking in humans.

And Amnesty International said tens of thousands of migrants had received "inhuman and degrading" punishment in recent years.

It cited a statement in Parliament recently that the Prisons Department had caned at least 34,923 illegal immigrants between 2002 and 2008. Sixty per cent were Indonesians. The rest were from Bangladesh, India, Myanmar, Nepal, the Philippines and Thailand.

Mandatory caning of up to six strokes of the rotan was added to Immigration laws in 2002, along with fines and jail terms of up to five years for those convicted of trafficking in humans. Other crimes punishable with caning include rape and drug trafficking.

Amnesty International has argued that "caning is humiliating and causes such pain that people have reportedly fainted. Those caned often carry scars, psychological as well as physical, for years".

Rahman said caning deterred unsavoury characters from entering the country illegally and had served the country well in staunching the problem. The department's prosecutors had also been directed to make sure Malaysians who employed undocumented foreigners were caned.
Copyright © 2009 NST Online. All rights reserved.
---
---
New Straits Times, Kuala Lumpur, 7 July 2009
'No' to caning by Sessions Court Judge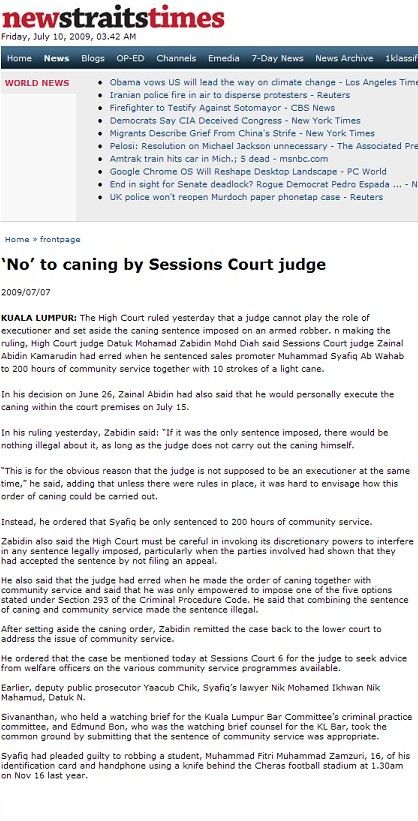 Click to enlarge
KUALA LUMPUR: The High Court ruled yesterday that a judge cannot play the role of executioner and set aside the caning sentence imposed on an armed robber. n making the ruling, High Court judge Datuk Mohamad Zabidin Mohd Diah said Sessions Court judge Zainal Abidin Kamarudin had erred when he sentenced sales promoter Muhammad Syafiq Ab Wahab to 200 hours of community service together with 10 strokes of a light cane.

In his decision on June 26, Zainal Abidin had also said that he would personally execute the caning within the court premises on July 15.

In his ruling yesterday, Zabidin said: "If it was the only sentence imposed, there would be nothing illegal about it, as long as the judge does not carry out the caning himself.

"This is for the obvious reason that the judge is not supposed to be an executioner at the same time," he said, adding that unless there were rules in place, it was hard to envisage how this order of caning could be carried out.

Instead, he ordered that Syafiq be only sentenced to 200 hours of community service.

Zabidin also said the High Court must be careful in invoking its discretionary powers to interfere in any sentence legally imposed, particularly when the parties involved had shown that they had accepted the sentence by not filing an appeal.

He also said that the judge had erred when he made the order of caning together with community service and said that he was only empowered to impose one of the five options stated under Section 293 of the Criminal Procedure Code. He said that combining the sentence of caning and community service made the sentence illegal.

After setting aside the caning order, Zabidin remitted the case back to the lower court to address the issue of community service.

He ordered that the case be mentioned today at Sessions Court 6 for the judge to seek advice from welfare officers on the various community service programmes available.

Earlier, deputy public prosecutor Yaacub Chik, Syafiq's lawyer Nik Mohamed Ikhwan Nik Mahamud, Datuk N. Sivananthan, who held a watching brief for the Kuala Lumpur Bar Committee's criminal practice committee, and Edmund Bon, who was the watching brief counsel for the KL Bar, took the common ground by submitting that the sentence of community service was appropriate.

Syafiq had pleaded guilty to robbing a student, Muhammad Fitri Muhammad Zamzuri, 16, of his identification card and handphone using a knife behind the Cheras football stadium at 1.30am on Nov 16 last year.
---
---
New Straits Times, Kuala Lumpur, 21 July 2009
Rotan for having a beer
By Alina Simon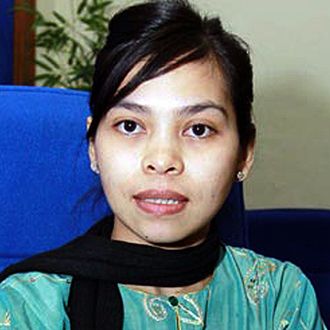 [Picture of Kartika Sari Dewi Shukarno from The Straits Times, Singapore, 23 July 2009]
KUANTAN: A 32-year-old part-time model from Singapore charged with having a beer in a nightclub last year was ordered by the Syariah High Court yesterday to receive six strokes of the rotan. Kartika Sari Sewi Shukarno, who pleaded guilty to consuming alcohol in public when she made her first court appearance in December, was also fined RM5,000.

The model, who wore a blue baju kurung and black headscarf, kept her head down and was silent as judge Datuk Abdul Rahman Yunus read out the sentence. He said the accused could face a three-year jail term if she could not pay the fine while the rotan would be carried out by federal prison authorities.

He said the sentence was under Section 136 of the Pahang Islamic and Malay Traditional Practices Enactment 1982 (amendment 1987).
"The court reached the judgment after the accused pleaded guilty. We feel the sentence is fair after going through the prosecution's argument and since the rotan is provided for in the law.
Click to enlarge
"The rotan is aimed at making the accused repent and serves as a lesson to Muslims."

Kartika committed the offence at a hotel night club in Cherating and was arrested during a raid by a team from the state religious department at 1.20am on July 12, 2007.

Her lawyer Mohd Zuki Che Muhamad Ghani said he would file an application for a stay of execution pending an appeal.

This is the second time the Syariah Court here has imposed whipping on a female. The first was on a waitress and a man who were caught together with Kartika during the same operation in Cherating.

The 38-year-old from Kemaman, Terengganu, and the 22-year-old waitress from Selangor were also fined RM5,000 each and ordered to receive six strokes of the rotan.

However, the whipping has yet to be carried out in these cases which are pending appeal.

The sentence for consuming alcohol was made stiffer when the Islamic Religious Administration and Pahang Malay Tradition Enactment 1982 was amended in 1987.

Under Section 136 of the enactment, those who are found guilty can be fined up to RM5,000 or jailed a maximum of three years, or both, and sentenced to six strokes of the rotan.
---
New Straits Times, Kuala Lumpur, 23 July 2009
'Prison can carry out syariah caning'
By V. Anbalagan
KUALA LUMPUR: A syariah lawyer said the part-time model who was sentenced to six strokes of the rotan for drinking beer could be caned in a civil prison if all conditions are met. Muhamad Burok said Kartika Sari Dewi Shukarno must be sent to a prison accompanied by a syariah court order that imposed the sentence.

"She must be punished by a person who is trained to execute the caning," said Muhamad, who is also adviser to the Malaysian Syariah Lawyers Association.

Muhamad said he was made to understand that prison staff were trained to cane according to syariah requirements.

However, he had no knowledge of women being caned for violating syariah.

He was responding to a statement by Kartika's lawyer, Mohd Zuki Che Muhamad Ghani, that prison authorities could not carry out the caning as the syariah court judgment did not include a jail term.

On Monday, the syariah court in Kuantan sentenced Kartika, 32, to six strokes of the rotan and fined her RM5,000 for drinking beer at a nightclub. She paid the fine.

This is the second time the syariah court sentenced a woman to be caned.

The first case involved a waitress and a man caught together with Kartika during the same raid by the state religious department at 1.20am on July 12, 2007.

The 38-year-old man from Kemaman, Terengganu, and the 22-year-old waitress from Selangor, were also fined RM5,000 each and were sentenced to six strokes but the caning has not been carried out as the appeals were pending.

The same syariah court in June 2005 meted out a similar sentence on two brothers for drinking beer and the authorities were also in a dilemma as the penalty was not accompanied by a jail sentence.

It is unclear whether the brothers were caned.

Meanwhile in Ipoh, Kartika said she wanted to get the ordeal over with so that she could focus on her life with her family and two children.

"I will accept this earthly punishment, let Allah decide my punishment in the hereafter," she said yesterday.

Kartika, who has been living in Singapore for the last 15 years after marrying a local citizen, said her husband was aware of her desire to undergo the caning and he respected her decision.

"I want to advise youngsters to learn from my experience and not cause shame to themselves and their families."

On Tuesday, Mohd Zuki said she would not be appealing against the sentence.
---
The Malay Mail, Kuala Lumpur, 23 July 2009
'Get on with it' says Kartika
Allah will decide my punishment in the hereafter, says Kartika
By Ng Suzhen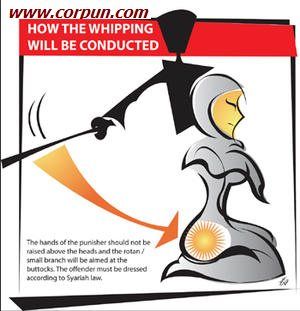 IN a new twist, part-time model Kartika Sari Dewi Shukarno, 32, now says she wants her punishment to be carried out quickly and that she will not file an appeal.
Ordered to be whipped six times by the Kuantan Syariah Court, after she had pleaded guilty to consuming beer in public in Cherating, Pahang on July 11, 2007, Bernama reported that Kartika just wanted the ordeal to be over.
"I will accept this punishment, let Allah decide my punishment in the hereafter," said Kartika, who has been residing in Singapore for the last 15 years.
Based on the Syariah Criminal Procedure Enactment 2002, the whipping tool used must be a rotan or small branch that should be not more than 1.22 metres long and not more than 1.25cm thick.
The whipping has to be done using moderate force and the punisher should not raise the hands over the head to avoid injuring the skin. The appointed punisher must be a fair and mature person, During the punishment, the offender must be dressed according to Syariah law.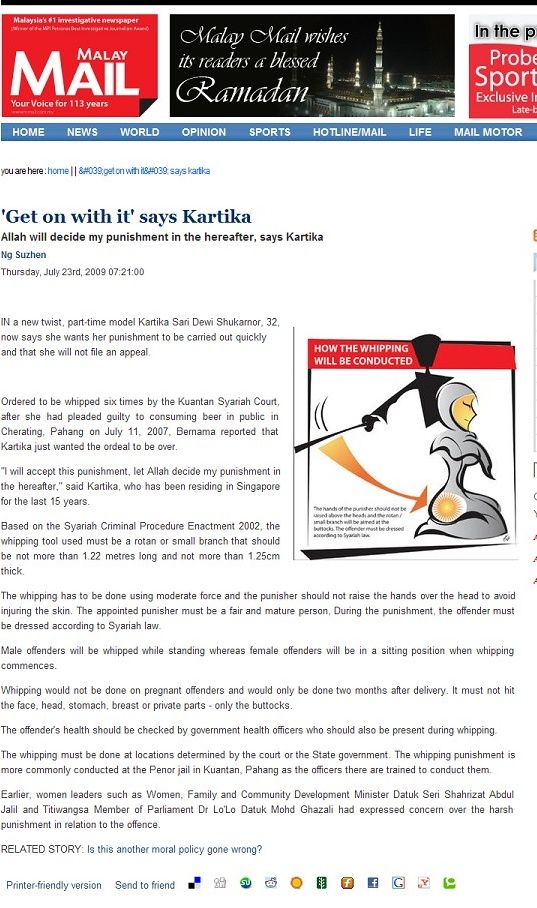 Click to enlarge
Male offenders will be whipped while standing whereas female offenders will be in a sitting position when whipping commences.
Whipping would not be done on pregnant offenders and would only be done two months after delivery. It must not hit the face, head, stomach, breast or private parts - only the buttocks.
The offender's health should be checked by government health officers who should also be present during whipping.
The whipping must be done at locations determined by the court or the State government. The whipping punishment is more commonly conducted at the Penor jail in Kuantan, Pahang as the officers there are trained to conduct them.
Earlier, women leaders such as Women, Family and Community Development Minister Datuk Seri Shahrizat Abdul Jalil and Titiwangsa Member of Parliament Dr Lo'Lo Datuk Mohd Ghazali had expressed concern over the harsh punishment in relation to the offence.
Copyright 2009 Malay Mail Sdn. Bhd.
---

The Straits Times, Singapore, 24 July 2009
Pahang, Perlis, Kelantan allow caning of women
By Elizabeth Looi
Malaysia correspondent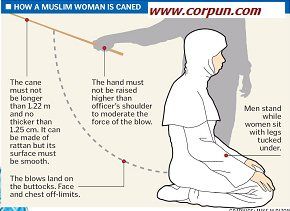 KUALA LUMPUR: Malaysia's Islamic law that allows for the caning of Muslims for having alcoholic drinks is an established one, having been passed 25 years ago by the federal government, a senior lawyer said yesterday.
It may have escaped the public's attention until the recent decision to cane a Malaysian model for the offence because in the past most who were found guilty were usually given lesser penalties, Mr Mohd Isa Abdul Ralip, president of the Malaysian Syariah Lawyers Association, said.

"The Syariah Court Act 1984 is a federal law that regulates the different types of punishment in all the states," Mr Mohd Isa told The Straits Times.

"The act stipulates a RM5,000 fine or three years' jail or a maximum of six strokes. In most cases, the offender was fined or imprisoned."

The last time a man was whipped under the same law for drinking was about 10 years ago in Kelantan, Mr Mohd Isa said.

He added that all Muslims, regardless of whether they are tourists or Malaysians, are subject to local Islamic laws.

Under the Syariah Criminal Offences Code, only Pahang, Perlis and Kelantan provide for whipping of women.

This week, a Pahang syariah court sentenced 32-year-old Malaysian model Kartika Sari Dewi Shukarno to six strokes of the rotan and fined her RM5,000 (S$2,000) for drinking beer in a hotel nightclub two years ago.

Kartika, who is married to a Singaporean, has paid the fine. She is likely to be the first Malaysian woman to be flogged for the offence as another woman who was similarly convicted has appealed against her sentence.
Click to enlarge
Women leaders including Women Minister Shahrizat Jalil and PAS lawmaker Dr Lo' Lo' Ghazali have expressed shock over the case.

Yesterday, Sisters In Islam called on the government to review the law.

Said Ms Hamidah Merican, executive director of the non-governmental organisation: "We urge the government to conduct a review of severe forms of punishments, which violate human rights principles and where evidence has shown that they fail to deter or to reform the offenders."

She argued that there is no consensus among Muslim scholars that women should be whipped.

The punishment has received extensive media coverage in the Malay newspapers here. But it had less play in the English and Chinese papers which gave greater play to the mysterious circumstances surrounding the death of a political aide.

The opposition parties have so far stayed clear of the issue, as it could easily start a new war of words between the Chinese-based Democratic Action Party (DAP) and Parti Islam SeMalaysia (PAS).

But the Malaysian blogosphere was more direct in its negative reactions, with several people saying that they have seen many middle-class Malays drinking in bars and clubs.

"Why pick on one person? Just to make an example out of her? Because she feels vulnerable at this time and has no big shot to pull strings for her?" asked one commentator on the popular Malaysia Today website.
---
---

The Straits Times, Singapore, 25 July 2009
Malaysia in heated debate over caning of woman
PM's religious adviser dismisses criticism that court ruling is harsh
By Elizabeth Looi
Click to enlarge
KUALA LUMPUR: Datuk Abdullah Mohd Zain, religious adviser to the Premier, has brushed aside criticisms that an Islamic court ruling to cane a woman for drinking beer is harsh, saying she had broken the law.
Mr Abdullah told The Straits Times yesterday that Muslim women leaders who criticised the court's decision did not know that syariah caning is 'not as brutal as the civil court's corporal punishment'.
'Criticisms are normal, but it is not fair for non-Muslims to criticise the syariah law. The Muslims criticise it because they do not know how the caning is done.'
He was commenting on the Syariah High Court ruling in Pahang on Monday which sentenced a 32-year-old Malaysian woman, Kartika Sari Dewi Shukarnor, to six strokes of the cane.
'Not many Malaysian Muslims know what syariah caning is like, that is why they are shocked over the punishment,' said Mr Abdullah, adviser on Islamic issues to Prime Minister Najib Razak.
Under an Act on Islam in Malaysia that was passed in 1984, the female offender must sit when being caned.
The officer will use a smooth branch or rotan that is slightly thinner than those used to whip men in a civil court punishment.
The officer must not raise his hand higher than his shoulder to ensure that the caning is moderate.
But women leaders including Islamic law experts, social activists and politicians condemned the punishment, the first time that a woman would face judicial caning.
'From my experience, in nearly all cases, the normal practice is for the judge to take into consideration all the facts and mitigating factors. The offenders will usually be fined,' said Universiti Malaya Islamic criminal law expert Siti Zubaidah Ismail in the New Straits Times yesterday.
Women's Aid Organisation executive director Ivy Josiah said: 'We are mortified that a court would even consider imposing caning on a woman, especially when women are exempted from caning under the penal code.'
But other religious leaders and syariah lawyers felt that the punishment was not unjust.
'Punishment like caning and stoning have existed in Islam but we will not see it being carried out in Malaysia as long as the country is governed by secularists,' said Parti Islam SeMalaysia spiritual leader Nik Aziz Nik Mat.
Kartika, a Singapore permanent resident, was caught by the Islamic authorities for drinking beer while on a holiday with friends in Cherating, Pahang, two years ago.
She pleaded guilty last year. She was also fined RM5,000 (S$2,000).
Her father, Mr Shukarnor Abdul Mutalib, told The Straits Times that Kartika is now resting in their family home in Perak.
'I'm not asking for the court to punish my daughter, but I just want them to carry out the decision that they've made.
'But now that the case has become a national issue, let's see how they are going to do it,' said the 62-year-old businessman.
He also clarified that Kartika was a hospital worker in Singapore, and not a model as reported by the media.
'Kartika quit her job in Singapore after she was charged with the case, and her husband was never involved because he was not there in Cherating with her,' added Mr Shukarnor.
Previous reports have said that her husband, a Singaporean, was with her that evening, but was let off.
Copyright © 2007 Singapore Press Holdings. All rights reserved.
---
The Sunday Star, Kuala Lumpur, 26 July 2009
Is whipping the answer?
Malaysians were shocked when a woman was sentenced by the Pahang Syariah Court to six lashes of the rotan for drinking alcohol. They were again shocked when she decided not to appeal.
By Shahanaaz Habib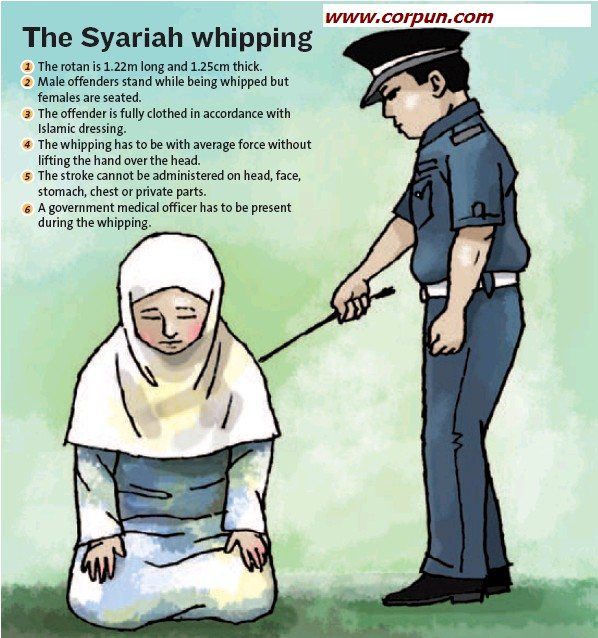 THERE is still time for Kartika Sari Dewi Shukarno to reconsider and appeal, said her lawyer Mohd Zuki Che Muhamad Ghani.
"I told her to go and discuss it with her family," he said, commenting on his client's shocking decision not to appeal against her sentence.

He said Kartika, 32, had 14 days to appeal (from July 20, the date of the sentencing) and so he did not want to record her refusal to appeal as yet because she might change her mind by Aug 3.

Zuki explained that Kartika had not wanted to appeal because the process would take a year or two to be heard. She felt it was too long and as she had already pleaded guilty she was afraid she would be sent to jail instead.

"The offenders plead guilty first and it is only just before the sentencing that they look for a lawyer," he said, which was the case with Kartika.

Last week, Kartika who has two children was sentenced to RM5,000 and six strokes of the rotan for drinking beer at the Legend Hotel lounge in Cherating.

Although she is the second woman to receive the caning sentence (the first was waitress Noorazah Baharuddin), by choosing not to appeal, Kartika looks set to be the first woman in the country to be whipped.

Syariah Judge Abdul Rahman Yunus dealt Kartika the maximum sentence, saying he wanted it to be a deterrent.

This is not the first time this judge has come down hard on drinking.

In 2005, he passed the very same sentence (RM5,000 and six lashes) on two brothers, Mohd Nizam Ibrahim and Mohd Nasha, for drinking stout in public. Earlier this year, he sentenced Mohamad Nasir Mohamad and another woman, Noorazah Baharuddin, to six lashes and a fine also for drinking.

But they all appealed and their cases are still pending in court.

Kartika was calm when the court decision was read out and initially said she would appeal. She later changed her mind, saying she has repented and is prepared to be caned. And she wants it to be done as soon as possible so that she can move on.

Some praised her decision saying she was brave while others are outraged, fearing it could set a precedent where the Syariah courts would now not think twice about sentencing other women to whipping for similar offences.

Pahang, Perlis and Kelantan are three states in the country in which Syariah law provides for women to be caned for criminal offences.

Under the Syariah, drinking for Muslims is classified as a criminal offence.

Syariah lawyer Sa'adiah Din was surprised by the Pahang Syariah court's decision.

While caning is allowed under the state Syariah law and there are details on the type of rotan (thin), and manner of whipping (moderate strength) to minimise injury, "that doesn't mean I'm comfortable with it," she said.

She questioned why Kartika, a first time offender, was served the maximum sentence.

"I also ask "why now'. We never had it before even though the law has been there for a long time. If it is supposed to teach the public a lesson, why pick on the weaker sex?

"Drinking alcohol is wrong in Islam but it is a personal offence. It is not like an offence against the state or others, like stealing or snatching someone's bag.

"So I would prefer for those who drink to plead their case before Allah on the Day of Judgement (rather than be caned on earth for the offence). They will have to answer to Allah," she said.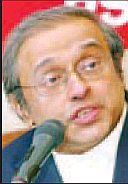 Consuming alcohol is wrong but the authorities should try some other approach like counselling the person" -- Dr Chandra Muzaffar
Dr Chandra Muzaffar, president of the International Movement for a Just World, revealed a poignant point when he said the Quran does not state a punishment for consuming alcohol.

"It is regarded as wrong but the Quran does not provide a mode of punishment. Compare this to other wrongs like stealing: the mode of punishment for that is prescribed in the Quran," he said, adding that punishment for drinking came about only after the Prophet's time with the evolution of fiqh (Islamic jurisprudence).
Different views
Malaysia Syariah Lawyers Association president Mohamad Isa Abd Ralip agrees with the sentencing and stresses that the rationale is to didik (educate) so that people will stay away from alcohol.

Jail sentences, fines and whipping are all part and parcel of Syariah law, he said, and it is up to the judge to chose.

"It's just that the judge rarely orders a caning but it is within his right to do so and we have to respect the decision."

Dr Chandra, however, feels that corporal punishment should not be inflicted on a man or woman for drinking.

"Consuming alcohol is wrong but the authorities should try some other approach like advising or counselling the person. Nasihat (counsel) is emphasised in the Quran," he said.
Click to enlarge
Dr Chandra said he felt sorry for Kartika and her acceptance of the court's decision "blindly with an uncritical attitude".

"The poor girl. It's a pity too that her decision (not to appeal) is being commended by some religious individuals like Datuk Nik Aziz (Nik Mat)."

He attributed Kartika's "blind acceptance" of the court decision to a number of factors, among them a lack of knowledge of the Quran, lack of understanding of the religion and what she has been taught by those around her.

"This is part of the whole Islamic education system here where individuals are not challenged to reflect or think upon religion, laws and practices when Islam does actually encourage reflection and thinking," he said.

For Dr Chandra, it is important to ask questions. "You have to ask "Is it (caning for drinking) in the Quran? Is it the right approach? Does whipping help as a deterrent? Once you use the blind unthinking approach, then all these questions won't be asked."

Jemaah Islah Malaysia's president Zaid Kamaruddin said that while caning is in the statutes and it is up to the judge to choose, "I would be happier if the judge chooses some other form of punishment other than caning."

In the civil court, the rotan used is long and thick and inflicted on bare skin. On impact, it breaks the skin and leaves lasting scars. In comparison, the syariah cane is rather thin -- 1.22m long and 1.25cm thick.

It should be a straight piece with no grooves, segments or joints. The whipping should be done with average force without lifting the hand over the head and the person whipped should be fully dressed in accordance with Islam.

"Clearly, the rotan and whipping in Islam is very different. Male offenders stand while being whipped and females sit, which means the women kena sikit only.

"The way I look at it, it is almost like your mother pukul (beating) you. The spirit of the sentence is to teach and not to leave a mark," explained Sa'adiah.

Even so, argued Dr Chandra, there should not be too much emphasis on the type of cane or manner of whipping that it distracts from the real issue, which is the type of punishment being meted out instead of advice and counselling.

Sisters in Islam also condemned the whipping sentence for women, describing it as a violation of human rights principles and the right to be "free from cruel, inhuman, degrading treatment or punishment".

SIS executive director Dr Hamidah Marican said the whipping is not proportional to the gravity of the offence and that research has shown it is not an effective deterrent.

Also commenting on the issue, lawyer Haris Ibrahim said there is growing encroachment in people's lives and this is encouraged by silence -- people's unwillingness to speak up.

The compassionate side of Islam is not being seen, he said, citing cases like the dumping of babies which invariably leads back to young unwed Malay girls being so afraid of being hauled up to the Syariah court that they try to conceal their shame by dumping their newborn.
New trend
Sa'adiah has also noticed that of late there has been a trend towards harsher penalties meted out by the Syariah court.

In the past, those caught for khalwat (close proximity) were fined but since May some have been sent to prison.

"Even first offenders pun kena. No doubt all these are provided for under the Act but to go for maximum sentencing?" she queried, citing the case of a young college boy who was sentenced to seven days' jail for khalwat and fined RM3,000.

There is no Syariah prison so the boy would have to serve the sentence in a normal prison.

"He would also have a prison record. It would be hard when he gets out of college and wants to apply for a job. Someone like that could go into prison a good person and come out bad (because of the experience)," she said.

Dr Chandra said all these only go to show the way in which Islamic jurisprudence has evolved to be so powerful and dominant in Muslim societies everywhere.

He said a notion like an Islamic state invariably means imposing laws like this or hudud style punishment and "this is something one should be conscious of."

This is made worse by the fact that Malaysia does not have a strong intellectual tradition, debates or discussions on fiqh, so "no reform trend" within Islam would emerge here.

Women, Family and Community Development Minister Datuk Seri Shahrizat Abdul Jalil and PAS' Dr Lo Lo Mohd Ghazali spoke up against the sentence saying they were shocked by it and promptly got flak from some groups for criticising the Syariah judge's decision.

This forced Dr Lo Lo to make a U-turn a day or two later.

She said she now agreed with Kartika being whipped.

She said under hudud law the punishment for drinking alcohol is 40 to 80 lashes of the rotan so Kartika's sentence was close to the hudud law.

"When the Syariah court passed the sentence I was shocked not because of the decision but by the boldness of the judge. I congratulate him for it."
She omitted the fact that the punishment for drinking alcohol is not mentioned at all in the Quran.
---
Follow-up: 24 August 2009 - Beer drinking Muslim model asks for public caning (with video clip)
Country files: Judicial CP in Malaysia
Topics A to Z: Caning in Malaysia