New Straits Times, Kuala Lumpur, 16 June 2009
Man gets 14 years' jail for ganja possession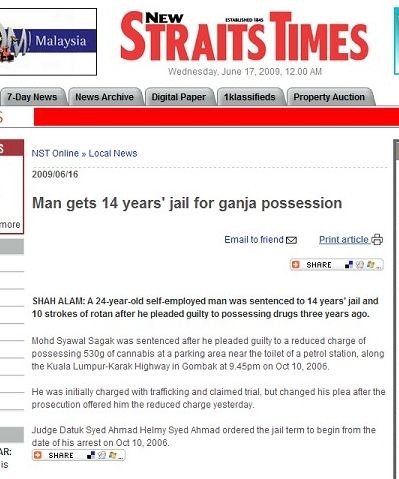 Click to enlarge
SHAH ALAM: A 24-year-old self-employed man was sentenced to 14 years' jail and 10 strokes of rotan after he pleaded guilty to possessing drugs three years ago. Mohd Syawal Sagak was sentenced after he pleaded guilty to a reduced charge of possessing 530g of cannabis at a parking area near the toilet of a petrol station, along the Kuala Lumpur-Karak Highway in Gombak at 9.45pm on Oct 10, 2006.

He was initially charged with trafficking and claimed trial, but changed his plea after the prosecution offered him the reduced charge yesterday.

Judge Datuk Syed Ahmad Helmy Syed Ahmad ordered the jail term to begin from the date of his arrest on Oct 10, 2006.
© Copyright 2009 The New Straits Times Press (M) Berhad. All rights reserved.
---
---

New Straits Times, Kuala Lumpur, 26 June 2009
Judge wants to cane offender
By Irdiani Mohd Salleh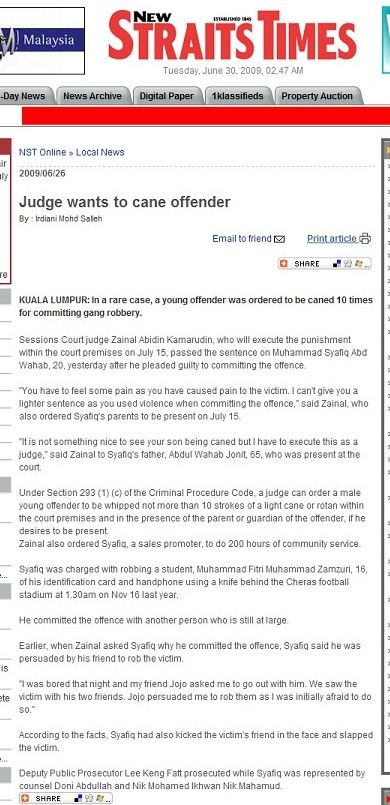 Click to enlarge
KUALA LUMPUR: In a rare case, a young offender was ordered to be caned 10 times for committing gang robbery. Sessions Court judge Zainal Abidin Kamarudin, who will execute the punishment within the court premises on July 15, passed the sentence on Muhammad Syafiq Abd Wahab, 20, yesterday after he pleaded guilty to committing the offence.

"You have to feel some pain as you have caused pain to the victim. I can't give you a lighter sentence as you used violence when committing the offence," said Zainal, who also ordered Syafiq's parents to be present on July 15.

"It is not something nice to see your son being caned but I have to execute this as a judge," said Zainal to Syafiq's father, Abdul Wahab Jonit, 65, who was present at the court.

Under Section 293 (1) (c) of the Criminal Procedure Code, a judge can order a male young offender to be whipped not more than 10 strokes of a light cane or rotan within the court premises and in the presence of the parent or guardian of the offender, if he desires to be present.

Zainal also ordered Syafiq, a sales promoter, to do 200 hours of community service.

Syafiq was charged with robbing a student, Muhammad Fitri Muhammad Zamzuri, 16, of his identification card and handphone using a knife behind the Cheras football stadium at 1.30am on Nov 16 last year.

He committed the offence with another person who is still at large.

Earlier, when Zainal asked Syafiq why he committed the offence, Syafiq said he was persuaded by his friend to rob the victim.

"I was bored that night and my friend Jojo asked me to go out with him. We saw the victim with his two friends. Jojo persuaded me to rob them as I was initially afraid to do so."

According to the facts, Syafiq had also kicked the victim's friend in the face and slapped the victim.

Deputy Public Prosecutor Lee Keng Fatt prosecuted while Syafiq was represented by counsel Doni Abdullah and Nik Mohamed Ikhwan Nik Mahamud.
© Copyright 2009 The New Straits Times Press (M) Berhad. All rights reserved.
---

Straits Times Interactive (web only), Singapore, 28 June 2009
Lawyers oppose bid to cane
KUALA LUMPUR - MALAYSIA'S bar council said Sunday it was opposed to a judge's plan to cane an offender in his court, saying he could not be both 'judge and executioner.' Sessions court Judge Zainal Abdidin Kamarudin said on Friday he planned to cane 20-year-old sales promoter Syafiq Abdul Wahab in his courtroom on July 15, after he found him guilty of gang robbery.
Mr Zainal also ordered Syafiq's parents to be present in the courtroom where he would mete out the punishment of 10 strokes of the cane, known locally as the 'rotan'.
'Judges must understand their role and what they are and are not allowed to do as we have checks and balances and a separation of powers under the law,' law society president Ragunath Kesavan told AFP.
'He cannot be the judge and executioner and moreover judges do not have the experience or training to carry out such punishment,' he added.
Mr Kesavan said Malaysia's law allowed a judge to inflict corporal punishment, but added that this had last been done over 30 years ago, with the high court swiftly reprimanding the judge for doing so.
Chief Justice Zaki Azmi told The Star daily the planned caning would be investigated.
'I am asking the senior judge in the Kuala Lumpur High Court to look into it and take the appropriate action,' he told the paper. -- AFP
Copyright © 2007 Singapore Press Holdings.
---
Follow-up: 7 July 2009 - 'No' to caning by Sessions Court judge
Article: Judicial caning in Malaysia
Topics A to Z: Caning in Malaysia