The Fayetteville Observer, N. Carolina, 1 April 2007
Who's paddling our children?
By John Fuquay
Staff writer
(extracts)
In the Robeson County school system on a typical day, at least one child is hit by an adult.
Burke County school officials spank an average of more than two children each day.
Statistics from the state Department of Public Instruction show those two counties use corporal punishment on schoolchildren more than any other in the state. But they are far from alone: Almost 60 percent of the school systems in the state have policies on the books allowing corporal punishment.
[...]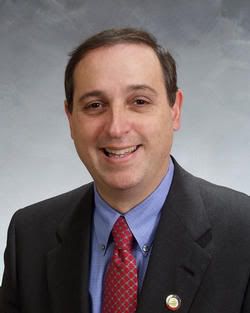 Glazier
State Rep. Rick Glazier, a Fayetteville Democrat, is co-sponsoring a House bill that would make North Carolina the 30th state to ban corporal punishment. The Cumberland County school system -- home of his House district -- already forbids the practice.
[...]
Glazier, a former Cumberland County school board member, said the Cumberland schools dropped corporal punishment years ago.
Cumberland County schools Superintendent Bill Harrison said he believes a spanking ban is a good law. "I don't think in a school setting corporal punishment is an effective way to discipline."
[...]
Local discretion
State law lets each of North Carolina's 115 school districts decide its own policy on corporal punishment. Sixty-eight districts have it on the books, although not all of them use it.
According to the state, 24 school districts paddled children during the 2005-06 school year, led by Burke County, where corporal punishment was used 508 times.
The state Board of Education has not taken a position on the proposed ban, but state Superintendent June Atkinson wants the spankings to stop. Atkinson said children are the only members of society subjected to physical pain intentionally inflicted by another person with no recourse. "We don't have much of a place in society for hitting, so why would we allow schools to do that?" she asked. "I think there are more effective ways to deal with children and discipline problems."
[...]
Even as Union County has decided to end the practice, two Union County lawmakers oppose a statewide ban. They say corporal punishment should be used sparingly, but school districts should decide whether it is among their disciplinary options.
"I support corporal punishment being left on the books. I think the abuses have been anecdotal," said state Sen. Eddie Goodall, a Republican. "The use of corporal punishment should be severely limited, but I think we ought to let local school districts decide how they want to handle misbehavior in the classroom."
State Rep. Curtis Blackwood, a Republican and former school principal, said he paddled a student during the 1970s and encountered the person as an adult several years later. "He thanked me and said it changed his life," Blackwood said. "It made him accountable for what he did and made him realize that somebody cared enough to hold him accountable."
[...]
Copyright 2007 - The Fayetteville Observer
---
The Fayetteville Observer, N. Carolina, 1 April 2007
One district makes paddling work
By John Fuquay
Staff writer
Take a classroom of 25 students in the Burke County school system and one member is likely to be paddled sometime during the year.
The foothills county's 28 schools used corporal punishment 508 times in the 2005-06 school year -- more than 200 times more than any other system.
The state legislature is discussing a ban on the practice, but Burke schools Superintendent Dave Burleson says paddling is effective in his district. He opposes a statewide ban, which he says likely would mean more suspensions.
"I prefer to allow local control from the local school board," he said. "They know the community best and can deal with this better than, say, some folks in Raleigh."
Burleson said each campus has its own rules, and not all resort to paddling.
"Some would view it as a deterrent, some would not," he said. "If it doesn't work after the first or second time, it's not a deterrent."
Burke County is west of Charlotte; Morganton is the county seat.
The Burke County school system has about 14,100 students at 28 campuses, meaning about 36 children per 1,000 were struck with a wooden paddle on the buttocks last year.
Burleson said paddling is most frequently used in elementary and middle schools, and a letter is sent home to parents after each use. It is used for misbehavior that is disrespectful to the teacher or disruptive in class or could be used in an attempt to address an accumulation of misbehavior.
Doug Rhoney, principal at Heritage Middle School in Valdese, said a number of factors cause the punishment to be used with varying frequency at different Burke schools.
"It's all going to depend on what school you're at and your team of administrators and teachers and the clientele of your students," Rhoney said. "It's very effective here. I've been here nine years, and we've used it nine years."
Without corporal punishment, Rhoney said, he would have to suspend more students.
"If they can get two licks with a paddle or two days of in-school suspension, a lot of time they'll just take two licks and get it over with," he said.
Copyright 2007 - The Fayetteville (NC) Observer
---
RELATED VIDEO CLIP (3 mins 05 secs) from fayobserver.com, website of Fayetteville Observer, NC, 1 April 2007.

Citizens interviewed in the street about corporal punishment in school.






HERE IS THE CLIP:

This video clip is not currently available.

IMPORTANT: Copyright in this video material rests with the original copyright holders. This brief excerpt is reproduced under the "fair use" doctrine for private, non-profit, historical research and education purposes only. It must not be redistributed or republished in any commercial context.
---
---
Morganton News Herald, N. Carolina, 2 April 2007
Burke reports more spanking than any other county
By Adam Shull
The five school districts which reported using corporal punishment most:
Burke - 508 spankings
Robeson - 297 spankings
McDowell - 246 spankings
Iredell - 108 spankings
Caldwell - 94 spankings
During the 2005-06 school year, Burke County public schools reported more instances of corporal punishment than any other system in the state. Here's how the numbers shake out by grade level.
Pre kindergarten - 1
Kindergarten - 36
First - 9
Second - 40
Third - 28
Fourth - 23
Fifth - 39
Sixth - 131
Seventh - 93
Eighth - 99
Ninth - 6
Tenth - 2
Eleventh - 1
Twelfth - 0
Morganton - Administrators spanked an average of two students a day last year in Burke public schools, according to numbers from the state.
It gave Burke County the highest reported number of paddlings in North Carolina, although the local system is one of the few that reported spankings to the state.
Burke administrators resorted to corporal punishment 508 times last school year, according to the N.C. Department of Public Instruction.
The second highest number was 211 in Robeson County. McDowell, Iredell and Caldwell counties round out the top five.
Of North Carolina's total 115 school districts, 68 allow spanking.
Only 24 of the 68 chose to report corporal punishment numbers, says Ken Gattis, a senior research and evaluation coordinator at the Department of Public Instruction.
Burke County schools are really only the highest out of the school districts that bothered to report the numbers, Gattis says.
School districts are not required to report how many times administrators use corporal punishment, Gattis says.
Some districts, like Burke County, volunteer to list each instance, he says.
Gattis says the reported numbers offer only a partial picture of student spankings in the state.
In Burke County, the use of paddling varies at each school, says Superintendent David Burleson.
"If the community supports its use, then schools use it," he says.
He says paddling is done in front of a witness.
There is also a limit, he says.
"If you use it one time and it doesn't work, there's not much reason to use it again," he says.
Burleson says principals and other administrators do the spanking.
Most schools require parental permission before the paddle comes down, says Jim Childers, the principal at East Burke Middle School.
Gattis says the state is working to create a system by which school disciplinary measures can be reported more uniformly.
---
---
McDowell News, N. Carolina, 5 April 2007
County No. 3 in paddlings
By Andy Ferguson
McDowell County ranked third among North Carolina school districts last year in the number of times it used corporal punishment, according to data from the state Department of Public Instruction.
Local teachers and administrators paddled 246 students during the 2005-06 school year, a number exceeded only by Robeson County with 297 and Burke County with 508.
"(Corporal punishment) is never used as the primary form of punishment," said Assistant Superintendent Mike Murray. "It's just one of the methods used to stop a behavior."
Local schools adhere to a policy handed down by the School Board when using corporal punishment, Murray stated.
That policy allows the use of paddling only when other students aren't present. A second school official must witness the punishment and an explanation of the reason it's needed has to be provided. Students must be informed what infractions could result in paddling and a student's parent must be notified any time it is used.
"Our policy regarding paddling reflects the community," said School Board Chairwoman Priscilla Owenby. She added that many school districts have banned corporal punishment and that it could be reconsidered in McDowell if the community or members of the board raise the issue.
McDowell was one of 24 school districts that reported the use of corporal punishment to the state. Some districts report paddlings as part of the data-collecting system that tracks out-of-school suspensions and acts of crime and violence while others don't, said Ken Gattis, senior research and evaluation coordinator for DPI.
"It's a little misleading when you consider there's no requirement to report (acts of corporal punishment)," he stated.
---
---
The Charlotte Observer, N. Carolina, 13 April 2007
Schools consider ban on spanking
By Lena Warmack
This June, the Iredell-Statesville school board will consider eliminating its corporal punishment policy, which allows principals to paddle elementary students for improper behavior.
State corporal punishment law allows school boards and districts to decide whether to enforce the discipline, said Vanessa Jeter, communications director for the N.C. Department of Public Instruction.
The law also requires that all students be told in advance what types of behaviors could result in corporal punishment. School boards must also make a list of those behaviors available to students and parents at the beginning of each school year.
Brady Johnson, ISS chief operations officer, said it's only used in extreme cases of misbehavior after other methods -- including time outs, in-school suspensions and loss of privileges -- have failed to correct the problem.
Four years ago, Superintendent Terry Holliday discouraged principals from using corporal punishment, Johnson said. In a March 15 e-mail to principals, Holliday ordered that they stop using the practice entirely, he said.
"There's a lot of people that question the effectiveness of corporal punishment," Johnson said. "And there's always a fear that a child may get hurt and you have a lawsuit in your hands."
Johnson said the issue was sparked by a statewide debate over the practice as lawmakers consider banning corporal punishment from public schools.
ISS reported 108 cases of spanking in the 2005-06 school year, according to NCDPI data.
Johnson said six or seven elementary schools were still using corporal punishment on students that school year.
ISS school administrators will ask the school board this summer to remove the policy if the state does not ban school spanking, Johnson said.
---
---
Times-News, Burlington, N. Carolina, 24 April 2007
Poll: Residents support corporal punishment
By Michael D. Abernethy
Times-News
(extract)
State residents support corporal punishment in schools and are divided on the idea of increasing the age at which a criminal can be tried as an adult to 18, according to an Elon University Poll released Tuesday.
Bills addressing both issues are before the General Assembly this session.
Of the 476 adults questioned between April 16 and 19, 54 percent supported the use of corporal punishment in schools. Forty percent said they opposed spanking in public schools.
The support surprised Hunter Bacot, Elon University Poll director, who expected changing state demographics and the influx of people from other states to soften a Southern tradition.
"If this had been 15 or 20 years ago, these results would not have surprised me," Bacot said. "I think it's rooted in Southern culture, where spare the rod and spoil the child is still supported even if it's not followed. It's a state law, and (residents) support making that a punishment for children who misbehave in schools."
The poll has a margin of error of plus or minus 4.6 percent.
[...]
---
---
Chillicothe Gazette, Ohio, 28 April 2007
Western ranks near top in spanking stats
By Jona Ison
Gazette Staff Writer
(extract)
LATHAM -- The Western Local School District continues to be one of the top paddling districts in the state.
The Center for Effective Discipline, in preparation for Monday's SpankOut Day, released figures showing Western is among 17 school districts that paddled students last year. Throughout the year, 35 students were paddled 99 times at Western, with Canton City Schools following with the second-most paddlings in 2005-06 school year with 91 for 50 students.
Superintendent Joe Morrison said the district is responding to what is being requested in the community.
"When the law changed several years ago, we banned paddling ... The community people wanted it back and we had a committee and it was decided everyone wanted it back ... We went through the process and no one has ever questioned it since," Morrison said.
In 1993, the Ohio legislature banned corporal punishment for public school children unless school boards follow certain procedures and timelines and vote to keep it. Parents can opt out, which means all students paddled at Western were done so with the approval of parents, Morrison said.
Zane Trace Local Schools was on the list from 2004-05 with four students paddled once each, but had none for last school year. Superintendent Carolyn Everidge said the district still uses paddling, with parental consent, as a last resort and has had one elementary student paddled in 2006-07.
Nadine Block, director of the Center for Effective Discipline, is unhappy to see Western remain at the top of the list and said the district should be setting a better example for the public.
"We have often given a 'Top Hitter Award of Dishonor' and it doesn't seem to have any effect," Block said, adding that research has shown hitting to be adverse to good behavior.
But what if the community supports the measure?
"My argument to that is the teachers are sometimes the best educated in the community ... and they're never taught to hit ... I think we need to have more moral fiber ... We want the parents to not hit the kids. It's a bad example (being set) for the community."
Most of the children paddled at Western are elementary-age, Morrison said.
"They're not very firm, just taps on the butt," he said, adding there is an unwritten policy that administrators can only administer a maximum of three swats.
Morrison remembers when he was a student and paddling was more commonplace - it deterred him from acting out, he said.
At Western, paddling is a result of a progression of discipline - first is a reprimand by a teacher, then lunch detention, afterschool (at high school) then paddling. Many students also are given the option between paddling or suspension.
"The problem with suspension (is) it works for some, but, for others, they don't want to be here to begin with," he said.
Obviously, multiple students have been paddled several times, which shows Morrison that the paddling doesn't necessarily work. When a student is a chronic offender and the paddling does nothing to deter, the students is then suspended from school.
"You can't beat someone, but for some children, (paddling) doesn't work ... This tells me they come back two and three times," he said. "I think, clearly, it helps with the rest of them. You kind of act however your peers are, but this kind of (deters bad behavior)."
Since only about 3.8 percent of the student population at Western is paddled, Morrison said it shows him the paddling has kept other students from acting out.
The potential of a law suit is a big factor in some schools moving forward with banning corporeal punishment, Block said.
"I would get rid of it in a heartbeat because it's a lawsuit waiting to happen," she said.
Western had stopped paddling for a few years after getting sued for bruising a student. However, the case was thrown out of court, Morrison said, when the marks on the child were inconsistent with the type of marks a paddle would make.
[...]