wsoctv.com (WSOC-TV, Charlotte), North Carolina, 2 January 2007
Union County Schools Ban Corporal Punishment
MONROE, N.C. -- Union County's school board has voted to ban paddling as a form of student punishment.
In a 6-3 vote, the board changed the current policy allowing corporal punishment, which hasn't been used since being challenged by a parent group two years ago.
The board in 2005 rejected a ban, but the district's superintendent at the time, Jerry Thomas, entered an agreement with school principals not to use paddling. Current Superintendent Ed Davis has continued that agreement.
The issue resurfaced last week when board Chairman Dean Arp decided to bring the policy before the school board, which has three new members. Arp voted against the ban and had said the punishment should be allowed if parents approve it for their individual children.
Corporal punishment was used 474 times during 2003-04 in Union, a system of about 28,000 children, but 85 percent of the paddlings took place at only three schools.
An analysis by The Charlotte Observer found black students received corporal punishment in Union out of proportion to their numbers in the student population. And a U.S. Department of Education study showed that many children with disabilities received the punishment in Union schools during the 1999-2000 school year.
North Carolina law allows paddling in schools as long as the punishment is not administered with other children present. The law also states that children must be told what behavior could result in paddling.
School officials also must notify parents when corporal punishment is used on their children.
Twenty-eight states have banned the punishment.
Copyright 2007 by WSOCTV.com. The Associated Press contributed to this report. All rights reserved.
---
See also: A January 2007 TV news clip, on the back of the above decision, taking a brief overview of the CP situation in North Carolina schools.
---
News & Observer, Raleigh, North Carolina, 6 January 2007
Schools can't take a whack at discipline
By Rick Martinez
Correspondent
The Union County schools are about to close the book on paddling. Earlier this week the school system's board voted 6-3 to ban the old-school "board of education."
Where were these people when I was coming up?
In middle school, I got paddled all the time, and each swat was duly earned. Getting school-administered licks was no big deal unless they came from Mr. Smith, the seventh-grade physical education teacher. He was fresh out of Arizona State, where he had earned a baseball scholarship. He was a pitcher. Our backsides were testament that his arm remained strong and accurate after his playing days were over.
More pain came later from the obligatory phone call to my parents that informed them of my transgressions. That triggered the second penalty phase. As soon as the receiver was back in the cradle, parent court commenced.
I never won. That's because I never got to present a case.
In the Martinez jurisdiction, a teacher's word was as good as one of the Ten Commandments. To overrule a teacher was blasphemy. I never had a chance.
The standard sentence was being grounded for two weeks and a lecture that seemed as long. There was no hope for appeal, no innocence commission to hear my plea.
Once, in a fit of frustration, I demanded a lawyer (I was a big Perry Mason fan). Mom asked why I would want to pay someone else to tell me I was wrong when she could do it for free. Compassion has never been her strong suit.
Looking back, a firm, deserved board to the butt didn't psychologically harm me or the rowdy kids I knew. In my book, measured and judicious use of corporal punishment is an acceptable and beneficial form of child discipline. And in 27 states, including North Carolina, it's still legal.
But I don't advise teachers to use it. Today, it's the kids who hold court.
Based on a scan of newspaper articles published during the first six months of 2006, any school official who touches a student in any form of corrective manner is vulnerable to a civil lawsuit, criminal charges or both, not to mention losing his or her job.
Thus, I fully understand why Union County schools are doing away with the paddle. It's a matter of legal self-defense. Parents no longer view teachers and administrators as partners in raising children. In too many cases, parents challenge school discipline -- and the lessons it's supposed to teach -- rather than reinforce it.
To be sure, there are reams of social research suggesting that corporal punishment is bad for kids. The general rap is that it leads to increased child aggression and anti-social behavior. Four years ago, noted psychologist Elizabeth Thompson analyzed 88 studies and found 11 "strong associations" of child behavior resulting from corporal punishment. Ten of them were bad.
Her conclusions are tough to refute. But it's also hard to ignore that as educators and parents move away from physical forms of discipline, our children are becoming more violent, especially at school. In North Carolina, during the 2004-05 year there were 848 assaults against school personnel, 97 assaults involving a deadly weapon and 130 incidents involving a firearm or explosives. And that's not the worst of it. There were also 84 sexual assaults, 89 sexual offenses and one rape.
A return to widespread use of corporal punishment won't eliminate the violence that has engulfed our schools. But a revival of the culture that supported the authority and judgment behind its use would.
In that culture, cops weren't needed at schools. Teachers and principals kept the peace. And they could count on parents for backup.
© Copyright 2007, The News & Observer Publishing Company
---
---
Wichita Eagle, Kansas, 6 January 2007
Proposal would give immunity to schools that spank
By Dion Lefler
The Wichita Eagle
One Kansas senator thinks that a quarter-inch of pine might be part of the solution to school disciplinary problems.
Sen. Phil Journey, R-Wichita, plans to introduce a bill on Monday that would shield educators from legal liability for administering corporal punishment to students.
"From what I've seen and what I've been told by teachers and parents, we need to bring some order to schools, particularly middle schools," Journey said.
Kansas doesn't have a law forbidding corporal punishment, but many schools have banned it because of concerns they could be sued, Journey said.
Under his bill, "local school boards would still have the option of allowing or not allowing corporal punishment," he said.
In addition, the bill would mandate that parents would have to authorize the school to spank their child.
Journey said his own experience in school makes him think that a credible threat of corporal punishment would have a moderating effect on misbehavior, even if it is seldom used.
"I came close a couple times," he said. "Believe me, I straightened up."
Journey can expect some opposition.
Rep. Geraldine Flaharty, D-Wichita, said she thinks Journey's proposal is unnecessary because almost all Kansas school districts have moved beyond spanking as a means of punishment.
Flaharty, a retired teacher with 36 years of classroom experience, said once the spanking starts, it's hard to keep it under control.
"Discipline is very important, but there are better methods than hitting kids," she said.
Nine states -- Alabama, Arkansas, Colorado, Georgia, Indiana, Maine, Mississippi, Texas and Wyoming -- have laws similar to the one Journey is proposing, according to the Center for Effective Discipline, a national anti-spanking organization.
Twenty-eight states ban corporal punishment and seven states, Kansas included, have no specific state law addressing the topic.
Diane Gjerstad, the lobbyist for the Wichita school district, said district officials have not yet seen Journey's proposal.
But she said she thinks it might be a solution in search of a problem.
USD 259, the state's largest district, already bans corporal punishment, and Gjerstad said she doesn't sense any groundswell of interest in bringing it back.
"I think there are other options educators have now to keep kids on the straight and narrow," she said.
At present, most school discipline focuses on revoking privileges from kids who misbehave, she said.
In serious cases, punishments can escalate to suspensions or expulsion.
Gjerstad said the school district has gone to great lengths to teach students that violence against teachers is unacceptable.
It would be "a bit of a mixed message" if the teachers were allowed to hit the students, she said.
Journey, however, said he thinks there are enough safeguards in his proposal to keep school spanking from getting out of hand.
"The parent has to proactively say 'yes' (to spanking). The default position is 'no,' " Journey said. "I trust educators to use good judgment; they do it every day. This would just give them another tool in their toolbox."
© 2007 Wichita Eagle and wire service sources. All Rights Reserved.
---




---

RELATED VIDEO CLIP:

TV news version of the above story, from KTKA-TV Topeka, 6 January 2007 (1 minute 40 seconds). Senator Phil Journey is interviewed about his paddling bill. Comments by parents and school administrators. This report might leave the viewer with the impression that, as long as Sen. Journey's bill does not become law, schools in Kansas cannot paddle. In fact, school CP is not against the law in Kansas. It's just that most school districts in the state choose not to use it.

HERE IS THE CLIP:
---
---
The Hattiesburg American, Mississippi, 14 January 2007
Mississippi bucks corporal punishment trend
By Nancy Kaffer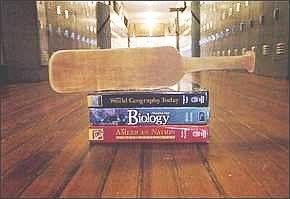 HENRIETTA WILDSMITH | Hattiesburg American
When it comes to practicing corporal punishment, Pine Belt districts remain divided.
Three days' suspension, or three licks with a paddle -- it's a choice that's familiar to some students in the Pine Belt, like 12-year-old Ray Barnes. The Dixie Attendance Center sixth-grader hit another kid, said mom Annette Barnes, and administrators asked her preference: should they paddle Ray, or suspend him?
"I went with the three licks," Annette Barnes said. "When he got home, I asked him, and he said it wasn't that bad. But it's according to what my child does as to whether I would agree with the paddling."
Pine Belt districts are divided when it comes to corporal punishment -- Petal Public schools, Forrest County Agricultural High School and Hattiesburg Public Schools have policies allowing paddling on the books, but administrators say the practice hasn't been used in recent memory.
But in Forrest and Lamar county schools, corporal punishment is a regularly used tool in the discipline arsenal, superintendents say.
"We feel it is a good practice to have that as one of our options," said Forrest County Schools Superintendent Kay Clay. "I believe it is much better that if a child misbehaves, to attempt to suppress that behavior as quickly as possible and get back to learning."
Districts who do paddle tend to have strict requirements: regulated paddle size, a person designated to administer corporal punishment and a witness are required. Three licks is standard for many Pine Belt districts -- "We try to be consistent with our paddlings," said North Forest High School Principal John Will. "It's three swats, square on the rear." Parents are notified, and in many districts allowed to choose if corporal punishment is the right discipline for a child.
"We do try to honor requests," Clay said. "But the thing those parents have to realize is if we can't punish them quickly or appropriately, the parent will have to carry them home if they misbehave."
Nationally, corporal punishment has fallen out of favor -- 29 states have banned the practice outright. About two-thirds of the paddlings administered each year in the United States are in the Southeast, according to statistics from the U.S. Department of Education. In 2002-03, according to published reports, federal statistics showed that 70 percent of the 300,000 instances of corporal punishments administered in the country were in Texas, Mississippi, Tennessee, Arkansas and Alabama.
Changing times
The shift is a sign of changing times, Hattiesburg Public Schools Superintendent Annie Wimbish said.
"When I grew up, the community worked together so strongly in raising the children, it was common practice for the school to mete out the same type of punishment as the parents did, which was often corporal punishment," she said.
The practice is more likely to be accepted in rural areas, said Lamar County Superintendent Glenn Swan, whose district practices corporal punishment and spans a broad demographic, from highly populated Oak Grove to more remote rural areas.
His district's policy changed about five years ago - until then, classroom teachers were allowed to administer corporal punishment.
Now, he said, principals are required to paddle recalcitrant students.
"I think we do much less corporal punishment than we did five or six years ago," he said. "I think our view has changed on whether it's an effective punishment or not. We try to focus, I think, on promoting positive behavior with children. The whole philosophy about behavior and how we manage behavior in children - we know more about it."
But at the core were liability issues, he said -and other administrators agree.
"It's not a moral issue, I don't see a problem with it in that," said Petal Schools Superintendent James Hutto. "One thing about discipline -- it needs to be quick, and it needs to be fair, but not anything that's cruel and unusual. But personally, in this litigious age that we live in, I would hesitate to use it."
Experts question it
Chris Furdge, principal of Earl Travillion Attendance Center, said that in his kindergarten-6 school of about 250 pupils, he's called on to administer corporal punishment between three and five times in any given month.
"For some students it is effective," he said. "For other students you will need a varied approach or a more intense approach over a longer period of time, because there's obviously a behavior that needs to be changed."
The utility of corporal punishment as a discipline tool has been called into question by some experts - the American Academy of Pediatrics has recommended that the practice be abolished in a 2000 statement that was re-affirmed in 2006.
Chuck West, an assistant professor in the University of Southern Mississippi's Department of Child and Family Studies, said his research deals with corporal punishment in homes, not schools.
But, he said, his research indicates spanking as a punishment is most effective for children younger than 6.
"Anything you say is controversial because there's studies that go this way and studies that go that way," he said. "But what I talk about in my classes is how spanking, if used judiciously, can be an effective tool for kids up to about age 6. Then it quits being effective."
After that age, West said, his studies indicate that other disciplinary techniques become more useful.
"You can talk to them, and you can reason with them," he said.
'A parent's choice'
Petal Elementary School Principal Shirley Duckworth agrees.
"We think corporal punishment is something reserved for a parent," she said . "We're not even sure that a child would even understand that type of punishment coming from someone at school. It's a parent's choice as to how they discipline their children, but we have so many other good ways to help children when they don't follow the rules, so we don't need that and we're not going use it."
That, say administrators whose districts practice corporal punishment, is often the preferred choice.
"We take a lot more steps, particularly in the lower grades," Swan said. "When you talk to your kindergartner or first-grader at Purvis (Elementary School) about their week, they're more likely to say, 'I didn't get on yellow all week,'" referring to the school's system of warnings and punishment.
After son Ray was paddled, Annette Barnes said she questioned the efficacy of corporal punishment.
"It's not a real good discipline, paddling the child, because he knew he was going to get these three licks the morning he went to school, and later he told me he had on a pair of shorts and a pair of pants," she said.
But later, she said, Ray told her that he wouldn't want to be paddled again.
"Some parents probably don't want their kids paddled," Annette Barnes said. "But with my kids, all the discipline I can get, I need it."
---
---
Montgomery Advertiser, Alabama, 22 January 2007
Power of the paddle: Schools debate corporal punishment
By Antoinette Konz
Montgomery Advertiser
It was shortly before noon one day last spring when Monique Jones got the phone call from the principal at her son's Montgomery school.
Michael, 9, was in trouble for talking back to his teacher and disrupting his class.
"She asked me if I wanted her to use corporal punishment or if she wanted me to come pick him up and have him serve a one-day suspension," Jones said. "I went with the paddle."
According to new figures released by Montgomery Public Schools, corporal punishment was administered to students in 1,571 incidents last school year. That number is down 7 percent from the 2004-05 school year when 1,693 incidents were reported.
Although more than half of the United States has outlawed corporal punishment, Alabama law permits it, allowing each school district to decide whether to use it.
In Montgomery, the use of corporal punishment depends on where the child goes to school, said Lois Johnson, an administrator in MPS' Parents Advocate & Liaison for Students (PALS) office. "Our school board has left it up to the principal of each school to decide whether or not they want to use it as a form of discipline," she said.
Incoming Superintendent John Dilworth said Friday he does not think corporal punishment is a good idea. "I think there are other ways to deal with misbehavior," said Dilworth, who officially becomes Montgomery's next superintendent on March 1. "I would be interested in talking with my principals and school board about this policy after I take over."
Board policy
According to school board policy, corporal punishment can be administered unless the parent files a written, dated objection with the school principal.
The policy also states that corporal punishment must be administered by the principal or the principal's designee, privately, in the presence of another certified school employee, and not in the presence of other students. No more than three licks can be administered to the buttocks using the approved paddle.
Elementary schools use a plastic paddle, shaped like a ping-pong paddle. Middle, junior and high schools use a wooden paddle.
Of Montgomery's 58 schools, 41 used corporal punishment at least one time during the 2005-06 year, down from 43 schools that used it at least one time in 2004-05.
The schools reporting the most incidents involving corporal punishment include: McIntyre Middle School (522 incidents); McKee Elementary School (168); E.D. Nixon Elementary School (82); Dannelly Elementary School (70); and George Washington Carver Elementary School (50).
Corporal punishment is more common at Montgomery elementary and middle/junior high schools than at the high school level. During the 2005-06 school year, there was only one incident involving corporal punishment at a high school. In that incident at Lee High School, a student was administered corporal punishment for using tobacco.
Mixed feelings
David and Donna Nelson, parents of a daughter in MPS, say they were shocked when they found out that corporal punishment is used as a form of discipline in schools. "We moved here from Wisconsin, where corporal punishment was banned in the late 1980s," said David Nelson. "We just didn't think it was going on anymore. Then, come to find out, we moved right into the heart of where paddling is administered the most."
According to statistics from the U.S. Department of Education, more than two-thirds of the paddlings administered each year are in the Southeast. During the 2002-03 school year, federal statistics showed that more than 300,000 American students in grades K-12 were disciplined with corporal punishment. Of those students, 70 percent were in five Southern states: Alabama, Mississippi, Texas, Arkansas and Tennessee.
"I just think it sends the wrong message," Donna Nelson said. "It seems to be more of a quick fix than a solution to a problem."
But Jones, whose son attends McKee Elementary, said she doesn't mind. "I would rather have the principal paddle him than have him suspended," Jones said. "Besides, she only had to do it once. He seems to have learned his lesson."
Lillian Sanders, principal at McKee, said most of her parents are like Jones. "They prefer corporal punishment over a suspension," she said.
The number of incidents involving corporal punishment at McKee Elementary has steadily increased over the past three school years -- there were 61 incidents in 2003-04, 96 incidents in 2004-05 and 168 incidents last year.
Increasing involvement
Deborah Clark, principal at Brewbaker Intermediate School, used to use corporal punishment at her school. In 2003-04, the school recorded 84 incidents, and 78 incidents were reported in 2004-05. Last year, there were none.
"It was a consensus of the faculty, and we decided that we would no longer administer corporal punishment as a consequence for an office referral," Clark said. "We feel increasing parental involvement is a more appropriate consequence for our students."
After the school got rid of corporal punishment, parents became more involved because they had to come to the school and attend a conference with the teacher and administrator, Clark said.
However, in the year that Brewbaker Intermediate stopped using corporal punishment, the number of student suspensions rose. The school reported 84 student suspensions in 2004-05 and 200 student suspensions in 2005-06. Clark said she does not regret getting rid of corporal punishment, even though suspensions are up."Our goal is to increase responsible behavior so that our children will become good citizens," she said. "There are other ways to deal with bad behavior."
More development
Throughout the past few years, Johnson said the district has provided more corporal punishment-related professional development for principals.
Johnson said the district has a lot of students who come from homes where they are or have been abused or the children have physical or emotional problems where administering corporal punishment is clearly not the best option. She believes that is why the numbers decreased last year compared to the year before.
"We are encouraging our principals to be more aware of each child's situation," she said. "They really need to understand the ramifications of corporal punishment before it's done. Principals may be hesitant to use it if they are not sure."
---
---
Herald Argus, LaPorte, Indiana, 27 January 2007
School Board eliminates paddling
By Danielle Gingerich
LA PORTE COUNTY -- In Michigan City schools, at least, misbehaving students officially need not fear the paddle any longer.
At a meeting Tuesday, along with several other policy changes, the Michigan City School Board voted to strike down paddling as a form of student punishment.
Policy No. 5600, which passed by a 6-1 vote, banned all forms of corporal punishment in Michigan City schools.
"We're striking paddling as a step that can be employed in terms of discipline," Fred LaBorn, director of personnel and school communication, said at the meeting.
Prior to approval Tuesday night, policy in Michigan City area schools allowed corporal punishment. However, paddling had not been practiced for at least 25 years, LaBorn told The La Porte County Herald-Argus Thursday.
"The philosophy of most educators is if we're teaching students to be non-violent, we certainly wouldn't want to use that practice," he said.
Michigan City Area Schools are not the only corporation that forbids corporal punishment. New Prairie United School Corp. has not permitted paddling since 1993.
"It's not an appropriate behavior to do and it's not done," Assistant Superintendent Phil Bender told The Herald-Argus. "We look for more positive ways to discipline our students."
In contrast, La Porte schools continue to allow corporal punishment, but only as a last resort, Assistant Superintendent Jim Dermody told The Herald-Argus.
"La Porte Community School Corporation does have a corporal punishment policy in place, but under strict guidelines to use as a last resort after multiple alternative behavior management options have been implemented," he said.
The policy has been in place for some time, Dermody said.
"Our teachers work very hard to establish effective classroom management plans to cope with the vast majority of discipline issues," he said.
The need for the change in policy for Michigan City schools was part of a regular updating of policies the board undertakes from time to time, usually to comply with state statute, LaBorn said. In this case, however, the state still allows corporal punishment.
But for Michigan City schools, whether allowed by the state or not, the policy was outdated, said LaBorn.
"The major issue with the old policy was paddling was one of the items listed under discipline consequences," he said. "We chose to remove that."
The board voted first to strike paddling from policy and then approved a comprehensive discipline policy allowing a series of conferences, time outs, behavior contracts, detention, removal from class, suspension and expulsion as forms of student discipline.
Copyright © 2007 The Herald Argus, All Rights Reserved