Corpun file 25451 at www.corpun.com

Daily Express, London, 5 July 1961, p.4
'Public school types' steal church cash
Click to enlarge
Three boys at an exclusive educational establishment for the "public school type of boy" were given nine strokes of the cane each when the head heard they had stolen half a crown from a church offertory box to buy cigarettes, a court was told yesterday.
They also lost their pocket-money for a month and were "gated" -- confined to the village -- for a month, the Rev. Edward Powell, headmaster, told Sudbury, Suffolk, magistrates.
The three boys were Nicholas Paul De-Neuville, aged 18, Patrick John Skelton Falls, 17, and Michael Kennedy Richards, 15. They admitted the theft and were granted an absolute discharge.
Last night the head master of the 16-pupil establishment at Belchamp St. Paul, Essex -- he is also the local vicar -- said: "I don't regard the punishment as unusual."
---
---
Corpun file 25505 at www.corpun.com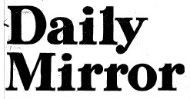 Daily Mirror, London, 11 July 1961, p.5
Teacher right to cane girl -- Judge
'Head' wins his appeal
Click to enlarge
A JUDGE ruled yesterday that headmaster John Gilchrist did no harm when he caned a fourteen-year-old schoolgirl.
Bearded Mr. Gilchrist, 31, was appealing against a ruling that he had unlawfully assaulted the girl -- and he succeeded.
The judge said that if indiscipline went unchecked it would spread like a prairie fire.
The punishment was not excessive in view of the girl's "dumb insolence."
Mr. Gilchrist, headmaster of Ryebank private school, Broadgreen, Liverpool, was last month fined £5 and ordered to pay £7 7s. costs at a Liverpool magistrates' court, on conviction for assaulting the schoolgirl, Patricia Malloy.
During Mr. Gilchrist's appeal at Liverpool Crown Court yesterday, Patricia told Judge Laski that she received fourteen or sixteen strokes of the cane on the hands for giving a wrong answer.
Mr. Gilchrist, of Brompton-avenue, Liverpool, said in evidence that he gave Patricia only about three strokes on each hand.
He said that she had not paid attention, and showed insolence which could have undermined his authority.
Mr. George Bean, for Mr. Gilchrist, read a report from a schools inspector saying that Mr. Gilchrist was "an imaginative and energetic teacher."
Judge Laski allowed Mr Gilchrist's appeal with costs.
---
---
Corpun file 24684 at www.corpun.com
Click to enlarge
Daily Mail, London, 13 July 1961, p.7
Public caning is banned
Public caning in schools was banned by Romford, Essex, education committee yesterday. Recently six girls were caned before 700 colleagues at Quarles Secondary Girls' School, Harold Hill.
---
---
Corpun file 24607 at www.corpun.com
Daily Mail, London, 27 July 1961, p.7
Click to enlarge
Far & Near
Stinks men beat Fifth
FIFTH FORMERS dyed the water in the swimming bath a deep red with potassium permanganate just before yesterday's sports day at Louth (Lincolnshire) Grammar School.
But headmaster Mr. D.R. Witney called in his scientific staff and the chemical was neutralised. Ten fifth formers received six of the best and the swimming events went on as planned in clear water.