Corpun file 25504 at www.corpun.com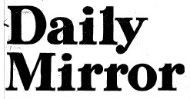 Daily Mirror, London, 8 June 1961, p.2
School saw 6 girls caned
Click to enlarge
A HEADMISTRESS caned six teenage girls in front of 600 other pupils at their morning assembly -- and last night the mother of one of the girls said: "It was a humiliating thing to do."
The girls, aged fourteen and fifteen, attend the Quarles Girls' Secondary School at Harold Hill, Romford, Essex.
They were caned -- one stroke each on the hand -- after the Head, Miss Frances Knapton, caught them "larking about" in one of the classrooms.
All the girls said: "We deserved the caning" -- but they thought it should have been given in the headmistress's study.
A mother whose daughter was punished said: "I don't object to the caning, but it should have been done in private."
But two other mothers thought the Headmistress was right in "making an example" of the girls.
Miss Knapton's secretary said last night: "The headmistress has gone home and we have no comment to make."
---
Follow-up: 13 July 1961 - Public caning is banned