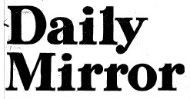 Daily Mirror, London, 6 November 1954
Schoolmaster who punished 37 boys is cleared
A teacher's right to cane all the class
A SCHOOLMASTER, Gordon Frank Denniss, gave all the thirty-seven boys in his class four strokes of the cane because one of them defied him.
And he was RIGHT in caning them, a court ruled yesterday.
"We consider he acted reasonably in the interests of discipline," said Mr. C.E. Hudson, chairman of Loughborough (Leicestershire) magistrates.
Denniss, thirty-nine years old and 6ft. 4in. tall, was cleared on five summonses taken out by parents alleging that he assaulted their sons. The mass caning took place soon after the boys, all thirteen-year-olds, went into class after morning assembly at Garendon Modern Secondary School.
On the way some of them stamped on the stairs.
Mr. Denniss ordered "Stop that." The stamping ended - then one unknown boy stamped again.
Dark-haired schoolboy Joseph Gary Cooper told the magistrates what happened next.
"When we got into class Mr. Denniss asked who the culprit was," said Joseph. "Mr. Denniss said he would cane the whole form if the boy didn't own up."
Then every boy in the form was caned four times.
There was a one-minute break between each caning - to give the guilty boy a chance to own up. But nobody did.
Mr. Denniss admitted caning the boys.
"It was necessary to maintain discipline," he said. "The stamping by that one boy was in open defiance of my authority."
'No Sneakers'
"I didn't want any sneakers. I wanted no one to split on a class mate. What I did want was that the boy should own up."
Mr. John Rodgers, defending, said that Mr. Denniss welcomed the chance to justify his action as the case was important to all teachers.
"With examples of cosh boys and juvenile crime, and the general lack of discipline before them, what are teachers to do?" asked Mr. Rodgers.
---
---
Daily Mail, London, 19 November 1954
'Hit them one by one during history'
'Enraged' teacher beat her class
Guilty of assault: I appeal -- she says
(extracts)
MISS AUDREY MARGARET JEFFS, 23-year-old schoolteacher, was fined 1 yesterday for a whipping she gave to all but one in her class of 40 boys and girls, whose average age was nine. With the penalty was an order for 5 5s. costs.

MISS MARGARET JEFFS -- Children were whispering.
It happened, the Northampton magistrates were told, on a Monday morning. Miss Jeff's class -- Form 3B -- were taking history at Northampton's junior school, and Miss Jeffs was nearing the end of her patience as the dinner hour approached.
What happened next was told yesterday to the magistrates when Miss Jeffs, of The Warren, Hardingstone, appeared on summonses alleging that she did "assault and beat" 14 boys and girls, aged between 9 and 10. Six of the summonses were withdrawn before the case opened.
"Miss Jeffs was not holding the class enthralled," said Mr. Geoffrey Lane, prosecuting. "Some of the children were whispering.
"She told them to be quiet on two occasions, but this did not deter the whisperers, and Miss Jeffs apparently became somewhat enraged ...
"The weapon used was not a cane or the teacher's hand, for the first thing that came to hand was the teacher's blackboard pointer -- about 3 ft. long.
"Each of the children was in turn taken up before the rest of the class and was beaten across the thighs or legs. The blows varied in their position from the calves of the legs, knee joints up to the thighs, and to the buttocks in various cases. Some were beaten six times, some less.
"An added refinement was that those who were later in the list had the opportunity of observing the discomfort of their fellows as they were dealt with.
Ignored bell
"The school bell rang during the progress of this incident, but flogging continued until it was over and the children were released.
"One of the children whose summons is not proceeded with, was rash enough to say she would tell her mother, whereupon she was again beaten and pushed out of the door."
Many of them were met by their mothers as they left the school, and one of the mothers went straight into the school and asked Miss Jeffs why her child had been punished.
Miss Jeffs replied: "For disobedience." It was a "class punishment," she said.
[...]
Nine-year-old Maureen Elsie Wilcox, of Ivy-road, Northampton, sat in front of the witness-box. She folded her hands in her lap and said: "Miss Jeffs caned us."
How did it all start? she was asked. "Somebody talked," she said.
"Miss Jeffs said 'Be quiet.' Then she called David Collins out. She caned the whole class. She hit us all with the pointer. Averil Terry then said she would tell her mother."
What did Miss Jeffs say? -- She said "Who said that?" Averil said "I did," and Miss Jeffs hit her and she fell to the floor. Then Miss Jeffs pushed her out of the door.
[...]
Maureen smiled
Asked by Mr. Max Engel, for Miss Jeffs: "Had the class been better behaved since that day?" Maureen smiled, and there was laughter.
Dr. Edwin Robertson, of Northampton, said he examined Maureen and found on each leg two weals about two inches long and a quarter of an inch wide. No treatment was needed, he said.
[...]
David Landon, aged nine, of Talbot-road, Northampton, said he was the fifth boy to be caned. The first boy, he said, "cried out badly."
[...]
Miss Jeffs said she was in her third year as a teacher.
"I reprimanded the form once or twice for inattention and being noisy during physical training," she said of the morning that had led to the summonses.
Then, at the beginning of a history lesson she had told the class to be less noisy. She had to stop them for inattention, fidgeting, and noise, she said.
"I had to stop three times before I could get started. I said if they were noisy again they would have to sit with their hands on their heads and they would be punished ... Then they started chattering again. Well over half the lesson had elapsed by then.
"After they began to talk again, I had them out one by one and hit them with the pointer. Judith Marston was not punished as she had returned to school from illness that day.
One-by-one
"It was a little more than a tap, but it was not a severe swish. I was not in a rage.
"None of the children cried out," Miss Jeffs said, "but one or two of the girls did cry and the headmaster called upon me for an explanation.
"It was pointed out to me," she went on, "that I was not authorised, in the rules governing the school, to administer corporal punishment. I apologised for my action in that it was a breach of the committee's regulations. I was moved to another school."
[...]
Mr. Lane, holding a blackboard pointer, asked the headmaster, Mr. Charles Tilley: "Would you view with approval any adult woman who struck a girl with this weapon?"
"No," he replied.
The magistrates found Miss Jeffs guilty on a summons in regard to Mary Hazell and were given immediate notice of appeal.
The magistrates then adjourned the other seven summonses, pending the result of the appeal.
[...]
---
Follow-up: 11 January 1955: Teacher was right the day she caned all 3B

---
---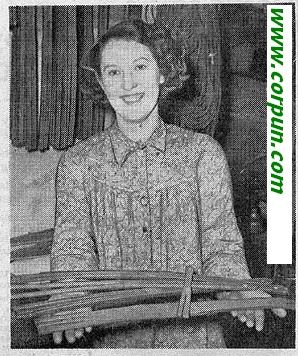 The Courier and Advertiser, Dundee, 26 November 1954
School bairns DON'T like Mr Dick's work
Take your pick. Light, medium, heavy, three-tailed. Or do you prefer a dainty nine-inch novelty sample. THEY ALL STING.
The Scottish Secretary, Mr James Stuart, says there's to be no probe into the use of the tawse. So Lochgelly strapmaker Mr John Dick will continued sending his products all over the country.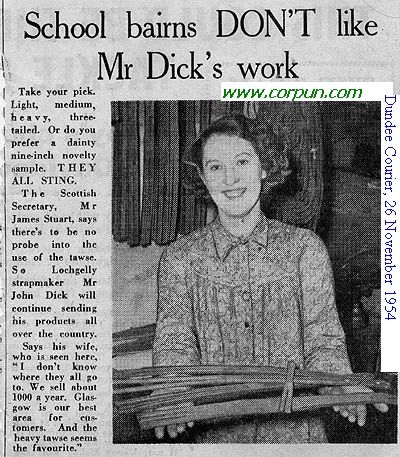 Click to enlarge
Says his wife, who is seen here, "I don't know where they all go to. We sell about 1000 a year. Glasgow is our best area for customers. And the heavy tawse seems the favourite."