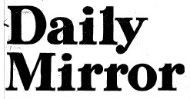 Daily Mirror, London, 18 October 1954
Storm over teacher who 'caned whole class'
'Daily Mirror' Reporter
A TOWN'S education committee is to investigate complaints by twenty-eight mothers that their nine-year-old children - the entire class of forty-two pupils - were caned with a stick by a young school mistress.
The mothers went to the school - the Stimpson-avenue Junior Mixed School at Northampton - and made a protest to the headmaster, Mr. Charles Tilley.
Mr. Tilley told me last night: "After the parents complained to me, the teacher concerned in the incident was removed immediately by the education authorities. I do not know where she is now.
"The Education Committee is to discuss the whole matter this week. All will be settled at the meeting."
Red Weals
One of the mothers who went to the school, Mrs. Vera Landon, told me: "When I asked the teacher for an explanation, she said the caning was a class punishment because of disobedience.
"She showed me a blackboard pointer (shaped like a billiard cue) and said she hit the children with it.
"The whole class were thirty-five minutes late in leaving school. When they did come out, every child was hobbling.
"They were all crying, and I was horrified when I saw why.
"All the forty-two children had ugly red weals on the backs of their legs. My boy, David, had at least six red marks."
Mr. W.J. Wilcox told me: "My daughter Maureen had six terrible weals on her legs.
"After I complained the headmaster told me that the teacher had been moved from the school within forty-eight hours of the incident."
---
Follow-up: 19 November 1954 - 'Enraged' teacher beat her class