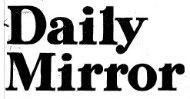 Daily Mirror, London, 10 January 1953
Police seize canes in swoop on offices
"Daily Mirror" Reporter
POLICE swooped on premises of the National Society for the Retention of Corporal Punishment in City-road, E.C., last night.
In a four-hour raid they seized thousands of canes, tawses and birches, hundreds of pamphlets on corporal punishment, files and papers -- £6,000 worth in all, estimated the Society's President, Mr. Eric Wildman.
The search warrant was issued under the Obscene Publications Act, 1857, by the Old-street magistrate's court.
As detectives stripped his four-roomed business offices and packed canes and papers into squad cars and Black Marias, 6ft. moustached canemaker Mr. Wildman stared into the dimly-lit hall.
Surrounded by five pretty girl employees, in his brightly-lit, cream-painted office, he told me as the raid went on:
"They have taken all my canes -- I supply them to 10,000 schools in the United Kingdom, in America and on the Continent. And they have taken away pamphlets on juvenile punishment that I send to M.P.s and magistrates."
He stared grimly at the empty shelves, and added: "But there is nothing for me to be ashamed of. My solicitors are dealing with it."
Then, his premises bare, Mr. Wildman, 32, bowler-hatted ex-Merchant Navy officer, strode out into the night.
After a drink at a nearby public house, he left by taxi -- "for home," he said. He lives in Walthamstow.
---
Daily Mail, London, 10 January 1953
Booklets, straps and canes seized
Detectives search leader's home
By Daily Mail Reporter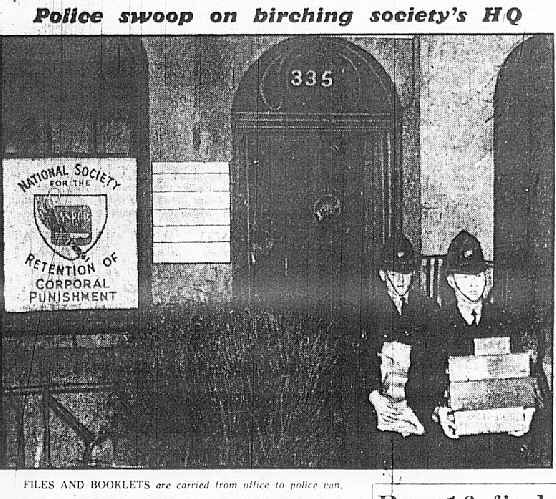 MR. ERIC A. WILDMAN, president of the National Society for the Retention of Corporal Punishment, was in his stockroom in City-road, London, E.C., yesterday, surrounded by thousands of canes, birches, and taws (three-thonged leather straps) when a police raiding squad burst in on him.
Chief Inspector George Davis, of City-road C.I.D., produced a warrant to search Mr. Wildman's headquarters and his home at Walthamstow.
Simultaneously Detective Sergeant Herbert Taylor entered an office above the stockroom where one of the five girls associated with Mr. Wildman in running his society, his publishing company, and his cane-selling business was sitting.
In spite of her protests Sergeant Taylor began to examine Mr. Wildman's papers. Another police squad was removing Mr. Wildman's belongings from his home.
In City-road, while uniformed policemen carried large quantities of literature from the basement stockroom to a police van, Mr. Wildman strode around protesting.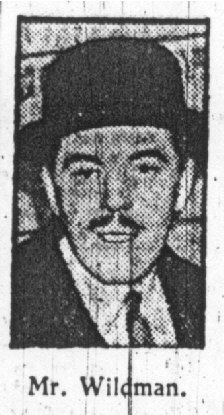 Wearing a black overcoat, a bowler, and thick spectacles, he went in and out of the stream of police officers, complaining but not obstructing.
At intervals he told anybody who would listen: "I don't know what this is all about. It has been done by my enemies, by the enemies of corporal punishment. I have been in touch with my lawyers, and they tell me that I shall have a good case against the police for this."
Unmoved the police stripped the four rooms in which Mr. Wildman carries on the Eric A. Wildman Publishing Company.
Seized by pupils
The removal lasted four hours. Five police van-loads of Mr. Wildman's possessions were taken to City-road Police Station. They included canes, bundles of birches, and many taws, files containing the names of people who subscribe to Mr. Wildman's publications, and tons of his booklets.
Mr. Wildman, striding up and down the path outside his offices as he talked, said: "This is fame! I can't think why they should raid me. It will put me out of business for a week."
Mr. Wildman has publicised corporal punishment by writing and lecturing.
In 1948, when he lectured at Horsley Hall, Staffordshire, Private School on corporal punishment he was seized by the pupils and given six strokes with his own cane, which he had described as a "dragon smoking malacca."
---
Follow-up: 14 February 1953 - Charges under Obscene Publications Act: Summons to be heard in April

See also: Eric Wildman timeline