Evening News, London, 23 November 1948
'No More Caning'
Five Smarting Girls Sang a Hit Song
"Evening News" Reporter
Brentwood, Essex, Tuesday.
MOLLY and Freda, Kathleen, Edna and Sylvia -- "the Herongate girls" -- are on strike from school and they say, nothing short of forgiveness and the promise of no more caning will get them back again.
All of them have played truant, with their parents' consent, for almost a week, and every day, instead of catching the special bus that should take them from their homes at Herongate to the Brentwood Senior School, three miles away, they wave to their school friends as the bus goes by.
Molly Abbott, aged 12, and Freda, aged 14, are sisters who live in a council house on the Ingrave-road. Kathleen Turner, nearly 15, lives next door. Edna Lee, aged 13, and Sylvia Austin, aged 13, both live about half a mile away.
They Sang
Nearly three weeks ago the "Herongate Girls", with most of the girls on the special bus, were singing "Roll Out the Barrel" and "Run, Rabbit, Run" and other songs on their way home.
The bus conductor and the driver joined in and enjoyed the sing-song. "But Dawn Bloomfield, our prefect, reported us," said Molly to me to-day.
"Two days afterwards Miss James, the headmistress, sent for seven or eight of us and gave us the cane. Dawn was not at school that day, but when she came back three of us -- including me -- hit her. I pulled her hair for being a tell-tale.
"Her sister went to the school and told Miss James. Then eight of us were put on the stage in the hall and Miss James caned us in front of all the other girls in the school. We ran home and I haven't been back to school since."
'Not Fair'
Mrs. Abbott, Molly's mother, said: "I don't think it's fair that the headmistress should cane the girls for such a simple thing as singing on the bus." Mrs. Turner, Kathleen's mother, told me that her girl had only six weeks or so to remain at school, before she was due to leave.
"I would have taken her back to school to-day but her cousin told me yesterday that Miss James has paraded the whole school and from the stage told them that she had not finished with the Herongate Girls yet.
"According to Kathleen's cousin, Miss James said that when they go back they will either be expelled or caned again. Kathleen won't go back now."
At the school Miss James was "not present" when I called, but had left a message that she did not wish to make any comment.
---
Follow-up: 1 December 1948 - Letters: Don't Spare the Rod
---
---

Evening Sentinel, Stoke-on-Trent, 25 November 1948
"Free Expression" School Scene
Cane Manufacturer Caned by Boys After Talk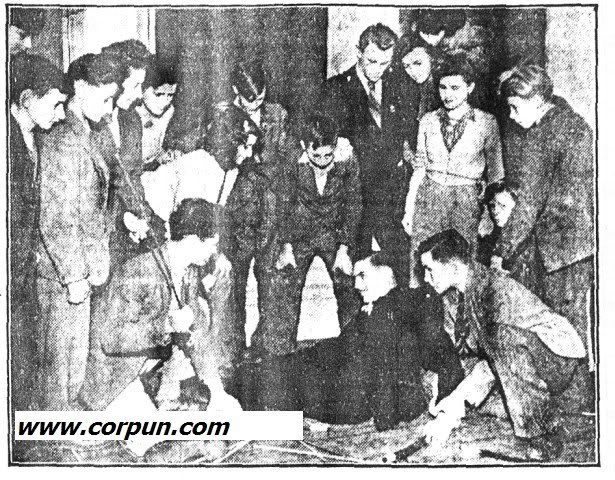 The scene after the struggle between boys and lecturer. Kenneth Palmer-Brown has the cane over his shoulder. Mr. Wildman, the lecturer, is on the ground.
While giving a talk on the subject of caning at Horsley Hall private school, near Eccleshall, last evening, Mr. E. Wildman, of London, who advocates the correction of children by corporal punishment, was seized by a group of pupils, dragged to the floor and given "six of the best" with one of his own 30in. malacca canes.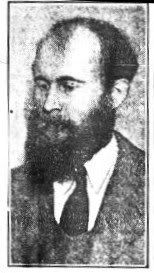 Mr. Copping, the bearded Headmaster.
Horsley Hall, of which the principal is Mr. Robert Copping, is a "self-expression" school, where pupils are allowed a considerable amount of freedom and are never punished.
Canes and Straps
Before his lecture (writes a Sentinel reporter who was at the school), Mr. Wildman met members of the Press in the Principal's study. He walked into the study at 6.20 p.m. with a brief case of pamphlets, a dozen assorted canes, and a few leather straps. He told us that he was a private teacher, in addition to being a cane manufacturer and President of the National Society for the Retention of Corporal Punishment in Schools.
Answering questions by the Pressmen, he said he was the father of a two-years-old daughter, but had not caned her yet. He did not consider caning necessary for a child under five.
"I am not pursuing the business with a profit motive," he said. " I supply a lot of canes free. When I have orders for canes from charitable institutions and orphanages I rarely charge for them."
"Lesser Evil"
At about 6.30, bearded Mr. Copping, Mr. Wildman and the members of the Press joined the pupils -- about 28 of them -- and members of the staff, who were seated in a circle around a large white assembly room.
Mr. Wildman placed his selection of canes on the floor in front of him and began his talk.
Some of you may regard me as an ogre of whom children are scared (he said). But corporal punishment is a commonsense doctrine, and is one of the best means of correcting children that we have discovered at the present time. Most boys and girls will admit that they are far from angelic at times and that they have to be brought to heel in some form or another. I maintain that corporal punishment is a lesser evil than other forms of punishment applied in some schools.
Mr. Wildman explained the particular uses of different kinds of canes. His canes, he said, were antiseptic and he supplied some 10,000 schools at home and overseas.
Picking up a 30-inch cane, which he called the "dragon smoking malacca," Mr. Wildman demonstrated, by blowing smoke through it, that it was porous and, therefore, less likely to cause bruising.
Replying to a question as to what he considered the maximum punishment to give a child, Mr. Wildman said that the age and the physique of the child had to be considered, but, generally speaking, the most usual punishment for a reasonably serious offence was "six of the best."
The Scramble
It was at this point that trouble started. While Mr. Wildman was speaking, a group of the boys leapt at him, threw him to the floor and held him down.
A 16-years-old boy grabbed the dragon smoking malacca, which Mr. Wildman had described as a "pliant and punishing cane," and gave him about six hard strokes.
During the scramble, the canes were scattered and some were picked up by the pupils.
When Mr. Wildman was allowed to get up from the floor, dirty and dishevelled, Mr. Copping announced that he would give an explanation in his study upstairs.
The Explanation
Here, Mr. Copping stated --
It is quite obvious from what has happened to-night that an explanation is due, both to you gentlemen of the Press and to Mr. Wildman. Mr. Wildman is entitled to feel that he has been somewhat misled by me, and to some extent that is true. It is not true, for example, that corporal punishment is used in this school.

Mr. Wildman is the head of an organisation for the retention of corporal punishment in schools. We are concerned with an organisation with different objects. This school was founded three years ago with the avowed object of giving to children that freedom which is the fundamental right of every individual. I am perfectly convinced that if Mr. Wildman had our experience and was in possession of the facts at our disposal, he would be an ardent believer in what we are doing.
His Rail Fare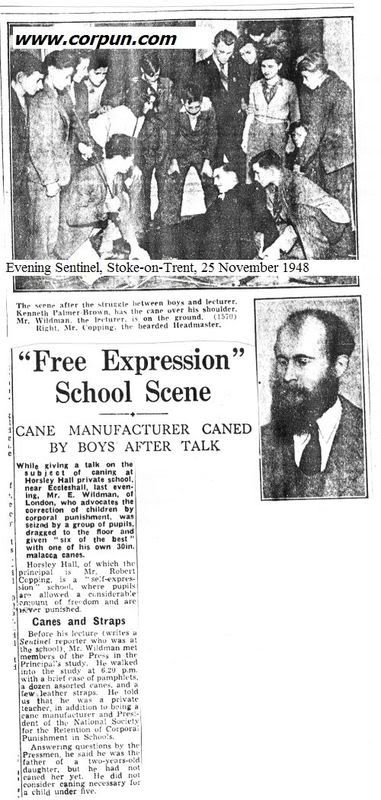 During Mr. Copping's explanation, Mr. Wildman left the room and when he returned he told Mr. Copping: "I believe you promised to pay my railway fare down here. Will you do that?"
After Mr. Copping had gravely handed over the money, Mr. Wildman said: "I am going straight back to London now to see my lawyers on what should be done."
It is understood that before leaving Stafford, Mr. Wildman called at the Police Station.
As the Pressmen piled into their cars to leave the school, groups of excited pupils were in the grounds -- many of them "swishing" canes.
---
Daily Dispatch, Manchester, 25 November 1948
Pupils Cane Caner
On Place He Recommended
"Daily Dispatch" Reporter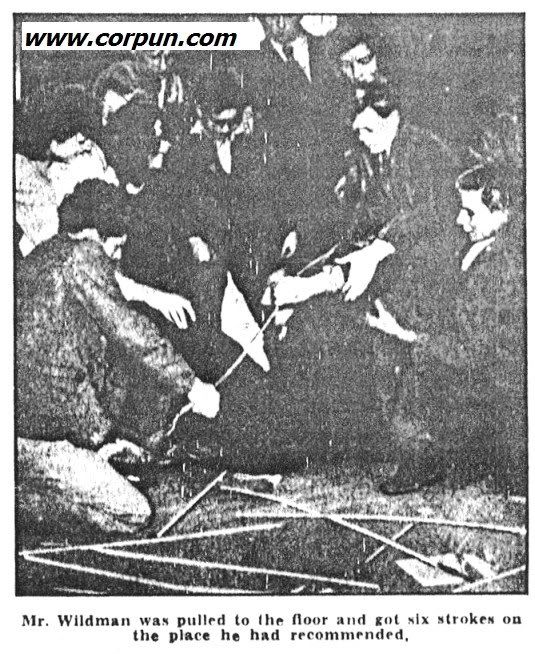 ECCLESHALL, Staffs, Wednesday.
ERIC A. WILDMAN, London cane manufacturer and leader of the organisation to maintain corporal punishment for erring children, received "six of the best" from his most highly recommended means of punishment -- the Dragon Smoky Malacca -- when he visited a self-expression school at Horsley Hall, near here, to-night.
He spoke for 15 minutes on the qualities of his various canes, then his audience of 25 children -- aged six to 16 -- rose as a body as he described the place nature had provided for punishment.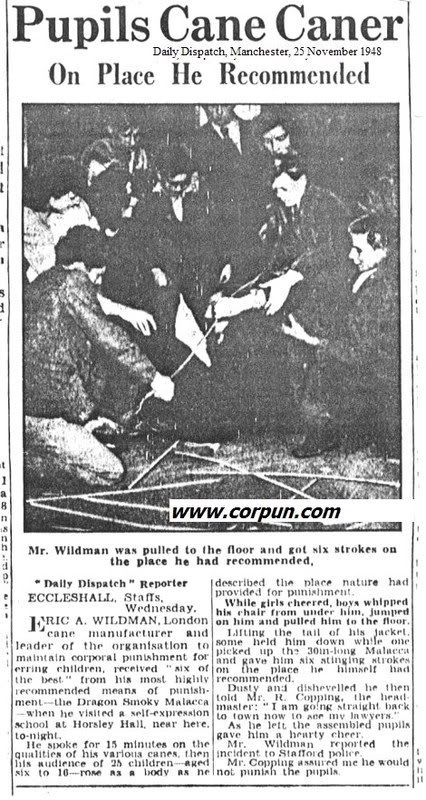 While girls cheered, boys whipped his chair from under him, jumped on him and pulled him to the floor.
Lifting the tail of his jacket, some held him down while one picked up the 30in-long Malacca and gave him six stinging strokes on the place he himself had recommended.
Dusty and dishevelled he then told Mr. R. Copping, the headmaster: "I am going straight back to town now to see my lawyers."
As he left the assembled pupils gave him a hearty cheer.
Mr. Wildman reported the incident to Stafford police.
Mr. Copping assured me he would not punish the pupils.
---

Daily Express, London, 25 November 1948
Six strokes with a smoky Malacca
Schoolboy canes the cane seller
Express Staff Reporter

STAFFORD, Wednesday. -- Mr. Eric Wildman, who heads a society advocating the caning of schoolchildren, walked into a Stafford police station last night and said: "I've been caned by schoolboys and assaulted."
Four boys, he said, leaped on him at Horsley Hall, a self-expression school near Stafford, and gave him six strokes with his own 30-inch smoky malacca cane.
He went on to a hospital where he was given a drug for shock.
Mr. Wildman, aged 27, who runs a company making canes for schoolmasters, left his home at Walthamstow, E., this morning to lecture at Horsley Hall, where 50-guinea-a-term pupils never get punished and need not attend classes.
'They're beautiful'
At 6.15 this evening, he walked into the Hall with a brief case of pamphlets and a dozen assorted canes and leather straps.
One of the school staff met him and said: "I see you have brought your canes."
Replied Mr. Wildman: "Yes -- aren't they beautiful?"
Then he was taken to the headmaster -- 28-year-old, red-bearded Mr. Robert Copping.
At 6.20, in his black suit and white collar, Mr. Wildman brought out his canes and began to lecture Mr Copping, 28 boy and girl pupils aged 12 to 16, and 14 reporters. He said:--
"You may think me an ogre but corporal punishment is a common-sense doctrine. Boys and girls are not always angelic.
"My canes are antiseptic and I supply 10,000 schools at home and overseas with them."
At 6.40 he talked of "six of the best" as a good standard punishment -- and trouble started.
Four boys threw him to the floor and stretched him out.
Three held him down. One grabbed a smoky malacca cane, price 11s., described by Mr. Wildman as "very pliant and punishing," and swished six times.
Then Mr. Wildman was allowed to get up.
Without them
Mr. Copping, who invited him to lecture, said: "Perhaps you will come to my room for an explanation. You are entitled to feel you you've been misled."
Mr. Wildman, smiling slightly, said: "I see I have been deceived. I shall see my solicitor to take legal action.
"I shall return to London at once, although you invited me to stay the night."
He asked for his fare, and was given two £1 notes by Mr. Copping.
Then the president of the National Society for the Retention of Corporal Punishment in Schools began the journey home to his wife and two-year-old daughter -- without his canes.
His audience threw them around the school. One boy said: "It was all arranged. We knew what to do."
---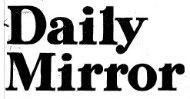 Daily Mirror, London, 26 November 1948
I had planned it all, says the head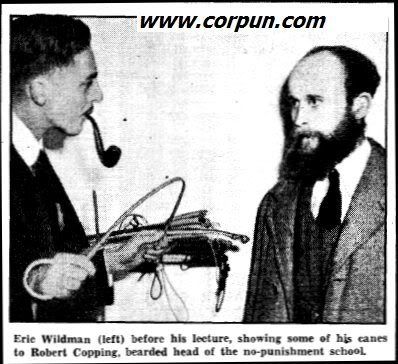 ROBERT COPPING, 28, headmaster of Horsley Hall School, near Stafford, who on Wednesday night watched his pupils cane Eric A. Wildman, London cane manufacturer, last night told the Daily Mirror: "I had been planning it for months."
When Mr. Wildman was lecturing at the school, Mr. Copping said, he asked the manufacturer, "Which cane, and how many strokes, would you recommend for a fifteen-year-old boy?"
Mr. Wildman selected one, and said he thought six strokes reasonable.
"I then gave the signal," the headmaster said, "and my children gave him six strokes with that very cane. I understand he went to hospital afterwards.
"Those are the first canes ever seen in my school -- and the last.
"When he visited the school before, I told the children to behave and say 'Yes, sir' and 'No, sir' to me.
"Wildman was amazed at the discipline. He thought I must be a devil for corporal punishment.
"I showed some sticks which I persuaded him were used.
"I deceived him from start to finish, and nobody will be more pleased than I if he takes legal action."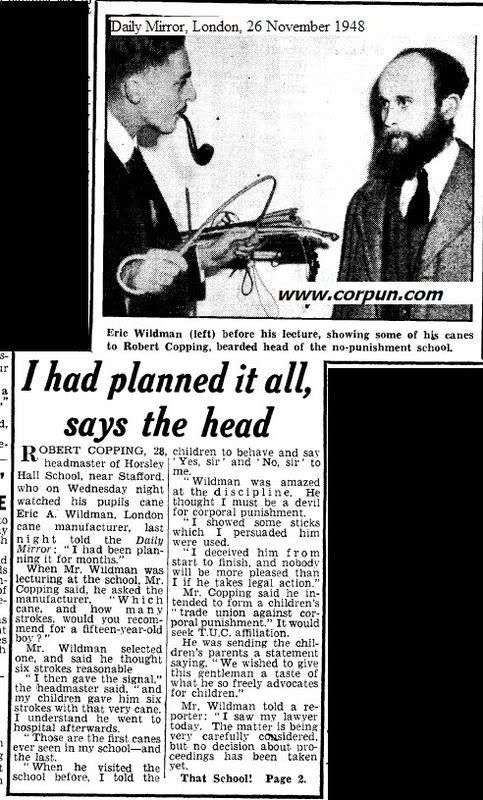 Mr. Copping said he intended to form a children's "trade union against corporal punishment." It would seek T.U.C. affiliation.
He was sending the children's parents a statement saying, "We wished to give this gentleman a taste of what he so freely advocates for children."
Mr. Wildman told a reporter: "I saw my lawyer today. The matter is being very carefully considered, but no decision about proceedings has been taken yet."
---

Time, New York, 6 December 1948
Education
Six of the Best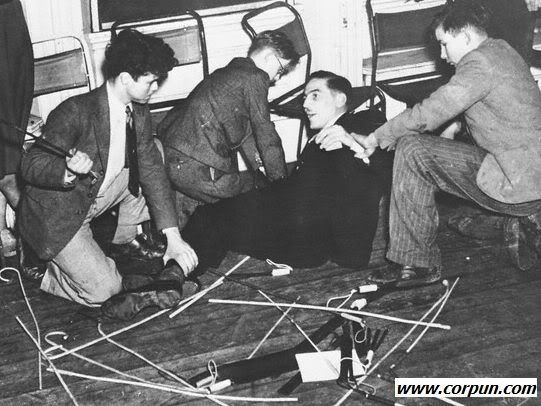 Eric Wildman at Horsley Hall
Nine visible weals.
When he had lectured at the school before, every child had seemed a model of behavior. That behavior, he concluded, was the result of a chastening caning now & then. So Eric Wildman, who manufactures whipping canes and recently organized Britain's Society for the Retention of Corporal Punishment, had felt very much at home at Horsley Hall.
Last week, the school invited him back, even had reporters there to cover his lecture. Wildman, who likes publicity, readily accepted and brought samples of his best canes with him. "Aren't they beautiful?" he asked, and thereupon launched happily into his lecture about his canes ("My canes are antiseptic"), and how they should be used. "You may think me an ogre," he said. "But corporal punishment is a common-sense doctrine. Boys & girls are not always angelic."
The assembly listened ever so politely. So did bearded Headmaster Robert Copping, who is only 28. "Tell me, Mr. Wildman," he asked, "what is the most suitable cane for a boy 15 years old or over?" Wildman brandished his prized 30-inch Dragon Smoky Malacca, "a very pliant and punishing cane." "And how many strokes do you advise?" Headmaster Copping asked. Smiling, Wildman suggested "Six of the best, in the place that seems to have been provided by nature for the purpose." At that point, Headmaster Copping gave a signal.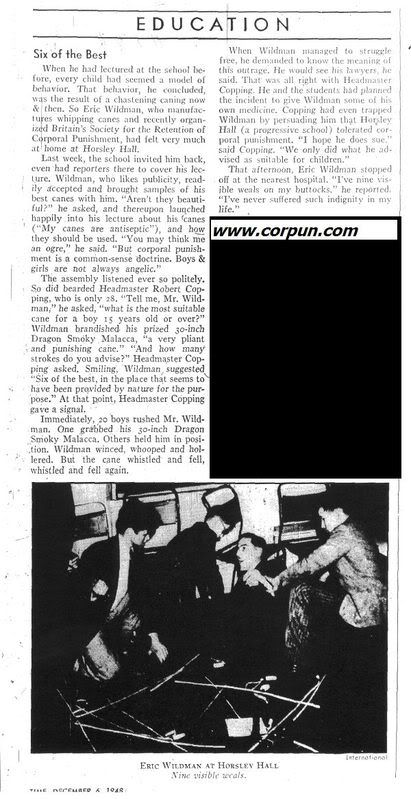 Immediately, 20 boys rushed Mr. Wildman. One grabbed his 30-inch Dragon Smoky Malacca. Others held him in position. Wildman winced, whooped and hollered. But the cane whistled and fell, whistled and fell again.
When Wildman managed to struggle free, he demanded to know the meaning of this outrage. He would see his lawyers, he said. That was all right with Headmaster Copping. He and the students had planned the incident to give Wildman some of his own medicine. Copping had even trapped Wildman by persuading him that Horsley Hall (a progressive school) tolerated corporal punishment. "I hope he does sue," said Copping. "We only did what he advised as suitable for children."
That afternoon, Eric Wildman stopped off at the nearest hospital. "I've nine visible weals on my buttocks," he reported. "I've never suffered such indignity in my life."
Copyright © 2005 Time Inc. All rights reserved.
---
See also: Eric Wildman timeline