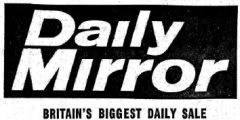 Daily Mirror, London, 26 October 1967
Bishop hits at teacher who told of Court Lees beatings
By Mirror Reporter
THE Bishop of Southwark yesterday launched an attack on Mr. Ivor Cook, central figure in the Court Lees approved school inquiry.
The school was closed by Home Secretary Roy Jenkins following Mr. Cook's allegations that the boys had been given excessive corporal punishment.
During a Lords debate on the closure, the Bishop, Dr. Mervyn Stockwood, said of Mr. Cook: "Was he really the honest white crusader against corporal punishment?"
Dr. Stockwood, in whose diocese the school is situated, said: "I am not convinced that the punishment has been proved to be excessive."
He drew the attention of the Lords to "an approved school practice by which masters may issue yellow tickets if they feel a boy has committed an offence with which they are unable to cope."
He went on: "The ticket means they must go immediately to the headmaster and the result is usually the cane.
Startling
"A startling fact is that Mr. Cook the crusader issued more yellow tickets than any other staff member at the school.
"I have 110 of his tickets in my possession, and many were issued for what would appear to be relatively minor offences.
"Mr. Cook gave one to a boy for allegedly wearing his socks in bed."
Dr. Stockwood questioned the reliability of Mr. Cook as a witness in the Home Office inquiry into the school.
"He has been described in the report as a very emotional man who is inclined to exaggerate a bit," he said.
Also it had to be borne in mind that Mr. Cook had applied for the headmastership and was defeated by Mr. D. Haydon.
Referring to the picture of a caned boy offered as evidence at the inquiry, the Bishop said that doubts about its authenticity had been raised in the British Medical Journal.
Later last night, Mr. Cook hit back. He said: "It is completely untrue to say that I issued more yellow forms than any other member of the staff.
Practice
"I certainly issued yellow forms on occasions -- but caning as a punishment was not automatic. I made a practice of asking that the boys should not be caned."
A Home Office spokesman said that the yellow forms were not common throughout the system, but were used by Court Lees teachers to report incidents to the headmaster.
---
Previous: 8 August 1967: 'Caning' school is shut by Jenkins