News Chronicle, London, 15 November 1952
'Flog for all violence'
By the Political Correspondent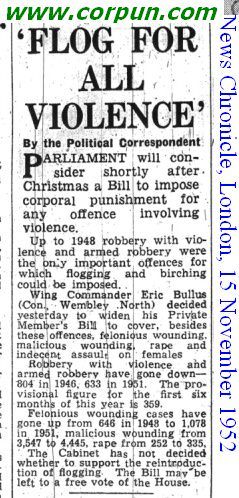 Click to enlarge
PARLIAMENT will consider shortly after Christmas a Bill to impose corporal punishment for any offence involving violence.

Up to 1948 robbery with violence and armed robbery were the only important offences for which flogging and birching could be imposed.

Wing Commander Eric Bullus (Con. Wembley North) decided yesterday to widen his Private Member's Bill to cover, besides these offences, felonious wounding, malicious wounding, rape and indecent assault on females.

Robbery with violence and armed robbery have gone down -- 804 in 1946, 633 in 1961. The provisional figure for the first six months of this year is 359.

Felonious wounding cases have gone up from 646 in 1948 to 1,078 in 1951, malicious wounding from 3,547 to 4,445, rape from 252 to 335.

The Cabinet has not decided whether to support the reintroduction of flogging. The Bill may be left to a free vote of the House.
---
---
News Chronicle, London, 18 November 1952
Meeting votes for flogging
News Chronicle Reporter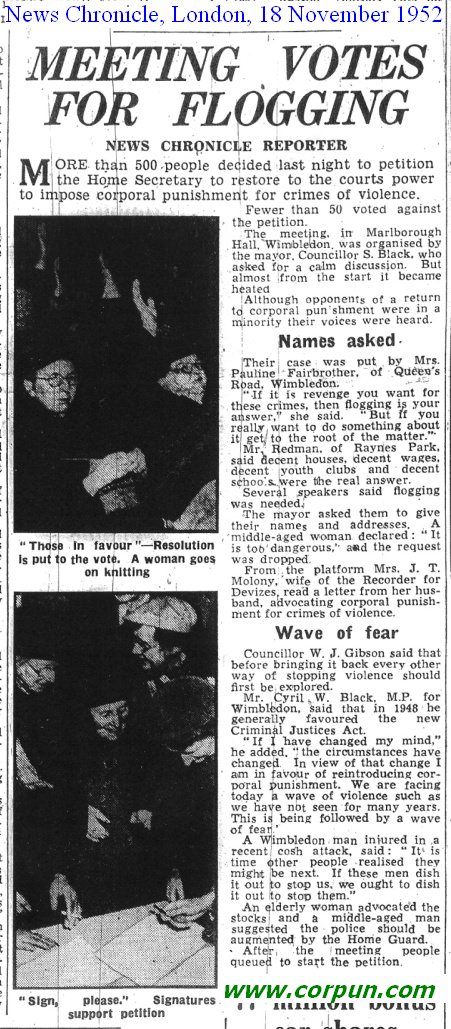 Click to enlarge
MORE than 500 people decided last night to petition the Home Secretary to restore to the courts power to impose corporal punishment for crimes of violence.
Fewer than 50 voted against the petition.

The meeting, in Marlborough Hall, Wimbledon, was organised by the mayor, Councillor S. Black, who asked for a calm discussion. But almost from the start it became heated.
Although opponents to corporal punishment were in a minority their voices were heard.
Names asked
Their case was put by Mrs. Pauline Fairbrother, of Queen's Road, Wimbledon.

"If it is revenge you want for these crimes, then flogging is your answer," she said. "But f you really want to do something about it get to the root of the matter.

Mr. Redman, of Raynes Park, said decent houses, decent wages, decent youth clubs and decent schools were the real answer.

Several speakers said flogging was needed.

The mayor asked them to give their names and addresses. A middle-aged woman declared: "It is too dangerous," and the request was dropped.

From the platform Mrs. J.T. Molony, wife of the Recorder for Devizes, read a letter from her husband, advocating corporal punishment for crimes of violence.
Wave of fear
Councillor W.J. Gibson said that before bringing it back every other way of stepping violence should first be explored.

Mr. Cyril W. Black, M.P. for Wimbledon, said that in 1948 he generally favoured the new Criminal Justices Act.

"If I have changed my mind," he added, "the circumstances have changed. In view of that change I am in favour of reintroducing corporal punishment. We are facing today a wave of violence such as we have not seen for many years. This is being followed by a wave of fear."

A Wimbledon man injured in a recent cosh attack, said: "It is time other people realised they might be next. If these men dish it out to stop us, we ought to dish it to stop them."

An elderly woman advocated the stocks and a middle-aged man suggested the police should be augmented by the Home Guard.

After the meeting people queued to start the petition.
---
---

Time, New York, 24 November 1952
Foreign News
The Cat & the Birch
Beneath the impartial face of British Justice lies a streak of legal ruthlessness: through the centuries, Britons have found reasons for flogging people. Last week they were again debating the merits of the "cat" and the "birch."
In the 18th and early 18th centuries, flogging was prescribed 1) for anyone dunning an ambassador, 2) for a person slaughtering a horse without a license, 3) for any "incorrigible rogue," such as a man twice guilty of fortune telling or indecent exposure, 4) for pulling a gun in the presence of a sovereign. In the British army and in prisons, men were frequently sent to the "triangles" (the upright frame upon which the offender was spread-eagled for flogging) for insubordination. Flogging was the punishment decreed 1) in 1863 for garroters and robbery with violence, 2) in 1898 for homosexuality, 3) in 1912 for white-slave trafficking, 4) in 1916 for armed robbery.
Bicycle Chain & Razors. The traditional instrument of punishment was the cat-o'-nine-tails, nine lashes of whipcord, each about ⅛in. thick and 35 in. long, attached to a 20-in. handle. The cat was applied across the bare back -- in recent times, in the presence of a doctor -- after neck and kidneys had been protected against permanent injury. Maximum number of strokes for civilian offenders: 50. A milder alternative ordered by judges was the birch, a yard-long bundle of twigs, soaked in water and whacked across bare buttocks.
Four years ago the British Labor government abolished flogging. The curve of crime increase immediately flattened out, rose slightly in 1950, leveled off again in 1951. Now it is about to hit a new high. What disturbs Britons today is not crime incidence so much as crime violence. Said Earl Howe, in the House of Lords: "You can hardly pick up a newspaper without seeing some report of a case where . . . gangsters have [attacked] some inoffensive, defenseless person [with] a revolver, a cosh,* a bicycle chain, or a razor."
Added Lord Chief Justice Goddard: "The facility with which a razor blade can be hidden in the hand and used with the most horrible effect has to be seen to be believed. When someone lets a cosh fall on a bench in court ... it makes one shudder to think of the effect of it on a human head." A longtime believer in corporal punishment, Judge Goddard asked for the return of the birch, which, when "laid on by a chief warder who knew his business, not only gave them a taste of something unpleasant, but led to considerable ridicule." Tory Lord Chancellor Simonds protested that Judge Goddard's proposal "would put the clock back 100 years." A newspaper poll of M.P.s showed opinion dividing on party lines: Conservatives for the birch; Labor against.
Socialism & Standards. Last week the discussion moved to the House of Commons, where Sir Waldron Smithers, Toriest of back-bench Tories, suddenly flourished a nail-spiked cosh. "It is not in order to bring an offensive weapon into the House," boomed the Speaker. "Take it out! Take it out!" shouted Labor members. But Smithers' cosh proved to be a child's toy made of hollow rubber. Said Smithers: "It is a sham, but by filling it with sand it can be made into a lethal weapon." Smithers asked for a ban on coshes. "The increase in violence," he said, "is the direct result of six years of Socialist and materialist philosophy in action. All moral standards are cracking."
At week's end Tory M.P. Eric Bullus announced that he would draft a bill for the restoration of the birch and possibly the cat, and 41 Tories formally requested a full debate on corporal punishment.
*Nineteenth century thieves' cant: a blackjack.
Copyright © 2005 Time Inc. All rights reserved.
---
Follow-up: 14 January 1953 - Flogging bill details today
Article: Judicial CP in the United Kingdom