Daily Mail, London, 10 January 1953
Best way to end crime -- by Primate
Bring police up to strength
By Daily Mail Reporter
CRIME would be reduced if the police force, 8,000 short in England and Wales, were brought to full strength, Dr. Cyril Garbett, Archbishop of York, said yesterday.
At present they had an impossible task. Overcrowded prisons were unavoidable, and a real and dangerous scandal. To give priority to the building of new ones was a grim reflection on post-war England.
Fertile brains
Films, comics, the unhappy home, and lack of parental discipline had lowered the national standard of honesty, while the regulations which poured from the fertile brains of Whitehall and Westminster tended to bring the law into contempt.
Flogging, Dr. Garbett said, was the outcome of a natural wish to express indignation at violence, but reason should check the emotions.
"I am not against birching in principle," he added. "Indeed, I think some children might well be birched by their parents."
---
---
Daily Mail, London, 14 January 1953
Vote on flogging upsets the magistrates
By Daily Mail Reporter
VOTING papers were sent out yesterday to 9,500 magistrates asking them to answer Yes or No to the question: "Are you in favour of courts having power to order corporal punishment for crimes of violence?"
Any word added or any corrections will make the vote invalid.
The decision to take a vote was made by the Magistrates' Association, which represents half the J.P.s in Britain, after what was called a "stormy meeting" in November. There was only a small majority for a referendum.
A magistrate said: "A large number feel that the wording of the question is far too nebulous. This is bound to result in a very ambiguous picture since no one is allowed to make reservations he may feel.
"Very few magistrates are in favour of reintroducing the 'cat.'
Cane or birch
"If the decision favours corporal punishment, it can only mean that the magistrates are in favour of powers to use the cane or birch."
The ballot paper is accompanied by two articles by anonymous magistrates giving the case for and against.
It is pointed out that the decision to abolish corporal punishment was based on the unanimous findings of the Cadogan Committee, supported by two Governments of a different complexion.
The case for flogging states that crimes of violence against persons increased from 2,721 in 1938 to 6,516 in 1951.
---
---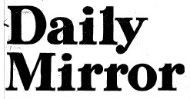 Daily Mirror, London, 14 January 1953
In Brief
Flogging bill details today
DETAILS of a Private Member's Bill to bring back flogging for crimes of violence will be published today. There is little likelihood of it getting official blessing. The Home Secretary, Sir David Maxwell Fyfe, is preparing his own Bill to deal with the cosh menace and many M.P.s may think that this also should be given a trial.
There will be a free vote when the flogging Bill comes up on February 13. Nearly all Labour M.P.s are opposed to it, and enough Tories may join them to defeat it.
---
Follow-up: 13 February 1953 - Whipping Bill Rejected: Tests of Penal Reform