The Straits Times, Singapore, 3 February 2009
Engineer sold cop drugs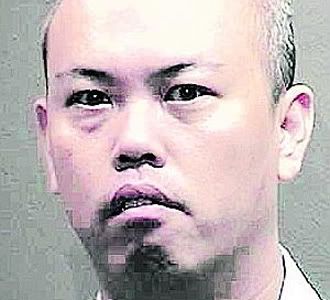 Pang was an 'exemplary employee' and had a first class honours degree. -- PHOTO: CNB
A PROJECT engineer in a government-linked engineering and construction company sold Ecstasy tablets to an undercover narcotics officer who had chatted with him over the Internet and asked for drugs.
For trafficking, Pang Kah Yung, 36, was yesterday given the minimum five years' jail and five strokes of the cane allowed for under the law.
A bachelor and the oldest of three siblings, he was also jailed 12 months concurrently for consuming Ecstasy.
The court heard that he drove to a Bishan carpark on the night of Aug 4 last year and met undercover narcotics officer Jeffrey Lim Yu Meng at a void deck.
He handed over a plastic packet with 10 yellow tablets, each marked 'E', together with some other tablets, to the Central Narcotics Bureau officer.
Staff Sergeant Lim gave him $470 in marked notes, of which $450 were for the sale. Officers then closed in and arrested Pang.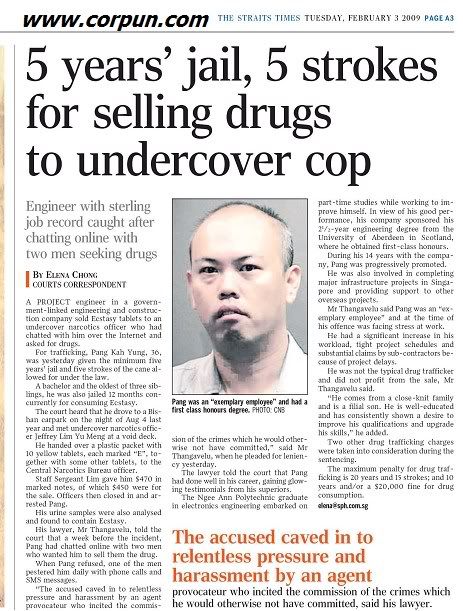 Click to enlarge
His urine samples were also analysed and found to contain Ecstasy.
His lawyer, Mr Thangavelu, told the court that a week before the incident, Pang had chatted online with two men who wanted him to sell them the drug.
When Pang refused, one of the men pestered him daily with phone calls and SMS messages.
'The accused caved in to relentless pressure and harassment by an agent provocateur who incited the commission of the crimes which he would otherwise not have committed,' said Mr Thangavelu, when he pleaded for leniency yesterday.
The lawyer told the court that Pang had done well in his career, gaining glowing testimonials from his superiors.
The Ngee Ann Polytechnic graduate in electronics engineering embarked on part-time studies while working to improve himself. In view of his good performance, his company sponsored his 2½-year engineering degree from the University of Aberdeen in Scotland, where he obtained first-class honours.
During his 14 years with the company, Pang was progressively promoted.
He was also involved in completing major infrastructure projects in Singapore and providing support to other overseas projects.
Mr Thangavelu said Pang was an 'exemplary employee' and at the time of his offence was facing stress at work.
He had a significant increase in his workload, tight project schedules and substantial claims by sub-contractors because of project delays.
He was not the typical drug trafficker and did not profit from the sale, Mr Thangavelu said.
'He comes from a close-knit family and is a filial son. He is well-educated and has consistently shown a desire to improve his qualifications and upgrade his skills,' he added.
Two other drug trafficking charges were taken into consideration during the sentencing.
The maximum penalty for drug trafficking is 20 years and 15 strokes; and 10 years and/or a $20,000 fine for drug consumption.
---
---

The Straits Times, Singapore, 5 February 2009
Stabbing incident: Man gets jail, caning
A MAN was yesterday jailed for three years and ordered to be given six strokes of the cane for stabbing another man.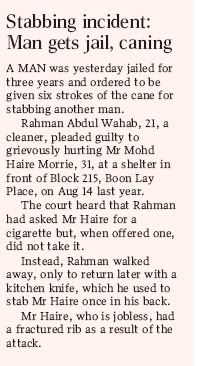 Click to enlarge
Rahman Abdul Wahab, 21, a cleaner, pleaded guilty to grievously hurting Mr Mohd Haire Morrie, 31, at a shelter in front of Block 215, Boon Lay Place, on Aug 14 last year.
The court heard that Rahman had asked Mr Haire for a cigarette but, when offered one, did not take it.
Instead, Rahman walked away, only to return later with a kitchen knife, which he used to stab Mr Haire once in his back.
Mr Haire, who is jobless, had a fractured rib as a result of the attack.
---
---

The Straits Times, Singapore, 21 February 2009
Cabby gets jail, cane for drug trafficking
By Elena Chong
A CABBY sold 10 Ecstasy tablets and a packet of Ice to a customer who had made friends with him but turned out to be an undercover narcotics agent.

Click to enlarge
Yesterday, Lee Kim Siong, 46, was sent to jail for six years and ordered to be given 15 strokes of the cane.
After he was arrested on Sept 25 last year at Fu Lu Shou Complex in Rochor Road, he led narcotics officers to his taxi in Queen Street, where they recovered two plastic packets of loose crystalline substance from the driver's seat floor board.
More drugs were seized when officers raided his home in Pasir Ris, said Assistant Public Prosecutor Sam Ong.
He had bought the drugs illegally from a Malaysian at New Cathay Hotel in Geylang earlier that day.
Lawyer Chia Boon Teck said his client bought drugs for his own use. An undercover Central Narcotics Bureau officer befriended him and started pestering him for drugs, Mr Chia added.
Lee declined the officer's requests several times before he finally gave in to his persistence, said the lawyer.
The former salesman pleaded guilty to two charges of trafficking in Ice and Ecstasy and three of drug possession. Seven other charges were considered.
The prison authorities will have to assess if Lee, who has Aids, is fit for caning.
The case is up for mention again on March 20.
Copyright © 2007 Singapore Press Holdings. All rights reserved.