The Straits Times, Singapore, 1 January 2009
'Woman' who tried to rob bank jailed
Eight years' detention, 8 strokes for culprit who dressed up as a woman
By Elena Chong
Courts Correspondent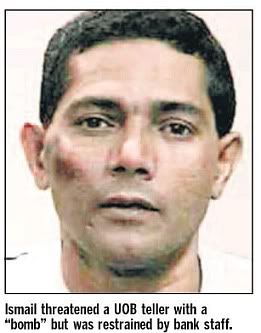 THE man who threatened to blow up a bank was sent to prison for eight years and ordered to receive eight strokes of the cane yesterday.
Ismail Shaikh Ahmad, 45, had walked into United Overseas Bank at City Plaza, Geylang Road, on Nov 10 last year with a green paper bag.
He was dressed like a woman and wore a tudung along with a grey shirt and dark long pants.
Certis Cisco officer Rosli Mohamad Sa'ad, 45, observed Ismail as he entered the bank, thinking his dress and behaviour were suspicious.
Ismail then proceeded to demand money from bank teller Ow Soon Hock, 46, threatening him with a "bomb" in the paper bag. He was later restrained by bank staff and arrested.
Ismail, who pleaded guilty on Dec 11 to attempted robbery and drug taking, was found suitable for preventive detention, a regime for hardcore criminals with no early release.
Pleading for a last chance, Ismail told District Judge Eddy Tham that he would not do it again. In a sorrowful voice, he said he tried to start a business which did not work out.
Ismail also said he was never loved by his mother but that his wife loved him. He asked for the shortest preventive detention possible, which is seven years.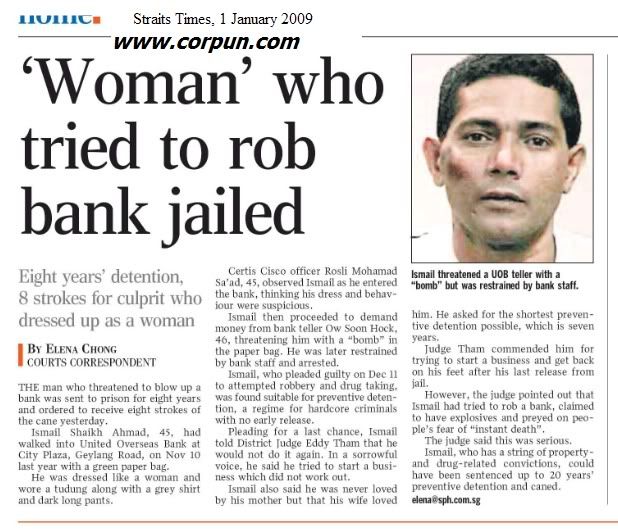 Click to enlarge
Judge Tham commended him for trying to start a business and get back on his feet after his last release from jail.
However, the judge pointed out that Ismail had tried to rob a bank, claimed to have explosives and preyed on people's fear of "instant death". The judge said this was serious. Ismail, who has a string of property and drug-related convictions, could have been sentenced up to 20 years' preventive detention and caned.
---
---

The Straits Times, Singapore, 24 January 2009
30 years, 24 strokes for rapist stepfather
He manipulated girls into having regular sex with him for 10 years
By Selina Lum
OVER a period of close to 10 years, a man first repeatedly raped his stepdaughters, then continued to brainwash them into having consensual sex with him.
The man treated the sisters as his sex slaves, manipulating them first with a supposed "beauty ritual", and later with threats of exposure.
His offences came to light only last June, when the sisters' mother inadvertently discovered that her older daughter had had an abortion in August 2007.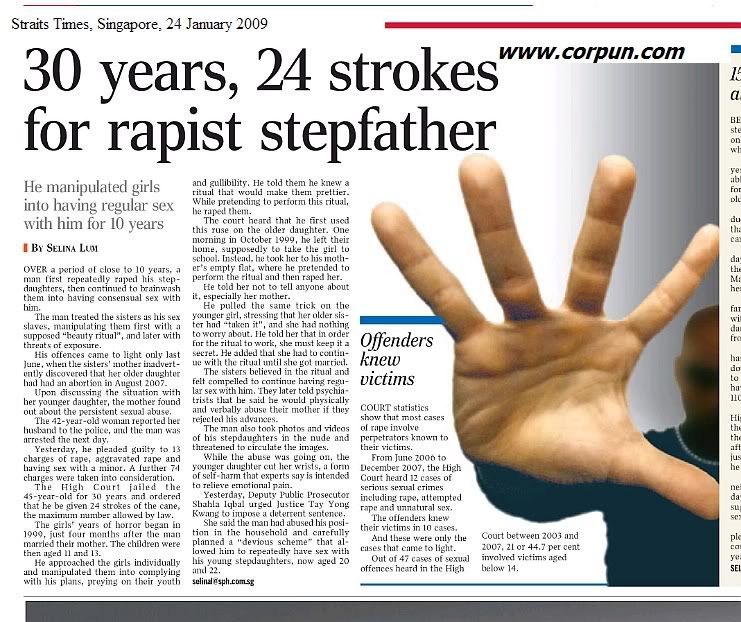 Click to enlarge
Upon discussing the situation with her younger daughter, the mother found out about the persistent sexual abuse.
The 42-year-old woman reported her husband to the police, and the man was arrested the next day.
Yesterday, he pleaded guilty to 13 charges of rape, aggravated rape and having sex with a minor. A further 74 charges were taken into consideration.
The High Court jailed the 45-year-old for 30 years and ordered that he be given 24 strokes of the cane, the maximum number allowed by law.
The girls' years of horror began in 1999, just four months after the man married their mother. The children were then aged 11 and 13.
He approached the girls individually and manipulated them into complying with his plans, preying on their youth and gullibility. He told them he knew a ritual that would make them prettier. While pretending to perform this ritual, he raped them.
The court heard that he first used this ruse on the older daughter. One morning in October 1999, he left their home, supposedly to take the girl to school. Instead, he took her to his mother's empty flat, where he pretended to perform the ritual and then raped her.
He told her not to tell anyone about it, especially her mother.
He pulled the same trick on the younger girl, stressing that her older sister had "taken it", and she had nothing to worry about. He told her that in order for the ritual to work, she must keep it a secret. He added that she had to continue with the ritual until she got married.
The sisters believed in the ritual and felt compelled to continue having regular sex with him. They later told psychiatrists that he said he would physically and verbally abuse their mother if they rejected his advances.
The man also took photos and videos of his stepdaughters in the nude and threatened to circulate the images.
While the abuse was going on, the younger daughter cut her wrists, a form of self-harm that experts say is intended to relieve emotional pain.
Yesterday, Deputy Public Prosecutor Shahla Iqbal urged Justice Tay Yong Kwang to impose a deterrent sentence.
She said the man had abused his position in the household and carefully planned a "devious scheme" that allowed him to repeatedly have sex with his young stepdaughters, now aged 20 and 22.