Straits Times, Singapore, 6 November 2008
Cruelty to animals
Dog killer jailed
Drug abuser hurled his sister's Maltese out of 22nd-storey flat window
By Elena Chong
Courts Correspondent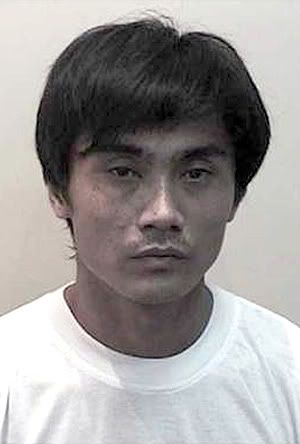 Sing Wee Meng, 33, was also found guilty of drug offences and having offensive weapons.
A MAN who hurled his sister's pet dog 22 floors down a block of flats was jailed yesterday for ill-treatment of an animal and other offences.
Odd-job worker Sim Wee Meng, 33, pleaded guilty to throwing the three-year-old Maltese out of his sister's flat in Sengkang on Jan 21 last year.
He also admitted to two charges of taking drugs and possessing offensive weapons.
He was sentenced to a total of 6½ years and six strokes of the cane, of which three months were for killing the dog, named Prince. Two other drug charges were considered.
His two previous drug convictions made him liable for the heavier punishment meted out to repeat offenders – one of at least five years in jail and three strokes of the cane.
Assistant Public Prosecutor Nicholas Ngoh told the court that Sim's sister, Madam Sim Poh Tian, 30, was at home with her baby when he came by.
A while after his arrival, he suddenly grabbed Prince by its neck and flung it out of a window in the living room.
Shocked, Madam Sim screamed, attracting the attention of neighbours who came by and detained her brother, who was found to have been on drugs that day.
He was later arrested. The dog was found on the ground floor, dead from multiple fractures and other injuries.
On May 16, Sim was arrested again, this time for sleeping at the void deck of Block 532, Hougang Avenue 6, with two foldable knives in his possession.
Lawyer S.S. Dhillon, pleading for leniency, said his client was not feeling well on Jan 21 when he went to his sister's home, where they had a misunderstanding.
He committed the offence on the spur of the moment, and has since regretted his act.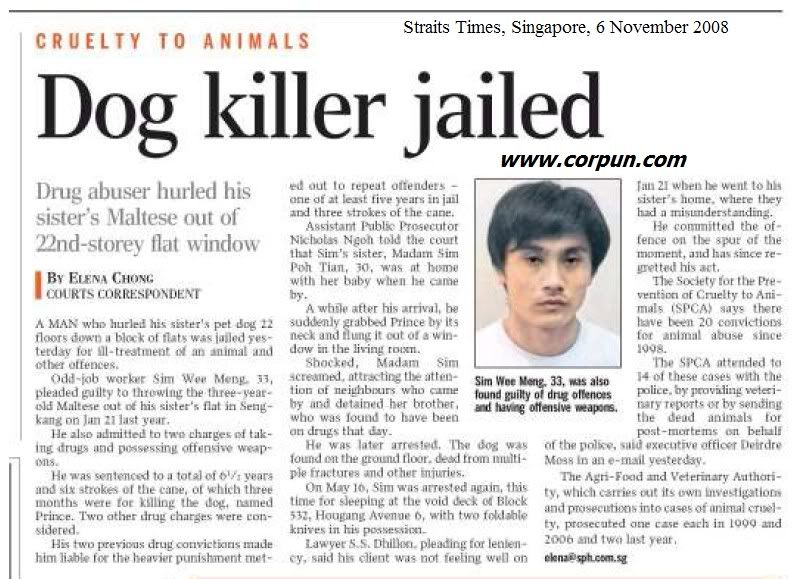 Click to enlarge
The Society for the Prevention of Cruelty to Animals (SPCA) says there have been 20 convictions for animal abuse since 1998.
The SPCA attended to 14 of these cases with the police, by providing veterinary reports or by sending the dead animals for post-mortems on behalf of the police, said executive officer Deirdre Moss in an e-mail yesterday.
The Agri-Food and Veterinary Authority, which carries out its own investigations and prosecutions into cases of animal cruelty, prosecuted one case each in 1999 and 2006 and two last year.
---
---

Straits Times, Singapore, 15 November 2008
Serial robber to spend next 20 years behind bars
By Elena Chong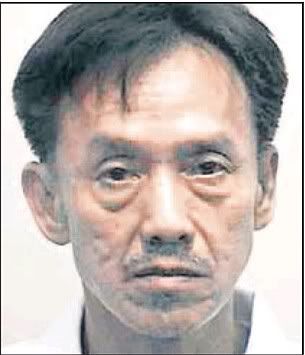 Goh Kim Lian, 56, has been in and out of jail since his early 20s, mostly for robberies.
A CAREER criminal who robbed 11 people during a seven-week crime spree earlier this year was put behind bars for 20 years yesterday.
Goh Kim Lian, who has been in and out of jail since his early 20s, committed the crimes less than a year after his latest release from prison.
District Judge Sarjit Singh sentenced the 56-year-old man to preventive detention, which means he will not be eligible for an early release.
He pleaded guilty three weeks ago to three robberies, with eight other charges taken into consideration.
Goh stole nearly $40,000 in several hold-ups, together with Poh Liang Huat, 57, and Chan Chin Leong, 45, between June 13 and July 31. Poh and Chan also pleaded guilty earlier this month and will be sentenced on Nov 25, pending preventive detention reports.
Since 1975, Goh has been sent to prison five times, the last under preventive detention orders and included 24 strokes of the rotan. He was released last year after a 15-year sentence.
Preventive detention, which can last between seven and 20 years, is meant to protect the public from dangerous criminals with lengthy records.
In his latest string of crimes, Goh and his accomplices entered an optical shop in Balestier Road on June 13 with weapons hidden underneath their T-shirts, a district court heard.
Poh pulled out a chopper and brandished it at the shop manager, who was later bundled off to a back room with another employee. The robbers then took $15,000 from the counters.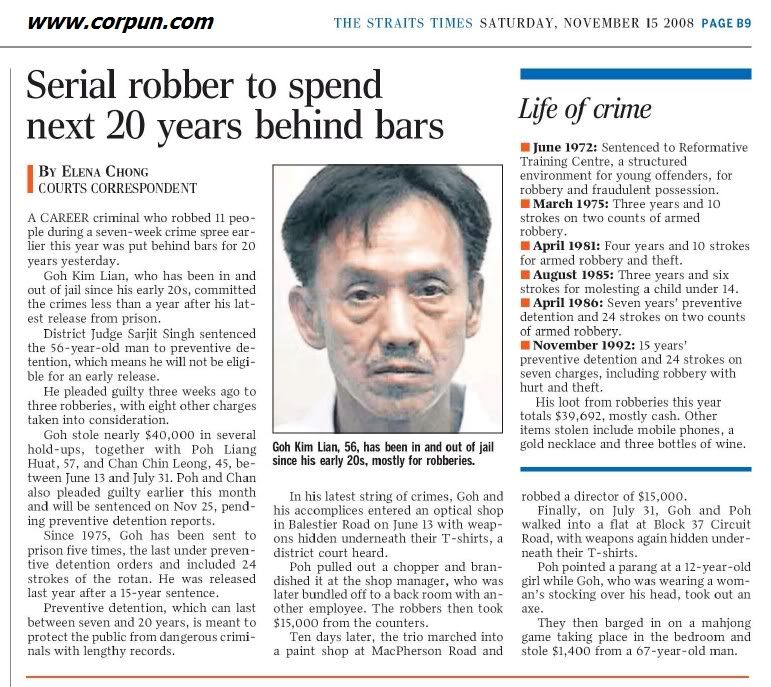 Click to enlarge
Ten days later, the trio marched into a paint shop at MacPherson Road and robbed a director of $15,000.
Finally, on July 31, Goh and Poh walked into a flat at Block 37 Circuit Road, with weapons again hidden underneath their T-shirts.
Poh pointed a parang at a 12-year-old girl while Goh, who was wearing a woman's stocking over his head, took out an axe.
They then barged in on a mahjong game taking place in the bedroom and stole $1,400 from a 67-year-old man.
---
---
Straits Times Interactive (web only), 19 November 2008
Youth jailed for robbery
By Sujin Thomas
HE has had constant brushes with the law since 2000 when he was just 13.
His string of convictions included snatch theft, robbery and housebreaking.
But three months after he was released from the reformative training centre in May, Mohammad Iskandar Abu Bakar Sidek, now 21, robbed an elderly man with a group of five friends, aged from 16 to 21.
A district court on Wednesday sentenced him to three years' jail and 12 strokes of the cane for the offence which was committed on Aug 29.
The court heard that Mohammad Iskandar and his friends went looking for a potential target to rob near the MRT track along Tampines Avenue 2 early that day.
Their victim was 67-year-old driver Lim Geok Seng.
When Mr Lim walked past them at about 4.30 am, the group surrounded him, pushed him around and grabbed his hands.
They took $20 cash, his identity card and an EZlink card with a stored value of about $16, among other cards from his front shirt pocket. They then fled in the direction of Block 248 Tampines Street 21.
In mitigation, the National Serviceman told the court that he had acted out of peer pressure and was 'merely following the others'.
Just before he was led away by police officers, District Judge Jasbendar Kaur told him: 'You are very young. It is really time for you to change your ways and grow up.'
His accomplices have been arrested and will be dealt with later.