Jail and cane for lock-up escapee
He punched cop in bid to break out of court cell; also beat up man in robbery
By Khushwant Singh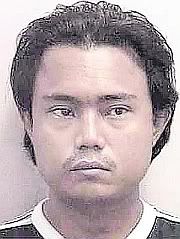 HE PUNCHED a police officer while making a dash for freedom from a lock-up at the Subordinate Courts in June.
That was not the first time Salman Abu Samah (left), 29, had used violence while committing crimes.
In March, he hurt a 25-year-old Bangladeshi construction worker while robbing him of $80.

Salman repeatedly punched him in the face and kneed him in the back while an accomplice took the worker's wallet and removed $80 from it. Court documents indicated that the victim suffered cuts and bruises.
In February, Salman acted as a lookout while three accomplices roughed up a Sri Lankan housekeeper in a Geylang hotel and took $800.
Yesterday, Salman was sentenced to 12 years' corrective training and the maximum 24 strokes of the cane.
The court found him suitable for corrective training, a regime for repeat offenders which offers no chance of early release for good behaviour.
Salman had previous convictions for theft and the court imposed corrective training because the severity of his offences was escalating.
His accomplice in the escape, Jamaluddin Salam, 32, will be sentenced on Friday next week. He pleaded guilty last month to charges of escape, robbery and assaulting police officers.
A person found guilty of trying to escape from custody can be jailed for up to two years and fined.
Court documents indicated that Salman, who worked as a pimp in Geylang, was in remand over several robbery cases when he tried to flee from custody on June 11.
Salman and Jamaluddin were both in court for a court hearing on that day. While in the same cell in the basement of the Havelock Square court complex, Jamaluddin suggested to Salman that they make a dash for it. Jamaluddin asked for a drink of water from Corporal Donnie Lim, who opened the cell gate.
Salman and Jamaluddin rushed him and punched him repeatedly before escaping from the cell.
The escapees made their way through the courts' public area before Salman was arrested at the main entrance after a struggle. Jamaluddin was caught 50m away, near the Family Court.
Copyright © 2007 Singapore Press Holdings. All rights reserved.