Straits Times, Singapore, 13 June 2008
Preventive detention for molester who sniffed armpits
By Elena Chong
MOHAMMED Ismail Ariffin had a strange fixation.
Whenever he saw a woman, he would want to touch or even smell her.
His particular fetish: smelling their armpits.
Over 15 months, he molested 23 women - from girls as young as nine to women in their 50s.
After reading a report that Mohammed Ismail was likely to re-offend, Community Court Judge James Leong yesterday sentenced him to 14 years of preventive detention - a jail term for hardcore prisoners with no chance of parole.
Mohammed Ismail, who is mildly retarded, will also be caned 18 times.
Preventive detention, for which a judge can impose jail terms of up to 20 years, is meant to keep repeat offenders in jail so that they do not commit more crimes.
The 36-year-old stalked his victims and followed them into lifts. He would strike inside the lifts, at staircase landings or even at their homes.
In a few cases, he restrained them during the molestation.
According to Mohammed Ismail's corrective training and preventive detention report, he belonged to a group with more than 62 per cent chance of committing crimes again within two years of his release from prison.
Apart from his tendency to sniff his victims' armpits, Mohammed Ismail also touched a 13-year-old's breasts, placed his hand up her skirt and exposed himself to a 53-year-old cleaner.
Following a report by a housewife that a man had smelt her armpit on Jan 3, the police took a semen swab at the scene which led them to Mohammed Ismail.
His pro bono lawyer Noor Mohamed Marican said his client, whose behaviour was abnormal, was suffering from the adverse effect of taking Romilar pills - used mostly to suppress coughs - when he committed the offences.
Pleading for leniency, the lawyer urged the judge not to impose a long sentence but to send Mohammed Ismail for a rehabilitative programme and medical treatment instead.
Mohammed Ismail has previous convictions since 1991 for drug and sexual-related offences. In 1996, he was given six years and six strokes for aggravated molestation.
Judge Leong said he found 'precious little' in Mohammed Ismail's favour, except for the fact that he pleaded guilty.
'The facts of the case speak for themselves. I think the accused's antecedents also speak for themselves,' he said. He agreed with the prosecution that this was an appropriate case for preventive detention.
Copyright © 2007 Singapore Press Holdings. All rights reserved.
---
Note by C.F: On appeal, the jail sentence was maintained but the caning was reduced from 18 strokes to 12. ("Armpit-sniffing molester's jail term upheld - he has no disorder". Straits Times, 23 January 2009.)
---
---
Straits Times, Singapore, 17 June 2008
Grassroots leader gets jail, cane for molest
By Elena Chong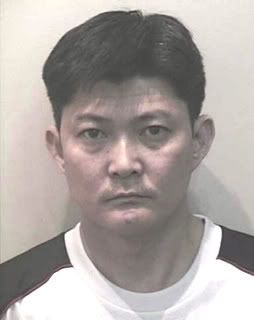 Lee, a secretary of the Punggol Angsana Residents' Committee, was sentenced to 10 months' jail and three strokes of the cane on Tuesday for molest. -- PHOTO: POLICE
THREE days after he molested his young Indonesian maid, National Environment Agency supervisor Lee Song Koi, 46, cancelled her work permit and tried to send her home.
His wife then took the 21-year-old domestic help to the airport but the cops, acting on a frantic call from the maid's cousin, intercepted and stopped the maid from taking her flight home at Terminal 2.
Lee, a secretary of the Punggol Angsana Residents' Committee, was sentenced to 10 months' jail and three strokes of the cane on Tuesday for molest.
He is appealing against his sentence and has been granted bail of $15,000.
Lee, admitted earlier to lying on top of the maid and kissing her all over at his flat on July 7 last year.
The court heard that the domestic help was sleeping in her bedroom when she was awakened by Lee forcing himself on her and kissing her on the face.
He lifted her T-shirt and brassiere to her neck level while the victim struggled and told him to stop.
He ignored her and continued molesting her. He also told her not to tell anyone before leaving the room.
Three days later following a 999 call about the molestation, airport police were alerted and managed to find the victim with Lee's wife at Terminal 2, Changi Airport.
Two other charges of hugging the victim the same day were taken into consideration.
Mr Subhas Anandan said his client, who has two children, had paid $5,000 as compensation to the victim.
Lee had returned from a dinner and dance when he committed the offence.
He could have been jailed for up to three years or fined or caned or received any two such punishments for the offence.
Copyright © 2007 Singapore Press Holdings Ltd.
---
---
Straits Times, Singapore, 20 June 2008
Offences aplenty earn man jail, cane, fines, driving ban
He collected illegal soccer bets, harassed debtors and drove while under ban
By Elena Chong
Court Correspondent
PAINFUL LESSON: For harassing the mother of a debtor, Tan will receive three strokes of the cane.
TAN Yeow Boon, 26, was shuffled from court to court yesterday to be sentenced for a battery of unrelated offences.
He had pleaded guilty to the following in a district court and the Traffic Court:
Collecting at least $160,000 in soccer bets for an unknown bookmaker and collecting bets totalling $170 for the Singapore Pools' Toto draw;
Splashing paint on the door of a debtor's Jurong home; and
Driving a car while under a year-long driving ban - and without insurance cover to boot.
Payback for these offences will cost him 14 months in jail time, a total of $161,000 in fines and a four-year driving ban.
It is also going to hurt: He will be given three strokes of the cane for harassing Madam Tan Ah Hiang, 56, by defacing the door of her Jurong flat with red and green paint in January this year.
Her son had taken out a loan with illegal moneylenders and failed to repay it.
Deputy Public Prosecutor Serene Seet said Tan was arrested with another man in a Jalan Bukit Merah carpark for illegal soccer-betting activities last month.
The police seized his laptop. Investigations showed that he had collected bets for an unknown bookie on the results of various overseas soccer league games held on different days last month.
He received a cut of 0.025 per cent to 0.075 per cent from the bets collected. The bets collected in the proceeded charges ranged between $12,100 and $75,475.
Over in the Traffic Court, the court heard that Tan was caught driving along Tampines Avenue 5 in September last year when his year-long driving ban was still in force. He was also driving without insurance.
Copyright © 2007 Singapore Press Holdings Ltd.
---
---
The New Paper, Singapore, 22 June 2008
Man gets jail, cane for raping drunk colleague
He tries to clean her up, but ends up raping her
By Andre Yeo
THE rape lasted a minute and he will pay for it with seven years of his life.
He will be caned for it too.
Foo Chirk Leong, 30, had raped his friend and former colleague in a hotel room on 1 Dec 2001.
Yesterday, in the Subordinate Courts, he was jailed seven years and given six strokes of the cane.
In his mitigation, which was not read in court, his lawyer Gloria James wrote that Foo, who knew the victim from working in the same hotel, had assumed she liked him.
She had often called him and they chatted for 20 to 30 minutes each time.
On 30 Nov 2001, they went to their old workplace for drinks and both got drunk.
A few hours later, when he could not find her, he tried calling her handphone.
Court documents revealed she had taken a taxi, but had dozed off after vomiting into a plastic bag.
As the cabby could not get her address, he stopped a passing police car.
As Sergeant Vincent Tan was trying to verify her identity, her handphone rang.
It was Foo, who told Sergeant Tan he was her boyfriend. He was asked to pick her up at the Jurong Police Division.
In his mitigation, Foo said he had initially hesitated, but felt he should send her home as they had gone out together.
When he picked her up in a taxi, he asked her for her address, but she was too drunk, so he told the cabby to take them to the nearest hotel, which was Hotel 81 Orchid at Lorong 8 Geylang.
In the hotel room, Foo tried to clean her up as she had vomited again. But he got aroused while undressing her and raped her.
Court documents revealed he had raped her for a minute.
FIRST-TIME OFFENDER
Ms James urged the court to take into account that Foo was a first-time offender and was 24 at the time. He had also pleaded guilty.
She said it was not a pre-meditated offence, but had happened when he had lost control of himself.
Ms James wrote that Foo had not spiked the victim's drink nor had he used violence against her.
Foo also wrote a short letter of apology to his victim, which was included in his mitigation.
His sentence was backdated to 17 Nov.
Copyright © 2005 Singapore Press Holdings Ltd.
---
---
Straits Times, Singapore, 28 June 2008
Man punched bus driver after missing his stop
By Khushwant Singh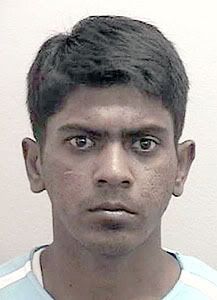 BUS RAGE: Muhammad Ilias was "reeking of alcohol" when arrested.
LAST December, cleaner Muhammad Ilias Syed Ibrahim fell asleep on a bus, missing his stop.
So the 23-year-old, who was reeking of alcohol, ordered the bus driver to turn around.
When the driver refused, Muhammad Ilias punched him twice in the face, fracturing his nose.
In a district court yesterday, he pleaded guilty to attacking the 32-year-old driver and was sentenced to nine months in jail and three strokes of the cane.
The maximum punishment is seven years' jail and 24 strokes or a fine.
Looking sheepish, Muhammad Ilias admitted to boarding service number 58 near the White Water condominium in Paris Ris at about 3.30pm on Dec 29 last year.
He was bound for Kaki Bukit Road but dozed off during the journey and woke up 2km past his stop.
He started screaming vulgarities at the bus driver and demanded to alight immediately.
The driver pulled up at the next stop but Muhammad Ilias began insisting that the bus head back to Kaki Bukit Road.
When told that this was not possible, he attacked the driver.
The driver, who was in contact with the SBS Transit control room, was then advised to allow the other passengers to alight.
Muhammad Ilias stayed on the bus and police officers found him 'reeking of alcohol' when he was arrested, said the prosecution.
An ambulance took the driver to Changi General Hospital and he was given three days' medical leave.
Copyright © 2007 Singapore Press Holdings Ltd.