Straits Times, Singapore, 2 May 2008
Conned by job agents; caned for overstaying
China worker who goes home broke recounts ordeal of coming to S'pore hoping to land higher paying job
By Melissa Sim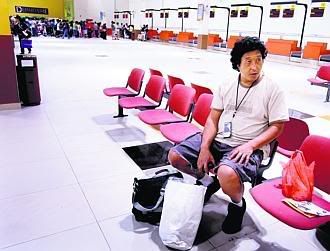 Han Xin Hui
CHINA worker Han Xin Hui, 41, arrived in Singapore in October 2006 in a new suit, new leather shoes, and a suitcase full of work clothes.
But on Tuesday, he left wearing a ragged T-shirt and bermudas, hiding scars from four strokes of the cane he got while in prison here - a permanent reminder of his time in Singapore.
His budget flight to Guangzhou, followed by a train ride to his home in Hebei, brought his 18-month stay here to an end.
He told The Straits Times in Mandarin that he had been conned by labour agents, both in China and Singapore, who had promised him a job, but never delivered.
He said: 'I'll never think of Singapore again, I have such a bad impression.'
Some foreign workers from China, India, Sri Lanka and Bangladesh are the targets of rogue agents who collect thousands of dollars from the workers in return for jobs in Singapore.
But when they arrive, not only is there no work for them, but local agents also take their cash and even their passports.
While no official data is available on the number of workers who get duped by agents, Humanitarian Organisation for Migration Economics (Home), a welfare organisation which helps foreign workers, said that for the past year, they have seen at least one case every three months.
Mr Han's is the most recent case that Home helped resolve.
His troubles started when an acquaintance introduced him to an employment agent in Beijing.
The agent said he could earn 7,000 yuan (S$1,360) monthly as a lorry driver in Singapore - if he paid the 28,000-yuan agent's fee.
Tempted, he gave up his 2,500- yuan-a-month job as a lorry driver and emptied out his savings to move to Singapore, leaving behind his wife and two sons, now aged 20 and 21.
He was told to head to an address in Geylang when he arrived in Singapore and wait for a call from a local agent.
The call came a day after he landed. Mr Han met the man claiming to be his Singapore agent, who immediately demanded another 8,000 yuan. He also took Mr Han's return air-ticket and passport for safe-keeping.
Mr Han never heard from the man again. His mobile number was also no longer in use.
Calls to the agent back in China also reached a dead end.
Stranded in Singapore with no work, no money and no passport, Mr Han, who was on a tourist pass, took up random construction jobs. He approached Home for help, but continued to work illegally.
'I knew I wasn't supposed to work. But I had no choice.'
After he earned some money, he searched for another agent, hoping to get a proper work permit and a legal job.
Again, he says, he was cheated.
He paid the agent $500, and was told to return two weeks later. But six weeks later, there was still no job.
With help, he managed to go after the agency and had his day in court. He won his case, but still ended up with nothing.
The agency in Lavender had closed down and he was told he would have to spend more money to enforce the judgment.
'I won the case but I had to pay money? Where's the logic? I was fighting in court, because I had no money,' Mr Han said.
Again he continued to work illegally.
In August last year, he was caught for overstaying when police raided the flat he was sharing in Changi with seven other foreign workers.
His sentence: one month in jail and four strokes of the cane.
When he was released in October last year, he applied for a new passport. Around this time, he also approached Home again for help. The volunteer group then raised the money for his flight back to China.
Mr Han was on a 6.25am flight on Monday, but to avoid paying for an early morning taxi, he was at the airport by 11pm the night before.
'Not everybody here is bad. I'll get my son to come back and thank people here who have helped me,' he said. 'But I'm never coming back here in my life. Never.'
Copyright © 2007 Singapore Press Holdings. All rights reserved.
---
---
Straits Times, Singapore, 14 May 2008
Ex-physiotherapist gets 15-month term, caning for molesting patient
By Elena Chong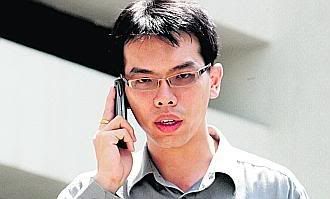 OUT ON BAIL: Yap Soon Soon, 29, is appealing against his conviction. -- ST PHOTO: WONG KWAI CHOW
A FORMER physiotherapist with Singapore General Hospital (SGH) was sentenced to 15 months' jail and six strokes of the cane yesterday for molesting a patient.
Yap Soon Soon, 29, had his head bowed when the sentence was meted out by District Judge Ong Chin Rhu, the latest blow to his tattered medical career. He was found guilty last month of outraging the modesty of a 31-year-old woman on Sept 9, 2005.
Yap was accused of putting his finger inside the woman's private parts under the guise of treating her for stress-related incontinence.
During a 12-day trial that began last year, Yap did not deny putting his finger into the woman's private parts. He claimed that he was doing a pelvic floor examination as the woman had complained of incontinence.
But the woman, who was referred to the SGH Rehab Centre for physiotherapy, said she had complained only of back pain.
She testified that Yap asked if she had any 'sex problems'', to which she said she seldom had intercourse because of her back pain.
He explained that he needed to check a muscle that led to the back.
She pulled down her jeans and suddenly, she felt his finger inside her private parts.
The woman said she was shocked and had no idea Yap was planning such an invasive exam.
Yap claimed in his defence that she gave verbal consent to the pelvic floor examination.
His lawyer Irving Choh said his client was a man of integrity and good character, and a helpful physiotherapist who always 'conducted himself with absolute discretion and in a completely professional way'.
He left SGH after the incident and went to work at the National University Hospital. After he was charged, he went on no-pay leave and subsequently resigned.
Yesterday, Yap was hauled away in handcuffs to the court lock-up, but is now out on $15,000 bail pending his appeal against the conviction.
Yap, who has a cheating conviction, could have been jailed for up to two years, or fined or caned, or receive any two such punishments for outrage of modesty.
Copyright © 2007 Singapore Press Holdings Ltd.
---
---
Straits Times, Singapore, 14 May 2008
Repeat offender who targeted children gets 2 years' jail, 8 strokes
By Elena Chong
Court Correspondent
LATEST CASE: A nine-year-old was Kuah Kuan Boon's 21st victim.
A SERIAL child molester who caught on as a parish volunteer was yesterday given two years' jail for abusing a young girl in a central-area church.
Emil Kuah Kuan Boon, a 38-year-old web designer, was also handed eight strokes of the cane for touching the nine-year-old's private parts.
Kuah was fresh from prison when he molested the girl following her Bible study class on July14 last year.
He had just finished serving six years behind bars for molesting several young schoolgirls in 2003. Two dozen other similar counts were taken into consideration.
Community Court Judge Bala Reddy said he had 'grave concern' that despite his record, Kuah had been allowed to be around young children.
He sang at the church and helped as a volunteer in the children's section.
In addition to the two-year jail term, which is the maximum, Judge Reddy ordered Kuah to undergo two years' police supervision after his release.
A psychiatrist from the Institute of Mental Health examined Kuah recently but could not say if he was a paedophile.
But Judge Reddy said: '(His) history suggests paedophile tendency in times of stress.'
His latest victim, the nine-year-old girl, was his 21st.
Deputy Public Prosecutor Royce Wee said yesterday that Kuah told the girl in July last year to wait around after her Bible study class as he had a secret to tell her.
He took her to the third level of the church, sat on a chair and invited her to sit on his lap.
After saying she might one day have a boyfriend and be involved in a physical relationship, he molested her.
Kuah told the girl to keep the encounter a secret, but she told her mother when she picked her up.
They made a police report.
DPP Wee asked for a stiff sentence and caning to deter Kuah and others from committing such offences.
He said Kuah committed the crime a few months after he had completed a home detention scheme and it was clear he had not mended his ways. Another young girl had joined the list of his vulnerable victims, he said.
Under the supervision order, Kuah has to report to the police and inform them if he goes out of the district.
He has to notify the police personally if he intends to be away from home for more than 48 hours.
He also has to report where he is working.
Copyright © 2007 Singapore Press Holdings Ltd.
---
---
Straits Times, Singapore, 22 May 2008
IT specialist jailed 25 years for sexually abusing stepdaughter
By Selina Lum
A 37-YEAR-OLD IT specialist was packed off to jail for 25 years after he was convicted in the High Court on Thursday for repeated sexual abuses on his teenage stepdaughter.
The man, an Indian national and Singapore permanent resident, was also ordered to be caned the maximum 24 strokes.
He was convicted on all 42 charges brought against him - 16 counts of statutory rape and 26 counts of making the girl, now 14, perform oral sex on him.
The offences, which started when she was 11, took place between Jan 2005 and Feb last year at the family flat.
The man had confessed to the police and a psychiatrist after his arrest but in court, he denied committing the crimes.
He claimed he had given 'false statements' to the police out of fear.
In their closing arguments, prosecutors dismissed the multitude of reasons he gave in attempting to explain away the confessions.
Both the girl and the mother left the country abruptly and the Singapore police have been unable to find them.
Copyright © 2007 Singapore Press Holdings. All rights reserved.