The New Paper, 10 August 2007
Once successful businessman goes on crime spree
He slashes victim when she bites his arm
By Arul John
(extracts)
JUST a few years ago, he was a successful businessman who lived in a terrace house and drove a Mercedes.
But when his car export business failed, Ng Eng Hoe's life spiralled out of control.
He turned to alcohol and cough syrup and returned to crime, which has blotted his life since 1982 when, at just 16, he served two years' probation for robbery.
The law caught up again with Ng, now 41, after he robbed a woman three months ago.
He was also involved in two other incidents of violence and robbery, and has been sentenced to more than five years in jail and 24 strokes of the cane.
On 20 May at 3.30am, Ng and his alleged accomplice met at Lorong 15 in Geylang for supper.
We are not naming the accomplice because he is yet to be dealt with in court.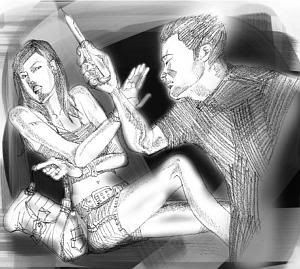 At 4am, they went to Lorong 29 in Ng's Toyota Vios which the other man drove.
They pair picked up two Chinese nationals, Ms Dai Qing and Ms Chen Lingli. The women agreed to provide sexual services to the men for $60each.
The group then drove to a carpark near Stadium Road.
Ng and Ms Dai, 28, went to a secluded corner to have sex while his accomplice and Ms Chen remained in the car.
After they were done, Ng pulled out a knife and demanded that Ms Dai hand over her handbag.
She resisted and bit his right arm.
Ng, who was also armed with a penknife, slashed her arm and thigh with it.
SNATCHED BAG
He then grabbed her handbag, which had her passport and personal documents, $900 and a $596 Nokia handphone.
Ng ran back to the car, jumped into the driver's seat and drove off.


The other man and Ms Chen were in the back seat at the time.
A short distance away, Ng stopped the car and the other man pushed Ms Chen out.
But Ms Chen took note of the car's licence plate number and made a police report.
[...]

In court on Tuesday, Ng faced nine charges in connection with the three incidents, but Assistant Public Prosecutor K Kalaithasan proceeded with three charges. The other six were taken into consideration.
Ng was sentenced to 5½ years' jail and 24 strokes of the cane for offences that included robbery with hurt, robbery and voluntarily causing hurt with a dangerous weapon.

In his mitigation plea, Ng's lawyer, Mr Ismail Hamid, said Ng had become anxious and depressed after his business failed, and had turned to cough syrup and liquor for comfort.
[...]
Copyright © 2005 Singapore Press Holdings Ltd. Co. Regn. No. 198402868E. All rights reserved.
---
---
Today, Singapore, 14 August 2007
Once a hero, now he's killed a man
Judge who jails bartender, 27, says he was not seeking vengeance against attacker
By Ansley Ng
(extracts)
WHEN he was 18, the police praised him after he single-handedly helped nab a group of thieves and burglars in his housing estate. But four years later, Sadayan Ajmeershah got on the wrong side of the law, spending 37 weeks behind bars for two crimes — theft, and assaulting a public servant.

And last year, the bartender took the life of Jagagevan Jayaram, stabbing him in the chest and stomach 11 times with a kitchen knife.

Initially charged with murder, Sadayan, 27, pleaded guilty to a lesser charge of manslaughter, which carries a jail term of up to 10 years or life imprisonment.

Yesterday, the High Court sentenced him to nine years behind bars and 12 strokes of the cane. His two friends, Melvin Mathenkumar Segaram and Arull Wanan Thangarasu, who were with him during the attack at an Ang Mo Kio playground, were each jailed four years and received eight strokes for voluntarily causing hurt using weapons.

The trial threw up the contrasts in Sadayan's life. While the prosecutors pressed for a life sentence, Justice Tay Yong Kwang said he believed Sadayan was not the initial aggressor and had stabbed Mr Jagagevan, 26, in "frantic frustration".

On April 25 last year, Mr Jagagevan, a security officer in a club, led a group of four other men to Sadayan's Ang Mo Kio flat, assaulting him with kicks and punches.
The attack was in response to Sadayan's aggressive behaviour at Mr Jagagevan's home earlier, where the accused had spat on the floor during an argument over a string of abusive text messages that one of Mr Jagagevan's friends had sent to one of Sadayan's mates.

The court heard how a bleeding Sadayan, fearing more attacks, locked his gate and front door after the assailants had left. "He did not retaliate when he was beaten up by the deceased and his friends," said Justice Tay, adding that Mr Jagagevan had "overreacted over a relatively minor incident".
[...]
One of Sadayan's lawyers, Mr Subhas Anandan, said although it was his client's fault for not calling the police, Mr Jagagevan was no "innocent angel" and was clearly the aggressor.

Added Mr Peter Fernando, Sadayan's other lawyer: "The accused, a young man of 27, holding a steady job which he liked and who had planned to get married a few weeks later, was caught in a web of unfortunate circumstances and incidents that escalated out of control."
Copyright MediaCorp Press Ltd. All rights reserved.
---
---
Straits Times, Singapore, 14 August 2007
Jail, caning for man who knifed friend
GUILTY: Rambahadur stabbed his friend over a mobile phone.
A MAN was yesterday given three-and-a-half years in jail and six strokes of the cane for stabbing an old friend in the chest, inflicting serious wounds.
Rambahadur Ramkirpal, 30, a freight forwarder, went at Mr Mohamed Aidilfadli Zahari, 22, with a knife, suspecting the latter of having taken a mobile phone from him.
He pleaded guilty to causing grievous hurt.
Deputy Public Prosecutor Ng Der Lim told the court that the two friends, who had a chance meeting along Coleman Street on Dec 26 last year, had a chat under an overhead bridge near Adelphi Hotel.
Minutes later Mr Aidilfadli received a phone call, so he walked away to take it.
This was when Rambahadur realised that a mobile phone he had placed beside him was missing and suspected Mr Aidilfadli of taking it.
When Rambahadur used his own mobile phone to call the missing phone, he heard it ring from a nearby bush.
Deciding to get back at Mr Aidilfadli, he whipped out a multi-purpose knife from his trouser pocket and confronted his friend, who denied taking the phone. Rambahadur then stabbed him.
It was not revealed in court how the phone came to be in the bush.
Rambahadur could have been jailed for up to 10 years.
Copyright © 2007 Singapore Press Holdings Ltd. Co. Regn No. 198402868E
---
---
Straits Times, Singapore, 19 August 2007
Dad forgives
Son's stabbing charge helps father come around
He believed in tough love and even booted his son out of the home. But the severity of his son's stabbing crime finally softened his heart
By Melody Zaccheus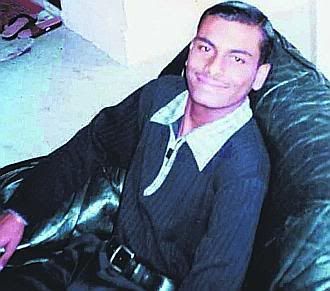 THE THEN 21-YEAR-OLD Ajmeershah Sadayan outside his old family home in Marine Parade in happier times. -- PHOTO: COURTESY OF ROSE NEESHA
WHEN Mr Sathik Sadayan's troubled younger son turned 21 six years ago, he booted him out of the family home, hoping to make him 'grow up'.
Believing in tough love, the retired port worker even took out a personal protection order against his son.
But the situation worsened.
His son, Ajmeershah Sadayan - the youngest of his four children - had repeated brushes with the law.
Last week, he was sentenced to nine years' jail for stabbing a man to death. He will also be given 12 strokes of the cane.
His 69-year-old father had regretted what he did. So, to make good, Mr Sathik poured more than $52,500 into his son's legal fees - funds from the sale of the family's four-room flat in Marine Parade.
He downgraded to a three-room unit in Hougang to pay for three lawyers: two of them being veteran criminal lawyers Subhas Anandan and Peter Fernando.
'If I did not love him deep in my heart, I would not have done all this,' he said, calling the sale of the family home of 30 years 'a small sacrifice'.
Ajmeershah, now 27, in a seven-page handwritten letter to the judge before he was sentenced on Monday, stated: 'Never did I expect that fate would bring us back together through this mishap.
'All my life, I thought that my father hated me.'
His son's mitigation letter moved Mr Sathik to tears: 'Even though bad things have happened, at least we are reunited.'
Yet throughout Ajmeershah's childhood, father and son clashed often.
Ajmeershah partied often, and dropped out of school after his N levels.
Mr Sathik's third child, 31-year-old accountant Rose Neesha, recalls her father especially 'hated it' when her brother came home late, adding that he favoured his two elder sons - 'the studious type'.
Ajmeershah, as well as their mother, Madam Ahmed Nurjehan, 58, moved in with Miss Rose after Mr Sathik threw him out.
Madam Nurjehan was so upset at her husband, she stayed with her children for four years and refused to return until 2005, when she finally forgave him.
But Ajmeershah's track record has not been pristine.
In the five years after he left home, he was arrested for five separate offences, and has spent a total of two months in jail for the various offences.
He worked odd jobs after he completed his national service in 2002 and did not find a permanent position until last year. He signed on as a bartender at Brix nightclub, where he worked until the stabbing incident on April 25 last year.
By then, he had moved into a rented Ang Mo Kio flat with his bride-to-be, Miss Maya Muruganthem. The couple have a 10-month-old daughter.
Though he was not all bad - Ajmeershah had received a police commendation for helping to nab several thieves in 1998 - his troubles only angered his father.
The turning point came only in April last year, the month of the stabbing incident.
When his parents visited Ajmeershah in prison, he told them how 'sad' and 'very sorry' he was.
After that, his father vowed to come to his aid. 'My son has a good heart. In times of crisis, as his father, I had to help.'
So, he read file after file of legal documents each night before court during the 16-month-long trial. He slept fitfully and rose early to pray for his son.
The stress took its toll on Mr Sathik, who suffers from high blood pressure. But ignoring his doctor's advice to 'take it easy', he never missed a court date or a visit to the Queenstown Remand Centre.
He even told his son at his first visit: 'I am very sorry for all that has happened in the past.'
At that tearful reunion, Ajmeershah promised his father: 'Whatever you want me to do, I will do. Wherever you want me to go, I will go.
'I will come out of this jail and work. I will return you all the money you spent on me. I will compensate you for all the sacrifices you made.'
Now, Ajmeershah intends to get his A levels in prison. Meanwhile, Mr Sathik and his wife look after their granddaughter while her mother is at work.
After he completes his sentence, Mr Sathik said he would not mind his son moving in with him.
'He will always be welcome at home.'
Copyright © 2007 Singapore Press Holdings Ltd. Co. Regn No. 198402868E