Juba Post, 9 May 2008
Court whips Ladu
By Lodiong Anthony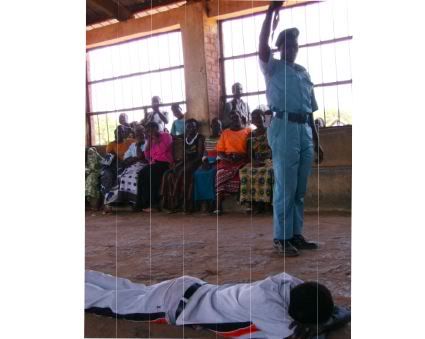 Policeman whipping Ladu -- Photo: Lodiong Anthony
JUBA (2 May) William Ladu, 20, a resident of Lologo has been whipped 20 lashes and charged SDG 250 for slapping his mother-in-law, Rose Yawa John, in her house, Wednesday, 30th April.
According to Rose Yawa, 35, her son-in-law came to her house from a naming ceremony of his first born baby with a knife threatening to kill one of her daughters. "When I asked him why he wants to beat my daughter, he immediately turned to me and slapped me twice. My husband could not help me because he has lost both arms," She laments.
William accepted the accusations but denied he slapped his mother-in-law. He said he was under influence of drinks. Kator court prosecutor Mr. Pitia condemned the act and said that is not the way in-laws are to be treated.
Chief judge Denish Daramollo said people should not forget the old good ways of handling in-laws, "Call your mother-in-law mama (Yumes) and not the woman who gave birth to my wife" Daramollo stressed.
The money (SDG 250) which the court ordered the Youngman to pay will go to the mother-in-law SDG 200; and SDG 50 to the court.
The Juba Post, NCA Compound, Juba, South Sudan © 2007
Country files: Judicial CP in Sudan
Other months for judicial CP in Sudan:
June 1999
April 2001
May 2001
November 2002
January 2004
October 2005