Saudi Gazette, Jeddah, 8 April 2009
10 years and 6,000 lashes for car theft
By Abdullah Al-Maqati

Click to enlarge
DHULUM -- A 27-year-old man was sentenced by a Taif court earlier this week to ten years in prison and 6,000 lashes of the whip for seven counts of theft.
The man was found guilty of stealing a car and some sheep, as well as several bags of barley and copper cables from a truck. The accused described the sentence as "harsh" claiming that his confession was made under duress.
The man's brother has called for the Court of Cassation to reconsider the case. "My brother made a forced confession after he was detained more than four months ago," he said. "He was taken to three courts in the north of Taif. He denied committing the thefts and confessed in a court in the Turba district." -- Okaz/SG
---
---
Saudi Gazette, Jeddah, 14 April 2009
Sawa shark gets 20 years, lashes
By Muhammad Hadhad
JEDDAH -- The prime accused in the SR1 billion 'Sawa share scam' trial has been sentenced to 20 years in jail and 1,000 lashes of the whip.
Abdulaziz Al-Johani, who has been in custody at Briman Prison in Jeddah for five years, was sentenced Monday by Sheikh Abed Al-Azouri after being found guilty of large-scale fraud, a sentence which, if upheld, means Al-Johani will not be released before he reaches the age of 55 in 2024.
Defending lawyer Hisham Hanbouli said he was unhappy with the verdict and that he would wait for his official copy within the next two weeks before logging an appeal.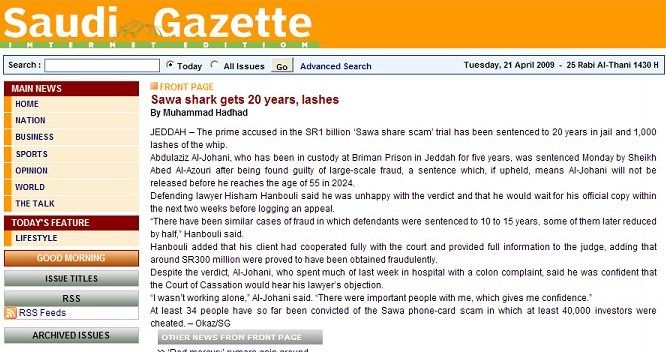 Click to enlarge
"There have been similar cases of fraud in which defendants were sentenced to 10 to 15 years, some of them later reduced by half," Hanbouli said.
Hanbouli added that his client had cooperated fully with the court and provided full information to the judge, adding that around SR300 million were proved to have been obtained fraudulently.
Despite the verdict, Al-Johani, who spent much of last week in hospital with a colon complaint, said he was confident that the Court of Cassation would hear his lawyer's objection.
"I wasn't working alone," Al-Johani said. "There were important people with me, which gives me confidence."
At least 34 people have so far been convicted of the Sawa phone-card scam in which at least 40,000 investors were cheated. -- Okaz/SG
All Rights Reserved. © Jeddah: 6760000