CONTENTS
On this page:
8. Interesting cases (adult)
On other pages:
---
8: THE CORPORAL PUNISHMENT OF ADULTS – some interesting cases
In R v Zulu and Others [1950] 1 SA 489, four defendants were found guilty of robbery. Each received 15 years and 6 lashes with the cat. The defendants were first offenders aged 23, 25, 25, 31 and 32. On appeal, the judge remarked:
"I do not think that the appellants have any reason to complain if they are made to suffer physical pain"
but changed the sentence to 6 strokes with a cane.
In R v Aitken [1952] 4 SA 300, a European, 31, who had been shell-shocked in the war, and who had no previous convictions, was convicted of storebreaking and sentenced to 4 months' imprisonment and three strokes. The doctor reported: "as far as his physical condition is concerned I cannot say that lashes should not be imposed but mentally it should not be inflicted". On review, the strokes were suspended.
As we saw in section 3, in 1952 it was made mandatory for courts to award JCP for a wide range of offences.
In R v Molomo [1952] 4 SA 748 the defendant had broken into a house on 14 April 1952 -- before the law had been changed -- and stolen linen. However, when the law changed on 16 May 1952, whipping became compulsory for such an offence. The Court found that a sentence of strokes was essential even though it was not required when the offence had occurred.
R v Strydom [1956] 3 SA 681 was an assault case. The judge observed:
"I refrain from ordering in this case, as I might well do, that the accused should be subjected to corporal punishment. I refrain from this because of his abnormality and because he has a stammer which, in my opinion, might be permanently aggravated by the shock of receiving a penal beating."
Most reported cases involved black offenders. Black people were always, after all, a large majority of the population. However, R v Norman [1956] 3 SA 700 involved white offenders. On 5 November 1955, five young Europeans broke into a store and robbed the owner, Mr Levy, assaulted him, and took money. The ringleader was de Wet. He and Nel pleaded guilty and were sentenced, but Norman, Vlok and Hickie pleaded not guilty and said that they were compelled into the crime by de Wet. Vlok and Hickie were acquitted but Norman was convicted, and sentenced to 2 years imprisonment and to receive 6 cuts of the cane. Norman appealed, but the conviction was upheld. The court declared "there is no reason to interfere with the sentence. The sentence imposed is confirmed".
At this time the Immorality Act prohibited sexual relationships between natives and Europeans.
In R v V [1957] 2 SA 124 a European male was convicted under the Immorality Act 5/27 of having sex with a black woman. His conviction was confirmed and a previous conviction in 1955 was noted. The Magistrate sentenced him to 6 months imprisonment and to receive 6 strokes with a cane. On review, it was held that the sentence of whipping was inappropriate and it was deleted.
In 1959 two further corporal punishment sentences for offences against the Immorality Act were considered.
In R v O [1959] 4 SA 695 a European male and a native female had unlawful intercourse in October 1957 on a farm. They were convicted, and the convictions were upheld. The court noted that they "spent every night in the huts and kissed". The European male received 6 months' imprisonment and four cuts. The native female received 6 months' imprisonment. On appeal, however, the man's caning was set aside.
R v A [1959] 3 SA 16 was another case under the Immorality Act. A European male aged 47 was convicted of an attempt to commit immorality with a coloured woman. Each was awarded 5 months' imprisonment, suspended for two years, but he was, in addition, sentenced to receive 5 cuts. He was a first offender and it appeared that there were no aggravating circumstances, such as the commission of violence. In mitigation of sentence, he pleaded:
"As dit die hof behaag is dit my versoek dat lyfstraf eerder opgele word as tronkstraf. Dit sal my en huwelikslewe moontik kan red".
["If it might please the Court, it is my request that the sentence of corporal punishment is applied first. It will probably save me and my married life"].
The court held that the accused was not the most fitting judge of what sentence ought to be imposed upon him. In the reviewing judge's opinion the cuts were inappropriate, and this part of the sentence was struck out.
On 9 March 1960 a 19-year-old African was sentenced to 4½ years in prison and six strokes at the Nelspruit Circuit Court. He had been found not guilty of rape but guilty under the Immorality Act for sexual behaviour with a European girl aged 14.(1)
A 1964 press report told how three white policemen had tortured an African prisoner and his friend in a police station with electric shocks and suffocated him with plastic bags. PC Gert Coetzee, 19, was convicted of assault with intent to cause bodily harm and sentenced to nine years' gaol and six strokes. PC Jacob Maree, 25, admitted slapping both prisoners and giving electric shocks. He was convicted of culpable homicide and assault. He was sentenced to nine years' gaol and six strokes. PC Johannes Van Wyk, 19, was found guilty of culpable homicide and assault, and gaoled for three years (suspended) plus six strokes. Johannes de Bruin, 21, court clerk, was found guilty of assault with intent to do grievous bodily harm and gaoled for three years with six strokes.(2)
The above two cases illustrate that canings of offenders under 21 were not always "juvenile canings" under s.345. If combined with imprisonment and ordered for one of a much smaller range of more serious offences than might be punished with a juvenile whipping under s.345, they would have been carried out in prison in the adult manner, albeit with the smaller cane in the case of boys under 19.
A 1980 case reported in Johannesburg involved a 26-year-old bricklayer, Nicholas Human, who was convicted of rape. His sentence was five years in jail and six cuts. Unusually, his picture appeared in the newspaper report: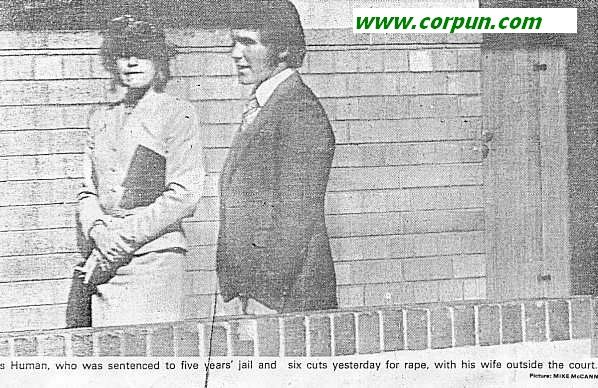 In S v Ndaba and Others (30 September 1985) (Transvaal), unreported, Goldstone J, while on a visit to Vereeniging Prison, found that a number of prisoners had been sentenced to imprisonment for periods of between eighteen months and four years, and, in addition, to corporal punishment. All the sentences had been imposed by the same regional magistrate. On review, he criticised the sentences on several grounds including the fact that the prisoners had not been told, and had no means of knowing, why a whipping had been imposed in addition to imprisonment.(3)
In R v Abrahams [1959] (2) PH, H 352 (Cape), the accused had been convicted of housebreaking and sentenced to imprisonment and strokes. The strokes were conditionally suspended for three years because of a recent whipping imposed on the accused.
On review Herbstein J. said that the period of suspension was too long, because if the accused broke the terms of the suspended sentence by committing another offence he would in any event have to receive a whipping. "The suspended sentence would [...] come into operation and the accused would thus suffer an inhuman thrashing."
The South African Law Journal criticised this ruling:
"It is submitted that it does not follow that the accused would 'have to' receive whipping again. Section 344 ter. (2) of the Criminal Code makes whipping optional where whipping (other than juvenile whipping) was previously imposed. It is not for the magistrate to worry about what might happen to an accused if he should break the law again. If the accused commits a scheduled offence during the period of suspension, then it is for that magistrate to bear in mind that the accused will have to receive corporal punishment for the previous offence."(4)
S v Lekwala [1971] 2 SA 444 perhaps demonstrated the eagerness with which the authorities inflicted sentences of corporal punishment. The offender, aged 25, had been sentenced to 6 months' imprisonment and 6 cuts with a cane. By mistake he was treated as a juvenile and received the cuts as inflicted on boys. These should not have been given, as he was an adult offender.
The Court on review noted that "warrants should be carefully read".
On 20 April 1960 a 19-year-old committed an assault with grievous bodily harm. He caused a knife wound in his victim. On 21 January 1961 he was sentenced to 6 months' imprisonment and six strokes. In between committing the offence and appearing for trial, he had been involved in another case on 28 November 1960 when he was sentenced as a juvenile to a moderate correction of 6 strokes. But this time the strokes were to be of the adult variety. The magistrate drew attention to the difference between a juvenile whipping and an adult one:
"The accused chose to act like a man and must consequently be treated as such. The accused does not deserve any sympathetic treatment. A whipping in terms of s.345 of Act 56/55 is not as severe as ordering strokes and this will have a salutary effect".
On appeal, the whipping was set aside.
S v Muvungani [1977] 4 SA 407 concerned an assault on a woman with actual bodily harm. The 40-year-old offender was convicted and sentenced to receive 2 years' imprisonment and 6 cuts. The judge noted:
"Whipping is always regarded as a severe punishment for an adult and I agree that the court should not impose it on an adult over about 30 years of age unless there are exceptional circumstances. He suffered himself -- the fleshy part of his thumb was bitten off during the assault and he probably suffered considerable pain in the genital area at some stage. He thus in the physical sense had some punishment.

"Had he been a few years younger I would have considered corporal punishment entirely appropriate, but for corporal punishment for men over 30 there must be especially compelling circumstances".
The sentence of corporal punishment was therefore set aside.
In S v Machwili [1986] 1 SA 156 (Natal), a regional magistrate in Vryheid convicted an offender of robbery and bag snatching. The victim had fallen to the ground and got a bump on her head. On review, Didcott and Friedman JJ observed:
"The sentence fills me with dismay. It was 6 years plus a whipping of six strokes [...] The sentence was out of all proportion. Corporal punishment for adults is a matter very different from corporal punishment for juveniles. It is incomparably more severe, more of a physical ordeal. Nor does it have the saving grace which, however distasteful to many all corporal punishment may be, must be recognized in a juvenile caning. When an adult is flogged, especially when in addition to being sent to gaol, nothing is achieved but revenge. Such is gained at a cost, what is more. Society's standards suffer. It stoops to the level of the criminal whom it punishes. It behaves with the same sort of barbarism as that which it concluded in him. Corporal punishment for adults, if justifiable at all, must be reserved to the exceptional case in which the crime was too brutal, too cruel, that nothing less will suffice to express society's sense of outrage, to meet its demand for retribution, for the criminal to get his just deserts."
The sentence of cuts was set aside, and the imprisonment was reduced from six to four years.
---
FOOTNOTES
(1) "Jailed under the Immorality Act", Bulawayo Chronicle, 9 March 1960. [Report in a Rhodesian newspaper but of a South African case.]
(2) "Torture men are to be caned", News of the World, London, 12 April 1964.
(3) Cited in Angela Roberts and Julia Sloth-Nielsen, "Whippings: The Courts, the Legislature and the Unrest", South African Journal of Human Rights, 1985.
(4) 1960 SALJ Vol.77 p.295.
---
Next: Section 9: Interesting cases (juvenile)