Rand Daily Mail, Johannesburg, 19 June 1980
Cape man jailed for inciting violence
CAPE TOWN. -- Two coloured men who set up roadblocks in Paarl East on Monday and stoned passing cars, were sentenced to a total of 15 months' jail in the Paarl Magistrate's Court yesterday.
Harold Booysens, 30, was found guilty of incitement to public violence. He was sentenced to nine months in jail.
Evidence was that on Monday he encouraged youths to stone vehicles, including police vehicles, in Paarl East. Found in his possession was a pamphlet which warned people to stay away from work yesterday and on Monday, and to boycott schools and white businesses.
Charles Mentoor, 18, found guilty on a charge of public violence, was sentenced to six months' jail. The court was told that he stoned vehicles in Paarl East.
Four coloured youths between the ages of 15 and 17, who were involved in the stone-throwing and the setting up of roadblocks, were each sentenced to seven cuts. The case against another youth was postponed. -- Sapa.
---
---
Rand Daily Mail, Johannesburg, 21 June 1980
'Rapist caught sleeping in my bed'
By Charlotte Bauer
AN alleged rapist was caught after he fell asleep in his victim's bed, where police found him, a court was told yesterday.
Mr Nicholas Benjamin Human, 26, of Lang Street, Rosettenville, Johannesburg, pleaded not guilty in the Johannesburg Regional Court to rape.
The alleged victim, a petite blonde, told the court that in the early hours of February 19, she was woken by a noise at her flat door.
A man who turned out to be Mr Human entered her bedroom, and asked if a girl called Julia still lived in the flat.
The woman said after a short argument she asked him to leave, but he refused to go.
She said Mr Human looked drugged or drunk.
When she made for the window he grabbed her and covered her mouth, telling her he would not hurt her if she did not scream. She did not resist because she feared he might attack her, she said.
She said Mr Human pushed her on to the bed and raped her at least once.
Afterwards he told her he would leave after making sure she was asleep.
"I pretended to go to sleep, and a few minutes later I heard heavy breathing and saw that he had fallen asleep."
The woman said she ran to a neighbour who called the police. Police found Mr Human asleep in her bed.
In a statement, Mr Human said he saw a woman on the balcony of a block of flats where his mother used to live.
He called up to her, asking her if "Julia" still lived there.
He went up to the flat and asked the woman for a drink.
"She gave me a bottle of liquor, and I followed her into the flat," Mr Human said.
"We sat on the bed and I started making love to her with her full consent."
He said he was "most surprised" when he was woken by police and learned a charge of rape had been laid against him.
The trial was adjourned to June 23.
---
Rand Daily Mail, Johannesburg, 25 June 1980
Jail and cuts for the rapist who dozed off
Staff Reporter
A RAPIST found fast asleep in the bed of the woman he had raped was jailed for five years by the Johannesburg Regional Court yesterday.
He was also sentenced to six cuts.
Nicolas Human, 26, father of three small children, pleaded not guilty to the charge.
He was acquitted of breaking into the flat of a 32-year-old divorcee and mother of two children -- who was not named -- with the intent of raping her.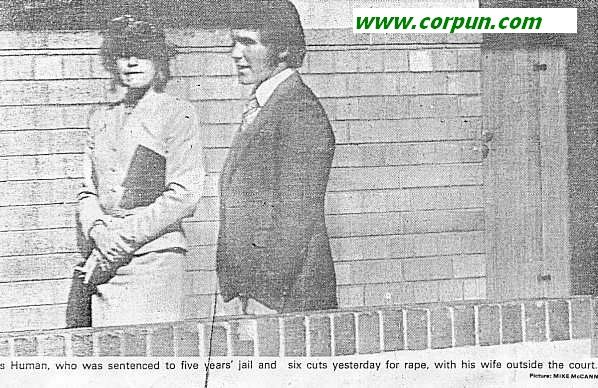 The magistrate, Mr I L de Villiers, found Human - a Rosettenville bricklayer -- had intercourse with the divorcee several times.
The court found he "scared the wits out of her" by suddenly coming into her locked flat when she was lying asleep. He came in and placed his hands on her mouth, ordering her not to shout.
The court also found that Human had forced her to have sexual intercourse.
Human did not leave immediately but commanded her to go to sleep. He told her that when she woke up he would be gone.
However, Human fell asleep and the divorcee contacted the police.
The court disregarded Human's evidence that the divorcee was a "loose woman" and invited him up to her flat. The court also found that he lied that she had offered him a drink.