South China Morning Post, Hong Kong, 10 October 1951
Prison and Cane
Snatcher With Police Record Convicted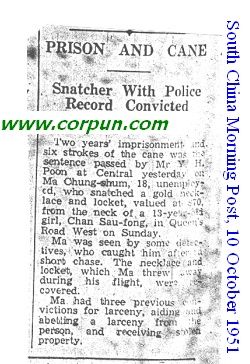 Click to enlarge
Two years' imprisonment and six strokes of the cane was the sentenced passed by Mr W.H. Poon at Central yesterday on Ma Chung-shum, 18, unemployed, who snatched a gold necklace and locket, valued at $70, from the neck of a 13-year-old girl, Chan Sau-fong, in Queen's Road West on Sunday.
Ma was seen by some detectives, who caught him after a short chase. The necklace and locket, which Ma threw away during his flight, were recovered.
Ma had three previous convictions for larceny, aiding and abetting a larceny from the person, and receiving stolen property.
Country files: Corporal punishment in Hong Kong