Corpun file 24127 at www.corpun.com
The Borneo Post, Kuching, 28 September 2012, p.12
Former technician gets 3-year jail, two strokes for CBT involving RM319,320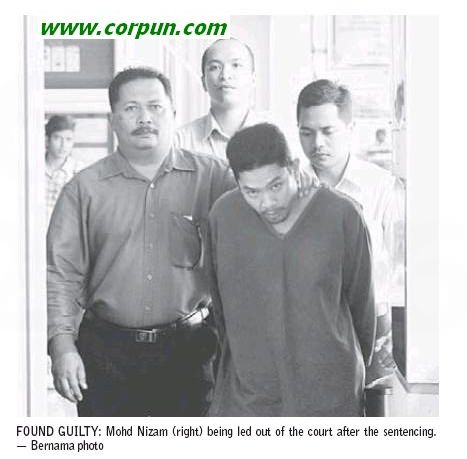 SEREMBAN: A former technician of a security company was sentenced to three years' jail and two strokes of the cane by the Sessions Court here yesterday for criminal breach of trust (CBT).
Judge Ahmad Kamar Jamaludin handed down the sentence on Mohd Nizam Sharif who pleaded guilty to the charge.
He ordered Mohd Nizam to serve the sentence from the date of arrest on Sept 16 this year.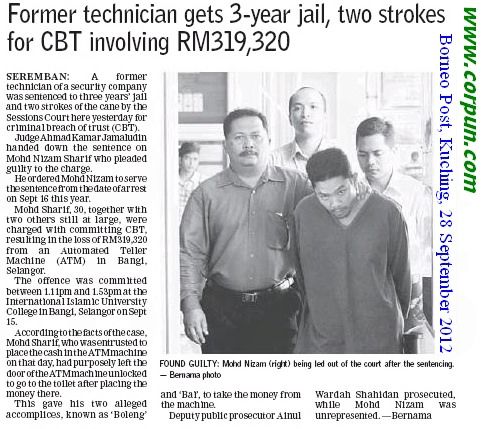 Click to enlarge
Mohd Sharif, 30, together with two others still at large, were charged with committing CBT, resulting in the loss of RM319,320 from an Automated Teller Machine (ATM) in Bangi, Selangor.
The offence was committed between 1.11pm and 1.53pm at the International Islamic University College in Bangi, Selangor on Sept 15.
According to the facts of the case, Mohd Sharif, who was entrusted to place the cash in the ATM machine on that day, had purposely left the door of the ATM machine unlocked to go to the toilet after placing the money there.
This gave his two alleged accomplices, known as 'Boleng' and 'Bai', to take the money from the machine.
Deputy public prosecutor Ainul Wardah Shahidan prosecuted, while Mohd Nizam was unrepresented. -- Bernama
Copyright 2010-2012 BorneoPost Online. All Rights Reserved.