Corpun file 24084 at www.corpun.com
The Borneo Post, Kuching, 7 August 2012
Youth gets 16 years' jail, rotan for rape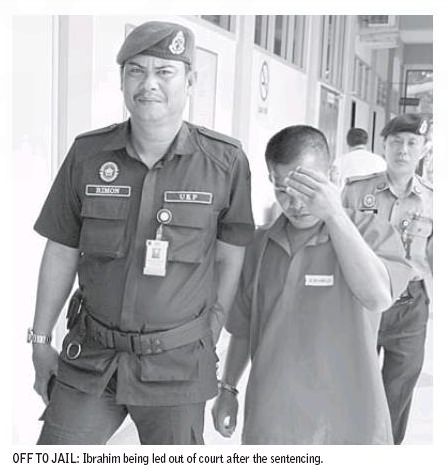 By Danny Wong
SIBU: An unemployed youth was yesterday sentenced to 16 years' jail and 10 strokes of the rotan by the Sessions Court here after he pleaded guilty to rape.
Judge Indra Ayub presided over the case.
Ibrahim Bujang, 31, who was unrepresented, was charged under Section 376(1) of the Penal Code.
According to the facts of the case, at about 8pm on June 13, 2010, the victim and her friend went to a 'Pasar Malam'.
They then joined two other friends including the accused, who later told the victim to go to Sungai Merah garden as her boyfriend wished to meet her there.
She followed him on a motorcycle to the place. On the way, the accused bought her a Coca Cola drink.
On arrival at their destination, they sat down to talk for nearly an hour.
While waiting, the victim sent an SMS to her boyfriend about the lateness, only to be told he was at home and had not asked her to meet him at Sungai Merah garden.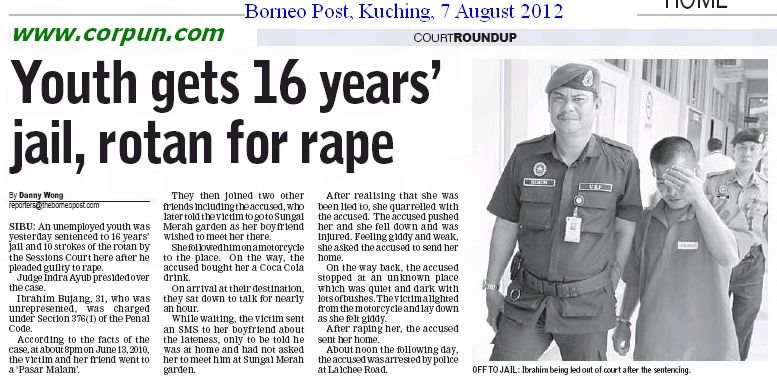 Click to enlarge
After realising that she was been lied to, she quarrelled with the accused. The accused pushed her and she fell down and was injured. Feeling giddy and weak, she asked the accused to send her home.
On the way back, the accused stopped at an unknown place which was quiet and dark with lots of bushes. The victim alighted from the motorcycle and lay down as she felt giddy.
After raping her, the accused sent her home.
About noon the following day, the accused was arrested by police at Laichee Road.
Copyright 2010-2012 BorneoPost Online. All Rights Reserved.
---
---
Corpun file 24098 at www.corpun.com
The Borneo Post, Kuching, 23 August 2012
Student jailed 10 years for drug possession
By Anasathia Jenis
KUCHING: A Nigerian student was sentenced to 10 years in jail and 10 strokes of the cane by the Sessions Court here yesterday for possessing 147.85gm of cannabis.
Judge Amelati Parnell convicted Dokubu Otokini Charles, 24, under Section 6 of the Dangerous Drug Act 1952 and punishable under Section 39A(2) of the same act which provides for a jail term of between five years and life as well as 10 strokes of the cane.
Dokubu admitted having the drug when arrested by the police at a house in Green Height here about 5am on June 3. Three other persons involved with him are still at large.
The brief fact of case stated that a police patrol unit was doing its round at the residential area when they saw a car (Perodua Viva) driven in a suspicious manner.
They tailed the car until it reached a house and saw four men alighting from it. They fled when they saw police presence. One of them was, however, caught later and identified as Dokubu who studied at a private college here.
When arrested, he was carrying a sling bag which contained a small weighing scale and a plastic packet containing what was later confirmed as cannabis weighing 147.85 gm.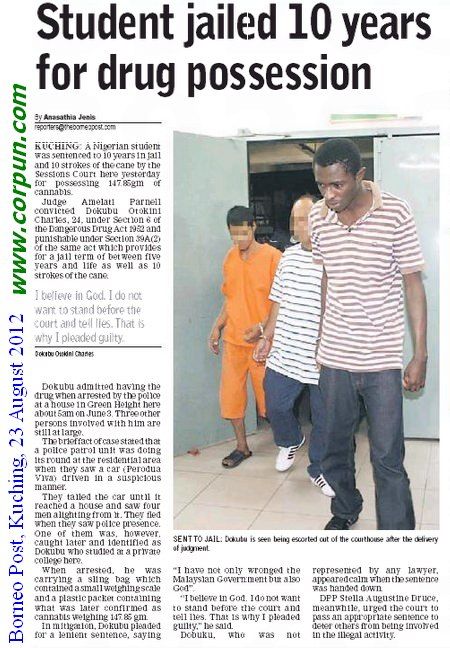 Click to enlarge
In mitigation, Dokubu pleaded for a lenient sentence, saying "I have not only wronged the Malaysian Government but also God".
"I believe in God. I do not want to stand before the court and tell lies. That is why I pleaded guilty," he said.
Dobuku, who was not represented by any lawyer, appeared calm when the sentence was handed down.
DPP Stella Augustine Druce, meanwhile, urged the court to pass an appropriate sentence to deter others from being involved in the illegal activity.
Copyright 2010-2012 BorneoPost Online. All Rights Reserved.